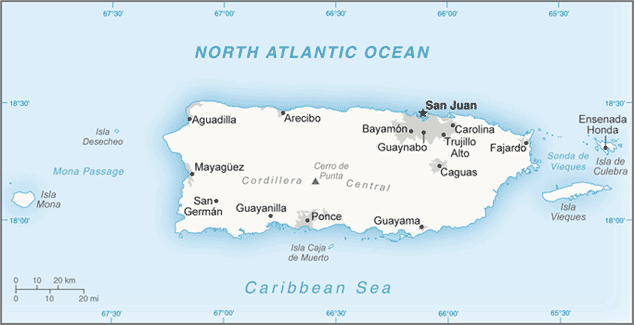 Hurricane Maria's destruction on Puerto Rico could spawn one of the largest mass migration events in the United States' recent history, as tens of thousands of storm victims flee the island territory to rebuild their lives on the mainland. Some 97% of the island's 3.4 million residents are still without power. About half of the island's residents do not have running water. And no one knows when things will be fixed. Scientific American warns that the displaced islanders, thousands now awaiting flights from San Juan's Luis Muñoz Marín airport, might be among the United States' newest "climate refugees," a demographic that includes former residents of the Louisiana coast and of shrinking islands in Alaska's Bering Strait.
"It could potentially be a very large migration to the continental United States," said Maria Cristina Garcia, a Cornell University historian now working on a book on climate refugees. "Whether that migration will be permanent or temporary is still anyone's guess. Much depends on the relief package that Congress negotiates."
The Federal Emergency Management Agency (FEMA), already stretched thin by continuing recovery efforts from Hurricanes Harvey in Texas and Irma in Florida, had yet to reach some communities in Puerto Rico. It is just sending its first shipment of water to the offshore islands of Vieques and Culebra.
"It is very bad down there right now," said Sven Rodenbeck, chief science officer for the US Centers for Disease Control hurricane response effort. "For the vast majority of the island, there is no power. They have had flooding, and the health care system—many of the clinics and hospitals are closed. A lot of the drinking water systems are not operational, along with the waste water systems."
San Juan Mayor Carmen Yulín Cruz told the media: "People are dying. This is the reality that we live in, the crude aftermath of a storm, a hurricane that has left us practically paralyzed." (Inside Climate News)
This was a disaster foretold. Four years ago, the Puerto Rico Climate Change Council warned in a report on "Climate Change and Puerto Rico's Society and Economy" (PDF): "Puerto Rico's population reflects high levels of vulnerability to hazards."
"Temperatures are increasing, precipitation patterns are changing, extreme events are occurring more frequently, oceans are more acidic, and sea level is rising. These climatic changes are projected to occur at much faster than natural rates. Some types of extreme weather and climate events have already increased in frequency and intensity and these changes are projected to continue."
The report concluded: "When certain tipping points are crossed, impacts can increase dramatically. Past climate is no longer a reliable guide to the future. This affects planning for public and private infrastructure, tourism and industry, water resources, energy and all other social and economic systems."  (CommonDreams)