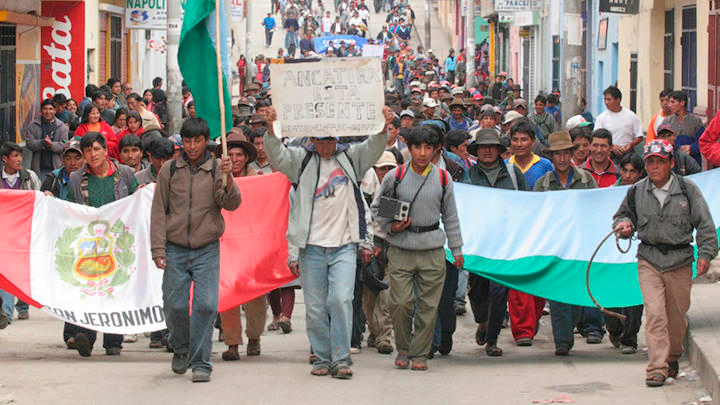 In a decision made very timely amid new mobilizations against oil and mineral operations on peasant and indigenous lands, Peru's high court last month struck down a provision of the country's penal code that rights advocates said criminalized the right to "social protest." The July 6 ruling by the Constitutional Tribunal voided an amendment to Article 200 of the Penal Code that had been instated under Legislative Decree 1237, issued by then-president Ollanta Humala in September 2015. The decree expanded the definition of "extortion" to apply not only to use of force to gain "economic advantage" but also "advantage of any other nature." This expanded definition has been used to bring criminal charges against protesters who have blocked roads or occupied oil-fields or mining installations. The legal challenge to the decree was brought by an alliance of regional human rights organizations led by the Legal Defense Institute (IDL). (IDL, Servindi, July 7)
Petro-resistance in Loreto
At least three indigenous residents of the Amazonian region of Loreto were killed and 17 other protesters and National Police troops injured in an Aug. 9 confrontation at Lot 95, an oil bloc under development by Canadian energy company PetroTal Corp. The clash broke out after some 70 Awajún indigenous warriors armed with spears and bows occupied the site and demanded a halt to production, citing the threat to local lands and waters.
The Regional Organization of Indigenous Peoples of Oriente (ORPIO) issued a statement accusing the police of initiating the clash, saying the Awajún warriors "only carried their arrows as an ancestral tool of defense, of traditional and cultural use, with the aim of expressing the rejection and indignation on the part of their authorities against the oil company." The statement also accused Peru's government of "abandoning" local indigenous communities amid the COVDI-19 pandemic.
PetroTal has temporarily suspended operations at Lot 95. No arrests were reported in the incident. (Reuters, ORPIO, Aug. 9)
New protests against Las Bambas
Local residents of Espinar, in Cuzco region, on July 20 blocked a convoy of vehicles from the controversial copper mine at Las Bambas, setting fire to two of them. The mine's owner, Chinese firm MMG Ltd, issued a statement that seemed crafted to invite extortion charges, saying protesters "are violently demanding an economic benefit that is not linked to Minera Las Bambas, and that has caused riots in the area."
Recent days also saw similar protests against the Antapaccay mine, owned by the multinational Glencore. In both cases, Espinar residents are demanding a "solidarity payment" from the companies to compensate for the ecological toll their operations take. (Reuters, Expreso, July 21)
Last year also saw protests by residents of the nearby community of Fuerabamba, which was relocated to make way for the mining operations at Las Bambas. Residents accused MMG of not fulfilling its commitments to aid in establishment of the new settlement, and in February began blocking the road from the mine. Community leader Gregorio Rojas was arrested and charged with extortion in relation to the roadblocks, but the charges were dropped and he was released when the protests only escalated. (Reuters, March 29, 2019)
In an evident public relations move, Las Bambas announced last month it had painted some of its trucks pink to demonstrate the company's "commitment to equality, diversity and inclusion." (Wayka, July 15)
Photo: IDL