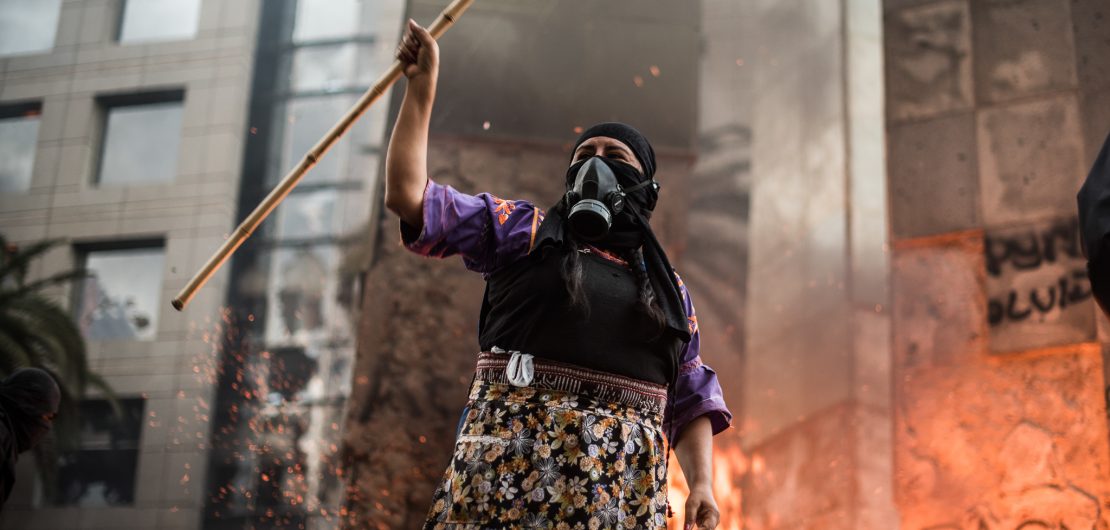 Following an outburst of angry protest across the country, Peru's third president in less than a week was sworn in Nov. 16, with a coalition cabinet aimed at bringing the country back from the brink of chaos. The crisis was set off by the Nov. 9 impeachment of President Martín Vizcarra, who had been investigating corruption by the hard-right Fujimorista bloc in Congress—and whose removal was assailed as a "legislative coup." The new interim president, former Congressional leader Manuel Merino, was from the centrist Popular Action party, but perceived as a pawn of the hard right; demonstrators flooded the streets of Lima and other cities after his inauguration. In two days of repression by the National Police Nov. 12-14, two young protesters were killed, more than 200 injured, and two more listed as "disappeared." Merino and his cabinet stepped down Nov. 15, leaving the country without a president for nearly 24 hours before Congress finally agreed to approve a replacement.
This is Francisco Rafael Sagasti Hochhausler, a first-term congressman representing Lima. Although Sagasti is from the center-right Partido Morado, his installation is being seen as a victory for the protesters. He took office with an homage to the slain demonstrators, praising them for having "marched to defend democracy." And named as his first among four vice presidents is Mirtha Vásquez Chuquilín, lawmaker with the left-wing Frente Amplio and a longtime human rights campaigner from Cajamarca region.
Merino, in contrast, had controversially appointed as his prime minister Ántero Flóres-Aráoz, who had stepped down as defense minister after the 2009 Bagua massacre of indigenous protesters in the Amazon region.
Peru's future remains uncertain. Sixty-eight of the country's 130 lawmakers are under investigation for crimes ranging from money laundering to murder. Many of the legislators under investigation for corruption are the same who initiated Vizcarra's impeachment. And while a judge has ruled that he must stay in the country for the next 18 months while investigations proceed, questions remain about the "moral incapacity" law that was used to impeach Vizcarra. The Constitutional Court is to convene this week to review the legitimacy of his impeachment.
Sagasti first came to national attention in 1996, when he was among the hostages seized at the residence of the Japanese ambassador in Lima by the rebel Tupac Amaru Revolutionary Movement (MRTA). (Diario Uno, La Mula, La Mula, Jurist, TeleSur, Gestión, RPP Noticias)