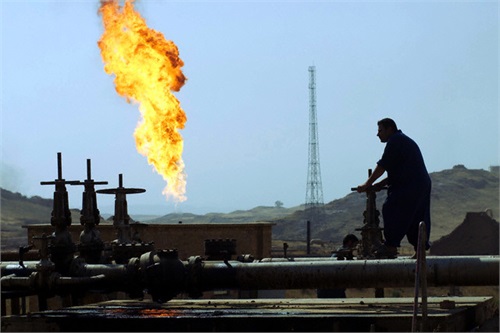 After all the talk we've heard in recent years about how depressed oil prices are now permanent, in the wake of Trump's announced withdrawal from the Iran nuclear deal Bank of America is predicting that the price of Brent crude could go as high as the once-dreaded $100 per barrel in 2019. The report also cited collapsing production in Venezuela due to the crisis there. Brent prices have risen above $77 per barrel since Trump's announcement. Prices have jumped more than 8% over the past month and 15% since the beginning of the year. According to the analysis, investors fear that renewed sanctions on Iran could lead to supply disruptions. (CNNMoney, May 10) Although the report failed to mention it, the Israeli air-strikes on Iranian targets in Syria have doubtless contributed to the jitters.
Iranian Oil Minister Bijan Namdar Zanganeh actually implied that Trump's announced withdrawal from the deal was intended to drive up prices, accusing him on state television of engaging in "shenanigans" in the oil market. Zanganeh further charged that Trump has cut a deal with some OPEC members (by strong implication Saudi Arabia) to keep production down and prices high. This despite the fact that Saudi Arabia—which has long advocated re-imposed sanctions on Iran—has pledged to "mitigate" the effects of the renewed sanctions by keeping production high. (Bloomberg) Recall that in the 1980s Iran-Iraq war, the Saudis and Gulf states flooded the market to keep prices depressed and weaken Iran.
In any case, the renewed sanctions are coming just as Iran has made a big push to attract private foreign investment in its oil sector. At the annual congress of the Iran Petroleum and Energy Club in Tehran in October, senior managers from the National Iranian Oil Company (NIOC) and National Petrochemical Company (NPC) met with representatives of foreign companies to discuss "opportunities for investment in Iran's petroleum industry." (Shana)
Another critical point to note… Just before Trump announced his withdrawal from the deal, the Wall Street Journal ran an article noting continued labor unrest in Iran since the wave of popular protests that swept the country at the start of the year. Over recent weeks, teachers went on strike in central Iran's city of Yazd, steelworkers and hospital staff walked off the job in the southwest city of Ahvaz, railway employees protested near Tabriz, and a bus drivers union in Tehran battled the private companies that control many city routes.
In Khuzestan province, along the Persian Gulf coast, the strife has been most pronounced, and is linked to discontent by the Ahwazi Arab minority that predominates there. As this is also the most oil-rich part of Iran, we can imagine that the regime is viewing its future stability uneasily now….
Photo: Shana