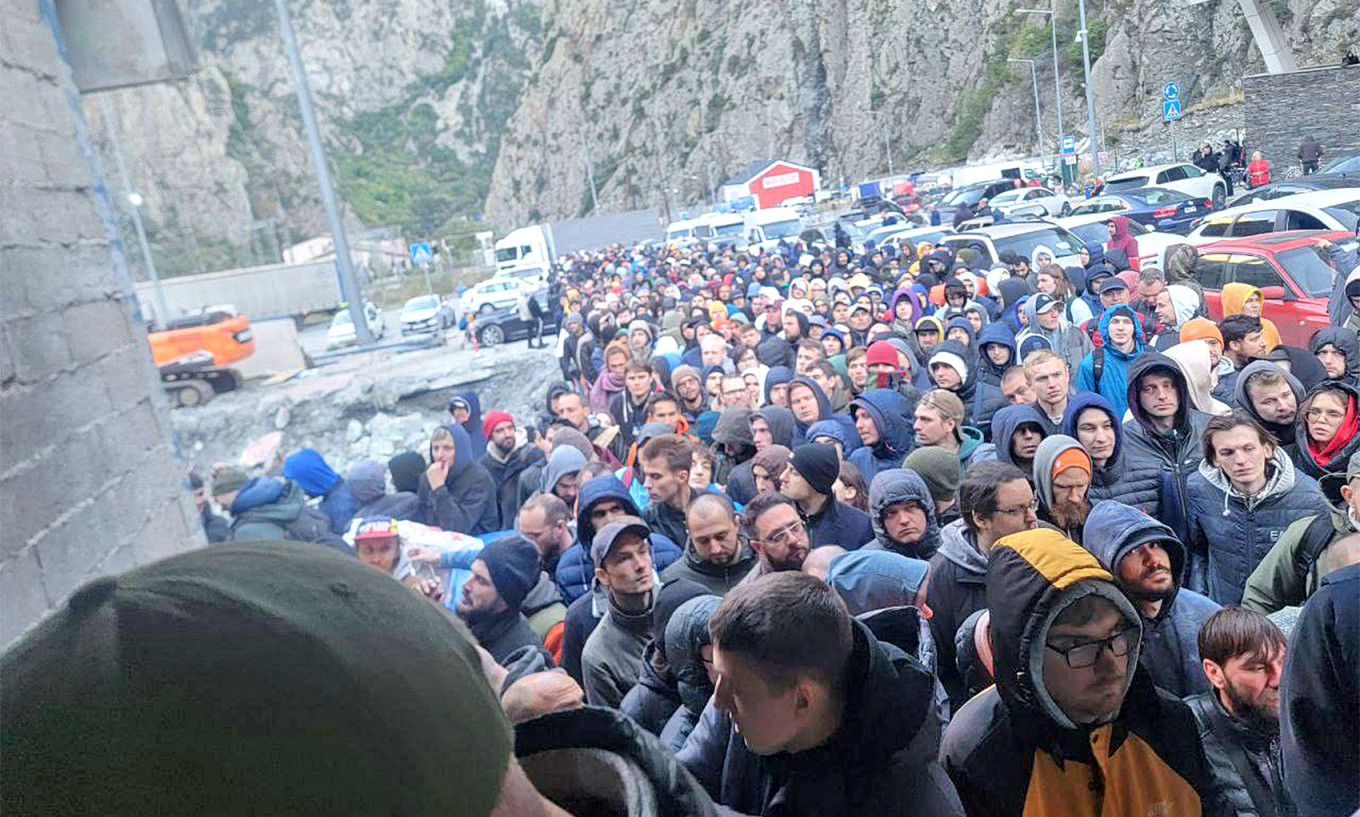 Tens of thousands of conscription-age Russian men have fled to neighboring countries since President Vladimir Putin announced a mobilization of military reserve troops to fight in Ukraine. The tide has grown in recent days amid fears that the Kremlin will impose an exit ban. The sense of a closing window has led to chaotic scenes on Russia's land borders with Georgia, Kazakhstan and Mongolia—countries that do not require a visa for visiting Russians. There has been a particular crush at Russia's sole border crossing with Georgia, where some 3,500 cars have backed up the road for nearly 10 kilometers. (Moscow Times)
In Kazakhstan, President Kassym-Jomart Tokayev, whose administration has refused to support Russia's so-called "special military operation" in Ukraine, publicly urged patience and tolerance. "A lot of people from Russia have come here over the last few days," he said in a speech Sept. 27. "Most of them were forced to leave by the desperate situation. We must take care of them and ensure their safety. This is a political and humanitarian matter."
His government will discuss the situation with Moscow, he added. But at the same time, his Internal Affairs Ministry issued a proposed change to immigration rules that would limit the time Russians can stay in Kazakhstan without a passport to three months. (Reuters)
Nine European Union countries moved earlier this month to stop issuing visas for Russians entirely, even before Putin's announcement: the Netherlands, Czech Republic, Poland, Denmark, Belgium, Latvia, Lithuania, Estonia and Slovakia. Since Putin announced the call-up, Finland has similarly tightened its policy, barring entry to Russian nationals.
The EU as a whole adopted new policies this month to discourage entry of Russians, including tripling the maximum wait time for visa approval from 15 days to 45, although there is an exception for "dissidents."
The one EU country that has decided on an opposite policy is Germany. The Federal Republic's Interior Minister Nancy Faeser said after the call-up was announced that Germany will welcome Russians seeking to escape the war. "Anyone who courageously opposes Putin's regime and thereby falls into great danger, can file for asylum on grounds of political persecution," she said, according to Deutsche Welle. (Forbes)
Anti-war groups including War Resisters International, International Fellowship of Reconciliation, the European Bureau for Conscientious Objection and Connection e.V., have issued a petition calling on EU leaders to extend protection and asylum for deserters and conscientious objectors to military service from Russia, Belarus and Ukraine.
Photo: Verhniy Lars via Moscow Times