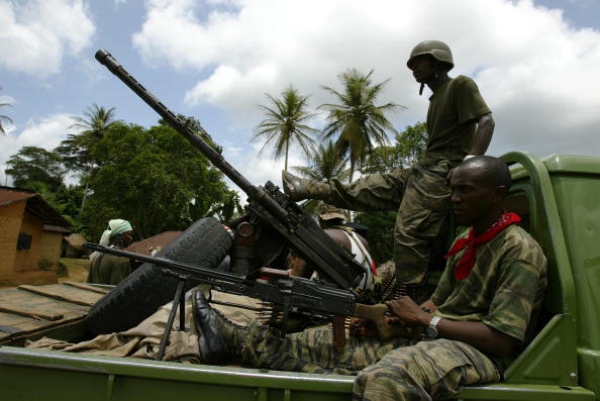 A trial opened in Switzerland Dec. 3 for the first Liberian to face war crimes charges over atrocities during the country's brutal internal conflict in the 1990s. Former warlord Alieu Kosiah stands accused of murder, rape, recruiting child soldiers, and numerous other crimes during the first of Liberia's two civil wars, which together killed some 250,000 people between 1989 and 2003. Kosiah, who had been living in Switzerland since 1999, was arrested in November 2014 for atrocities he allegedly committed as a commander of the United Liberation Movement of Liberia (ULIMO) between 1993 and 1995. A group of Liberian victims is being represented by the Swiss human rights group Civitas Maxima. The organization has worked with the Global Justice and Research Project in Liberia since 2012 to document crimes committed during the country's civil wars. The case is being heard by the Federal Criminal Court in the city of Bellinzona under the principle of universal jurisdiction.
Liberia's former warlord-turned-president Charles Taylor, who was opposed by ULIMO, was convicted in 2012 of war crimes and crimes against humanity—but over his involvement in the war in neighboring Sierra Leone, not in his own country. A US appeals court in Philadelphia sentenced another ULIMO commander, Mohammed Jabbahteh AKA "Jungle Jabba," to 30 years in prison this September. But while that trial heard gruesome details of atrocities, Jabbahteh was convicted for immigration fraud.
During Liberia's twin armed conflicts from 1989-96 and 1999-2003, Liberians suffered widespread violations of international human rights and humanitarian law, inclduing mass killings, rape and other forms of sexual violence, summary executions, mutilation and torture, and use of child combatants. Liberian perpetrators have never been tried in their own country, despite that fact that a truth and reconciliation commission recommended more than a decade ago that a war-crimes tribunal be established.
Switzerland is also said to be preparing a case against Ousman Sonko, Gambia's former interior minister. Sonko was arrested in Bern this January, on allegations of torture filed by the Swiss branch of the rights group TRIAL International. (HRW, TRT, NYT, SwissInfo, JusticeInfo, BBC News, Front Page Africa)
Photo: IRIN via JusticeInfo