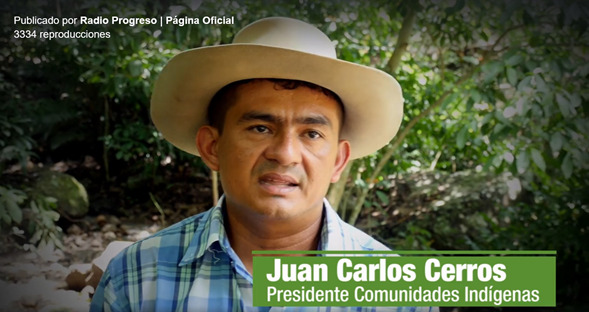 On March 21—the eve of World Water Day—an indigenous activist who was leading the fight against construction of a hydroelectric dam was shot dead in front of his family in Honduras. Juan Carlos Cerros Escalante, a member of the Lenca indigenous people, was gunned down directly outside the church at the pueblo of Nueva Granada, in the Caribbean coast department of Cortés. He was on his way to visit his mother, and his children were beside him. Cerros Escalante led the local group Communities United, which is mobilizing residents along the Rio Ulúa to oppose El Tornillito hydro-dam. The pending project would displace 10 communities in the departments of Cortés and Santa Bárbara.
"We condemn the killing of yet another comrade and activist," said Betty Vásquez, coordinator of the Santa Bárbara Environmental Movement. "It is not conceivable, it is not right, that they criminalize people, persecute people and later kill them for defending the land. We consider this a political assassination." In 2020 alone, a dozen indigenous rights and environmental activists were slain in Honduras. (AP, Radio Progreso, La Prensa)
Berta Cáceres, another Lenca leader, was slain in 2016 while leading a campaign against the Agua Zarca dam, another hydroelectric project in the Ulúa watershed which was ultimately completed. Tomás García Domínguez, another indigenous opponent of the Agua Zarca project, was slain in 2013.
Photo: Radio Progreso