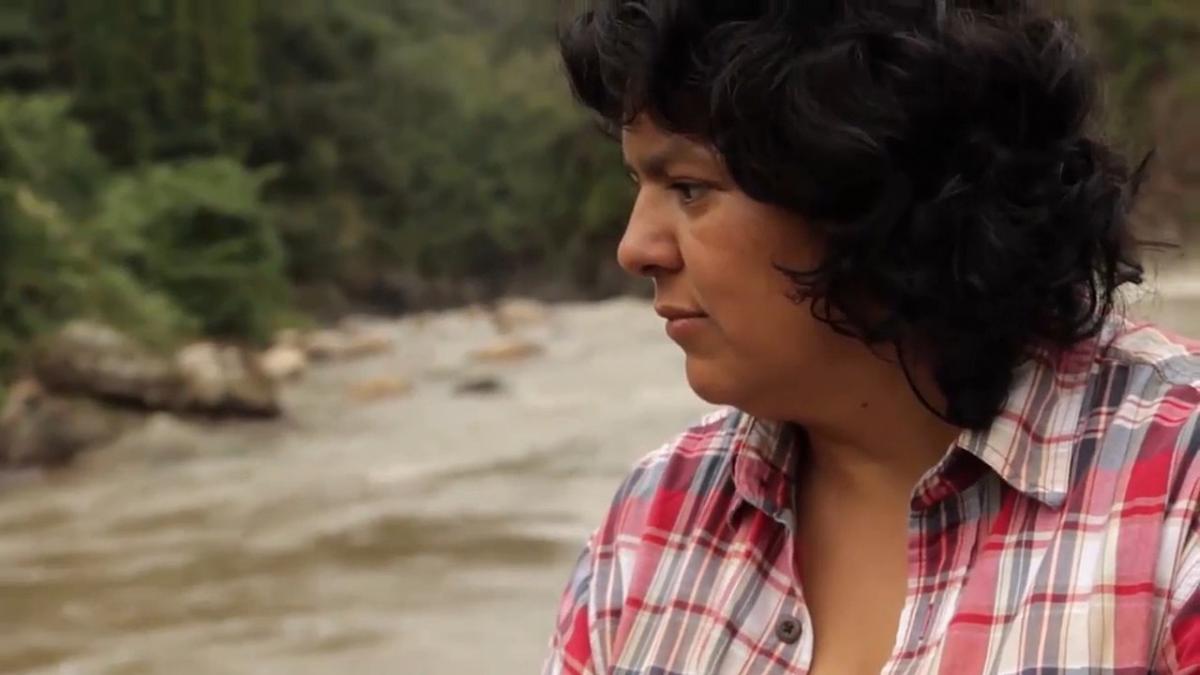 A court in Honduras convicted seven men in the 2016 murder of indigenous rights activist Berta Cáceres on Nov. 29. Until her assassination on March 2, 2016, Cáceres had been leading a campaign against the Agua Zarca dam in western Honduras, a joint project by Honduran company Desarrollos Energéticos SA (DESA) and Chinese-owned Sinohydro. The dam was being built on the Rio Gualcarque without prior consultation with the Lenca indigenous community that depends on the river for their food and water. Cáceres, who won the prestigious Goldman Environmental Prize in 2015, had received numerous threats for her activism against the dam before she was killed by gunmen at her home in the town of La Esperanza. Mexican environmentalist Gustavo Castro was also shot, but he survived the attack. Two of those convicted are former DESA managers.
Those found guilty of the murder are Sergio Ramón Rodríguez Orellana, general manager of DESA; Douglas Geovanny Bustillo, a former soldier and ex-security chief at DESA; Mariano Díaz Chávez, an army major; Henry Javier Hernández; Edwin Rapalo; Edilson Duarte Meza; and Oscar Torres. An eighth defendant, Emerson Duarte, accused of covering up the crime, was acquitted.
To date, nine people have been arrested in connection with Cáceres' murder. David Castillo Mejía, executive president of DESA, was charged with being the mastermind of the murder in March this year. He will face a separate trial.
Cáceres' family, along with Gustavo Castro and COPINH, the organization that Cáceres led, and their legal teams, released a statement saying the verdict does not satisfy their demands for justice. "Condemning the group of hitmen and their intermediate structure related directly to the DESA corporation does not mean that justice has been obtained," the statement says. "The structures and people who gave the money for these criminals to assassinate Berta Cáceres are still free and able to continue carrying out crimes like this one with impunity."
The statement concludes: "Since the beginning of this process—almost three years ago now—it has been clear that the assassination of Berta Cáceres was planned by the leadership of the DESA corporation and then carried out by hitmen linked to the Honduran Armed Forces. "Nonetheless, the full truth surrounding this crime and all of those responsible for it has been limited to those who were just condemned through intentional obfuscation by the Honduran state via its Prosecutor General and courts. They seek to deny access to the truth, which is part of true justice." (Mongabay, Dec. 5)
The company has strongly denied any involvement in Cáceres' murder, amd said it had consulted with community groups about the dam project. "This is a completely political verdict," said Robert Amsterdam, a lawyer for DESA. "The Honduran government has given into the pressure of the European Union and the US State Department and issued a political ruling." (NYT, BBC News, Nov. 30)
Photo by UN Environment/ONU Brasil via Wikimedia Commons