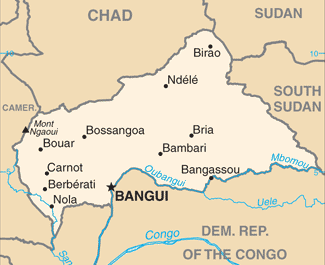 The International Criminal Court (ICC) opened a trial Sept. 26 against Mahamat Said Abdel Kani, a leader of the Séléka rebel group, for crimes humanity and war crimes in violation of the Rome Statute. Said allegedly committed these crimes in Bangui, capital of the Central African Republic (CAR), in 2013. Said pleaded not guilty to all charges.
The ICC issued a warrant of arrest against Said in January 2019. The Pre-Trial Chamber II partially confirmed the charges brought by the prosecutor and found that there is sufficient evidence to "establish substantial grounds of belief that Mr. Said was a senior member of the 'Séléka' coalition." Said surrendered to the ICC in January 2021.
Séléka is an armed movement that emerged in 2012 amid widespread dissatisfaction with then-president François Bozizé Yangouvonda. The group captured Bangui in 2013, forcing Bozizé into exile in Cameroon; Séléka leader Michel Djotodia proclaimed himself as president of the CAR. The militia then conducted search operations for supporters of Bozizé and executed an unknown number of residents, including a pregnant woman and family members of armed forces personnel.
From Jurist, Sept. 26. Used with permission.
Note: The Central African Republic is also to carry out its own war crimes trials related to the internal conflict. There are currently four standing convictions for war crimes by the ICC.