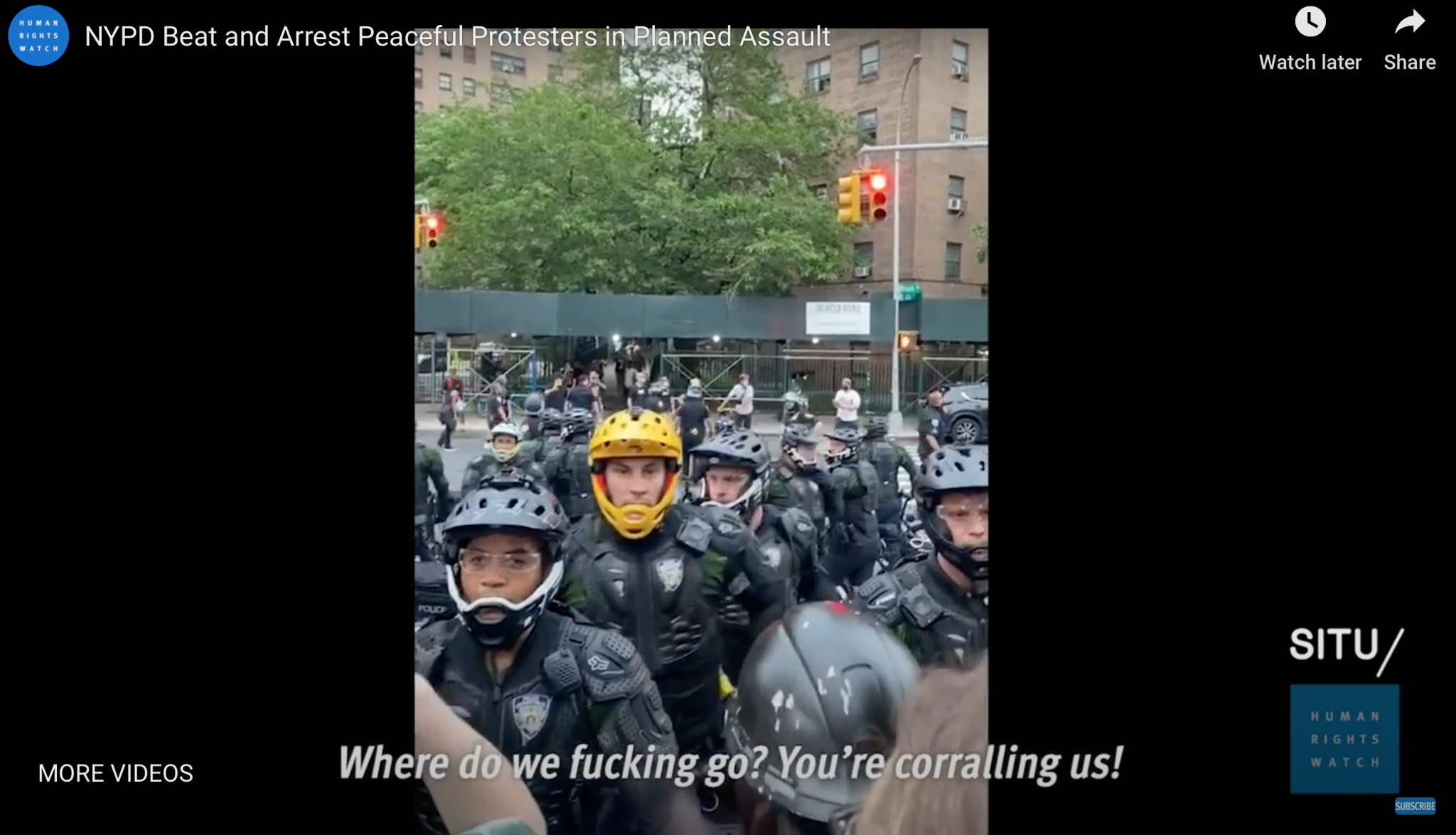 The NYPD's violent mass arrest of peaceful protesters in the South Bronx this past June violated international human rights law and will likely cost New York City taxpayers several million dollars in misconduct lawsuits, according to a new investigation by Human Rights Watch. The in-depth report examines the June 4 incident in the Mott Haven district, where hundreds of demonstrators were "kettled" behind police barricades before being arrested. As riot police blocked protesters' path minutes before Mayor Bill de Blasio's 8 PM curfew, a second line of officers charged them from behind, "unprovoked and without warning…wielding batons, beating people from car tops, shoving them to the ground, and firing pepper spray into their faces before rounding up more than 250 people for arrest."
Human Rights Watch documented at least 61 cases of protesters, legal observers and bystanders who sustained injuries during the operation, including lacerations, a broken nose, lost tooth, sprained shoulder, broken finger, black eyes, and potential nerve damage due to overly tight zip-tie handcuffs.
HRW counts the incident as "among the most aggressive police responses to protests across the United States following the police killing of George Floyd in Minneapolis" 10 days earlier.
"The New York City police blocked people from leaving before the curfew and then used the curfew as an excuse to beat, abuse, and arrest people who were protesting peacefully," said HRW researcher Ida Sawyer, a co-author of the report. "It was a planned operation with no justification that could cost New York taxpayers millions of dollars."
From Human Rights Watch, Gothamist, Sept. 30
Image: Human Rights Watch