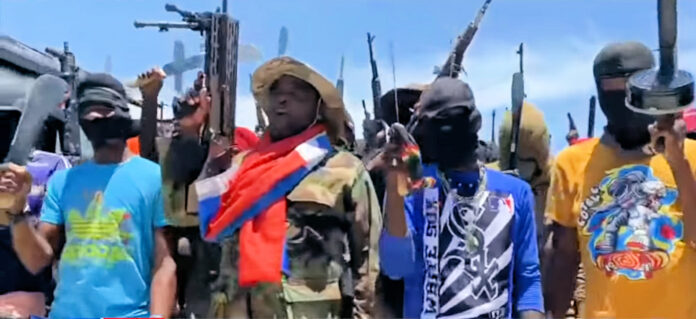 An apparent squad of mercenaries, arriving in nine brand-new Nissan Patrol vehicles, staged a night raid on the home of Haiti's President Jovenel Moïse in the upscale Port-au-Prince suburb of of Pèlerin in the wee hours of July 7, and shot him dead. His wife, Martine, was also gravely wounded. The seemingly professional hit job followed weeks of rapidly rising violence in Haiti. On June 29, three gunmen on motorcycles killed at least 15 people in the Delmas 32 area of Port-au-Prince. Shortly later, gunmen believed to be from the same group carried out the targeted assassinations of prominent women's rights activist Marie Antoinette "Netty" Duclaire and Radio Télé Vision 2000 journalist Diego Charles, who were together at Charles' home in the Christ-Roi neighborhood.
The next day, Haitian National Police (PNH) chief Léon Charles and interim Prime Minister Claude Joseph stated that the killing spree was the work of Fantôme 509, a shadowy paramilitary organization believed to be made up of current and former police officers, which over the past months has carried out jailbreaks, burned shops and vehicles, and exchanged fire with PNH units.
However, the National Human Rights Defense Network (RNDDH) issued a press release stating that "according to certain residents of Delmas 32…the individuals implicated in…these attacks were part of the Base Krache Dife," or Spit Fire Gang. This outfit is affiliated with the Revolutionary Forces of the G-9 Family & Allies (FRG-9), a network of neighborhood vigilante militias led by Jimmy "Barbecue" Cherizier. RNDDH director Pierre Espérance called the PNH declaration blaming Fantôme 509 "hasty and irresponsible."
Ironically, the same day PNH chief Charles made his accusation, Cherizier gave a press conference in which he called for peace and "calm among everyone implicated in the armed confrontations" in Port-au-Prince's poor neighborhoods. In early June, a year-long truce between the city's gangs was broken when those in the neighborhoods of Grand Ravine and Village de Dieu attacked that of Ti Bois enclave, a FRG-9 stronghold. That conflict touched off neighborhood battles across the capital.
A scheduled June 27 referendum on constitutional reform, aimed at resolving Haiti's political crisis, was indefinitely postponed in response to the outbreak of violence, and the COVID-19 surge currently wracking the country. The proposed reform would have centralized more power in the hands of the president.
The G-9 Family & Allies, founded a year ago, added the words "Revolutionary Forces" to their name and said that they would use their weapons to "deliver the country [from its travails] once and for all," in a dramatic televised ceremony on June 23 in the Port-au-Prince shantytown of La Saline. (Haiti Liberte, Haiti Liberte, WLRN, Miami)
Photo: Haiti Liberte