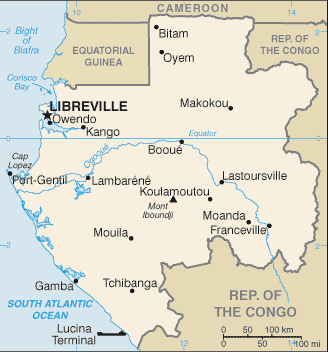 A group of soldiers in Gabon announced on public television Aug. 30 that they have seized control of the country and canceled the results of its presidential election, just after incumbent President Ali Bongo was declared the winner amid claims of electoral fraud. The soldiers, part of the newly formed Committee for the Transition & Restoration of Institutions (CTRI), also declared the closure of Gabon's borders and the suspension of the country's Senate, National Assembly and Constitutional Court. Brice Oligui Nguema, commander-in-chief of the Gabonese Republican Guard, has been named as the transitional leader.
Ali Bongo is the son of former president Omar Bongo, who ruled the country from 1967 until his death in 2009. Omar Bongo was known for his close relations with France, and for amassing a vast amount of personal wealth while president. Ali Bongo, who immediately succeeded his father as president, is now under house arrest.
Gabon has heretofore remained especially close to former colonial ruler France since independence in 1960. The French oil giant Elf exploited a large part of its crude production, which is put at 200,000 barrels per day—Africa's eighth largest. Others French companies mined the country's iron and manganese, and felled its timber for export. Gabonese uranium for many years supplied French nuclear weapons and power plants. (Jurist, RFI, Xinhua, The Guardian, Offshore Technology)
French energy giant Areva pulled out of its uranium mine at Mounana in 1999. The mine, known as COMUF, for the Franceville Uranum Mining Company, was covered over—but Mounana continues to suffer from extremely dangerous levels of radioactive pollution. Many former miners have died of lung cancer. Under pressure from NGOs, Areva opened a medical clinic in the town in 2011. But the staff lack the training and resources to properly diagnose diseases linked to uranium mining. The soil and waterways of the area are widely contaminated, and radioactive materials were even used to build local houses. (Uranium Film Festival, France 24)
In scenes reminiscent of those in Niger after the recent coup there, crowds have poured into the streets of Gabon's capital Libreville, expressing their support for the CTRI—and animosity for both the Bongo dynasty and France. (Al Jazeera)
The Gabon coup appears to mean a further reduction for the French influence sphere in Africa, known as Françafrique.  Over the past three years, coups have ousted French-aligned regimes in Mali, Burkina Faso and Guinea as well as Niger.
Russia appears eager to step into the erstwhile role of France in providing military assistance to these countries. The Wagner Group is known to have provided mercenaries to both Mali and Burkina Faso. On Aug. 31, a Russian delegation met with Burkina Faso's interim president Ibrahim Traoré in the capital Ouagadougou, to discuss military cooperation. This is an apparent sign of Moscow seeking to shore up its burgeoning influence sphere in Africa following the mysterious death of Wagner chief Yevgeny Prigozhin. (Reuters)
Map: PCL