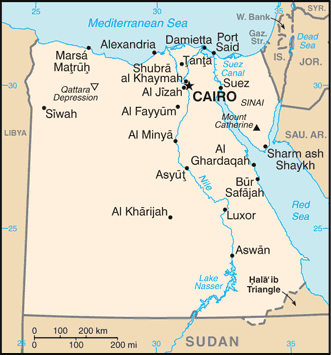 Human Rights Watch on Feb. 26 accused Egyptian authorities of escalating arbitrary arrests against political opponents. According to HRW, the arrests, which took place in late January and February, are part of a government strategy to quell political protests ahead of the next presidential election to be held in late March. A statement earlier this month by regional human rights organizations charges that "the Egyptian government has trampled over even the minimum requirements for free and fair elections." The statement accuses President Abdel-Fattah el-Sisi of creating a repressive environment, and demands that the US and European Union, which provide substantial aid to the Egyptian government, speak out.
Among those arrested in February is Abd al-Moniem Abu al-Fotouh, a 2012 presidential candidate and leader of the Strong Egypt Party. HRW reports that he and 15 other members of his party were subsequently placed on the terrorist watch list, without due process, as allowed by the 2015 Terrorist Entities Law. The Ministry of Interior validated their arrest of al-Fotouh, citing information from the National Security Agency that al-Fotouh had contact with the Muslim Brotherhood and was conducting talks with the intent to cause political unrest. Additionally, the Interior Ministry reported the arrest of six members of the Brotherhood, along with seizure of firearms, on a farm owned by al-Fotouh. However, his family says the farm was raided without any warrant being shown, and that no weapons were confiscated.
Also arrested in the sweep were Mohamed al-Qassas, deputy president of the Strong Egypt Party; Mohamed Abd al-Latif Talaat, secretary-general of the centrist al-Wasat Party; Hesham Geneina, former head of the Central Auditing Agency; and Egypt's former armed forces chief of Staff Sami Anan, who announced his candidacy for president. All are being detained in "abusive and degrading" conditions, according to HRW.
HRW is urging authorities to release all those who have been subject to arbitrary arrest, a practice which violates Article 65 and Article 87 of Egypt's Constitution.
From Jurist, Feb. 26. Used with permission.
Note: Egypt has also seen mounting prosecutios under the notorious "anti-protest law."