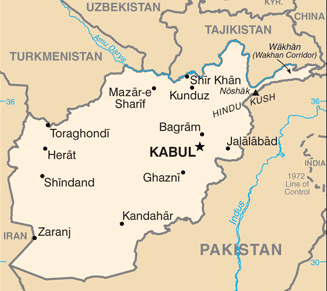 The first vice president of Afghanistan under the government just ousted from Kabul by the Taliban, Amrullah Saleh, has taken refuge in the Panjshir Valley north of the capital and declared himself the country's legitimate president. Citing the constitution, he said that in the event of incapacitation, resignation or death of the president, the first vice president becomes caretaker president. President Ashraf Ghani fled the country as the Taliban advanced on Kabul. "I am currently inside my country and am the legitimate caretaker president. I am reaching out to all leaders to secure their support and consensus," Saleh said in a staement.
Defense Minister Bismillah Mohammadi has reportedly joined Saleh in the Panjshir Valley, as has Ahmad Massoud—son of the martyred resistance commander Ahmad Shah Massoud. Many ethnic Tajiks in the Afghan army are said to have arrived with their equipment, including armored vehicles and tanks, after withdrawing from the nearby frontlines. Ethnic Hazara families have reportedly walked 200 kilometers to reach the Valley, fearing persecution as the Taliban seize their homeland in Bamiyan province. (The Tribune, Chandigarh, Punjab and Haryana)
Amrullah Saleh, former head of the National Security Directorate, is an implacable opponent of the Taliban, and has been the target of numerous assassination attempts. Of Tajik background, he was born in the  in Panjshir Valley. In the rugged Hindu Kush range north of Kabul, the Panjshir Valley has rarely been under the real control of any central government in the 40 years that Afghanistan has been at war. Ahmad Shah Massoud, also born in Valley, waged an insurgency there against first the Soviets and then the Taliban. Assassinated days before 9-11, he has since been venerated in a posthumous personality cult.