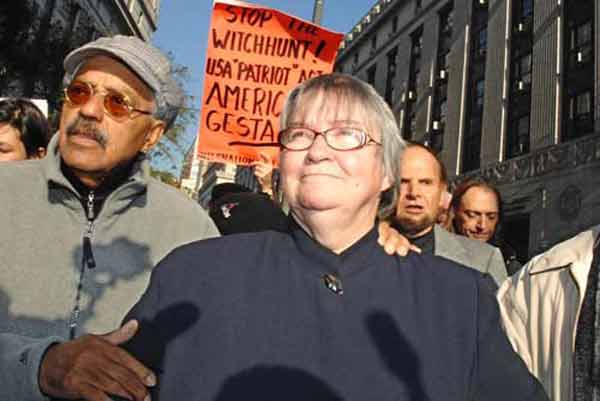 Lynne Stewart, the fighting activist attorney who gained fame with her 2005 conviction for "providing material support" to terrorism, died March 7 at her home in Brooklyn. She was 77, and had been granted a "compassionate release" from federal prison in January 2014 after she was diagnosed with terminal breast cancer. The obituary in the New York Times says she was convicted of "helping smuggle messages" from her imprisoned client Omar Abdel Rahman "to his violent followers in Egypt." It doesn't mention that the "messages" were essentially press releases, barred by stringent "Special Administrative Measures" imposed by the Justice Department, which Stewart rejected as illegitimate. Her prison term, initially set at 28 months, was later increased to 10 years after an appeals court ordered the trial judge to consider a longer term. In a statement after her release, her longtime partner Ralph Poynter said: "The enduring global movement for social justice has persevered—ever inspired by Lynne Stewart's steadfast refusal to bend the knee, submit to coercion or official duplicity."
The "Blind Sheikh" Omar Abdel Rahman himself died in federal prison Feb. 18, prompting the New York Times to run a profile on the ailing Stewart, saying she had "no regrets" over her role in the case.
During Stewart's trial in 2003, CounterVortex, then publishing as World War 4 Report, was threatened with a federal subpoena by then-US Attorney (today FBI director) James Comey, demanding that we turn over tapes and transcripts of our interview with Stewart the previous year. We refused to comply, and Comey backed down.
Photo via The Indypendent