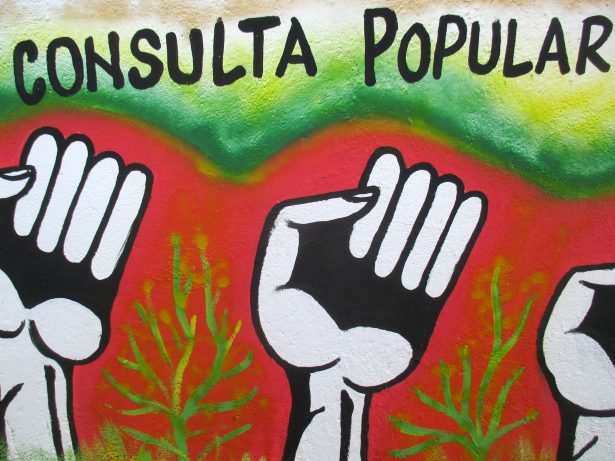 The Municipal Resistance in El Salvador
by Sandra Cuffe, Waging Nonviolence
Communities and organizations in northern El Salvador continue to organize referendums in an effort to keep their territories free of mining.
Established by the country's Municipal Code as a mechanism for community participation, the consulta popular is an official municipal-level referendum on an issue of local concern that can be invoked by petition if residents are able to gather signatures from 40 percent of registered voters. On the books for years, the mechanism had never been used, but it now plays an important strategic role in the country's movement against metallic mining.
The most recent referendum took place on February 26, when more than half of all registered voters in the municipality of Cinquera flocked to polling stations in four communities. The final tally was along the lines of the four previous referendums on the issue: 98.1 percent of participating registered voters in Cinquera cast a ballot opposing metallic mining exploration and exploitation. The local government will now draw up an official municipal ordinance prohibiting mining in its jurisdiction.
Continue Reading

COMMUNITY POWER AGAINST MEGA-MINING