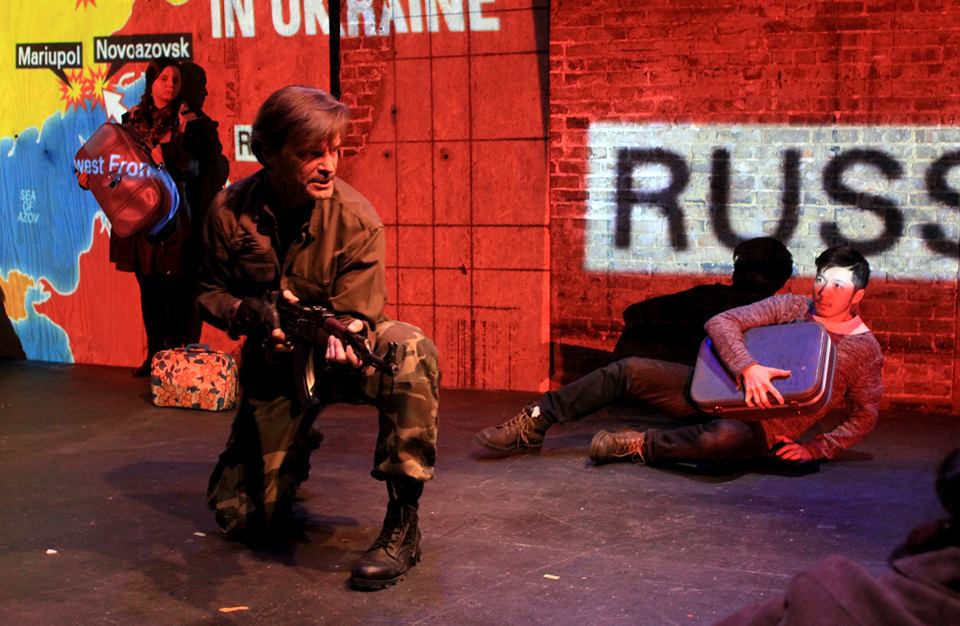 The View from the East Village
by Bill Weinberg, The Villager
As I write, Russian tanks are amassing on the line that separates those areas of Ukraine controlled by the Kiev government from the Crimean Peninsula, now unilaterally annexed by Moscow. Kiev has placed its armed forces on high alert, and there are fears of full-scale war.
In addition to the Crimea stand-off, for two years Ukraine has faced a Russian-backed separatist revolt in the eastern enclaves of Donetsk and Luhansk. Despite official denials, Russia is widely thought to have troops there, backing the separatists.
All this was set off by the 2014 Maidan revolution—named after Kiev's central square, which was occupied by protesters over the bitter winter of 2013-4, to demand the ouster of President Viktor Yanukovich. Just as Britain recently voted to flee the European Union, Ukrainians were seeking closer ties to it. For the Maidan protesters, the EU represented guarantees for human rights and transparency in a country dominated by corrupt oligarchs.
Yanukovich represented the epitome of this kind of political animal, and set off the Maidan movement by rejecting a treaty for preliminary ties with the EU in favor of one for closer integration with Russia. He was finally removed by a vote of parliament in February 2014. By then, some 200 had been killed in repression, and some on the side of the protesters had started to arm. New elections were held in May, bringing the more Euro-friendly Petro Poroshenko to power. But separatists seized the east, and Russia annexed Crimea.
Even if you don't follow international news, it was hard to be unaware of all this if you live in the East Village. From the early days of the Maidan movement, a wall on the east side of Second Ave. between St. Marks Place and 9th Street displayed news clips from Kiev and messages of support for the protesters—adorned with the blue-and-gold colors of Ukraine and the trident that is the symbol of the nation.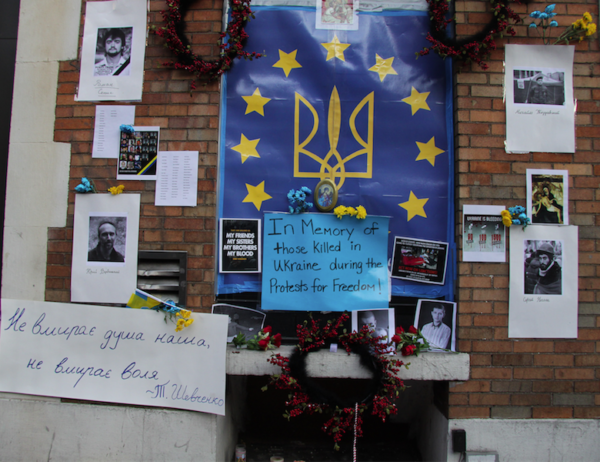 'Making Sure People Here Know About It'
On that block sits the Ukrainian National Home, hub of the neighborhood's 25,000-strong Ukrainian community. At the Home's restaurant, I met with Virlana Tkacz, a respected figure in that community and a longtime director in the East Village theater scene. Throughout the crisis, she has been back and forth to Ukraine—including areas now held by separatists.
Over salad and borscht, we discussed how Ukrainians in the metro area have reacted to events in the old country.
"The turn from a demand about a treaty to a revolution came on November 30, 2013," she related. That's the night that young protesters were brutally set upon by the riot police. "Seeing college students beaten and bloodied was what did it. People woke up and said, 'No, not in my country.' Grandmothers came out, everyone came streaming out of their apartments. You don't beat up our kids."
Tkacz admits, "If the students hadn't been beaten up it would have dissipated and the status quo would have just limped along."
But she emphasized the growing discontent that led to the Maidan movement—especially over the arrogance of Yanukovich-crony oligarchs. "They were building mansions in the middle of national parks, parking on the sidewalks with their big expensive cars. It was a mafia taking over."
Speaking of the neighborhood's Ukrainians, she said, "We immediately saw our job was making sure people here know about it."
Tkacz's productions at La Mama theater on 4th Street with her Yara Arts Group began in 1990. Her work that year, "Light from the East," dealt with Ukraine's re-emergent identity, which culminated in its declaration of independence from the Soviet Union the next year.
Later works on themes from Ukrainian history led to connections with formerly oppressed nationalities of other parts of the ex-USSR. She brought indigenous Buryat throat-singers from Siberia to La Mama, as well as traditional epic theatre performers from Kyrgyzstan. Villagers from Ukraine's Carpathian Mountains performed their Koliada winter ritual on 4th Street.
In 2013, she traveled to Donetsk to interview local youth about their ambitions. Their answers were incorporated into her work "Underground Dreams," held at a converted industrial space in Donetsk. "We spoke to kids who wanted to be ballerinas or actors or soccer stars." It was later performed in Kiev—and then, after Donestk was seized by separatists and the dreams of local youth derailed, reconceived at La Mama as "Hitting Bedrock." Now, Tkacz said, "it was about displacement and the war, and people we knew who were killed on both sides."
The Donetsk art space where "Underground Dreams" was first performed was used by the separatists for internment of war prisoners. Tkacz heard that sculptures were used for target practice.
Tkacz is now at work on a piece about the Crimean Tatars, the Muslim minority of the Peninsula, who were bitterly persecuted by Stalin and are today loathe to be back under Russian rule. It is to be entitled, "Ev = Home"—ev being the word for "home" in the Tatar language.
Joining us at the restaurant is Dora Chomiak, co-founder of the group Razom—Ukrainian for "together"—which formed in response to the Maidan movement, with affiliates in New York, Philadelphia and Washington DC.
Chomiak said the Maidan protests were born of betrayed dreams. "The unequal distribution of wealth, the corruption—they hoped to change all that with the treaty with the EU."
During the Maidan protests, Razom held solidarity vigils in Times Square and Washington Square, and in February 2014 marched over the Brooklyn Bridge with the blue-and-yellow Ukrainian flag.
"We support a prosperous Ukraine—a multicultural, multilingual, diverse Ukraine with links to the global economy," Chomiak said, pointing out that in addition to Ukrainian and Russian, Hungarian, Polish, Tatar and other languages are spoken in Ukraine.
A veteran of work in support of civil society with the International Renaissance Foundation in post-independence Ukraine in the '90s, Chomiak said she is now devoted to "amplifying voices of Ukrainians in countries around the world."
Razom is now engaged in supporting tech entrepreneurs in Ukraine through networking, and has launched a new website (so far only in Ukrainian), Ukroko.org, that monitors global news on Ukraine and "counters the Kremlin disinformation campaign."
Chomiak points to the gains of the Maidan revolution. "The big change is a sense of citizenship—for the first time in Ukraine. Because before the Soviets, we had the czars." Due to popular demands for transparency, all government contracts are now online for public viewing.
"They are making progress in that direction and justly proud of it," she said.
Chomiak pointed to the Gay Pride march in Kiev this June—the biggest since the first in 2014, and for the first time held in the city center. "All the Maidan folks were there, supporting people's right to parade," she says.
And while speaking Ukrainian was stigmatized under the Soviets—as late as the '80s, speakers were publicly admonished by the respectable to "speak a civilized language," even in Kiev—today there is a linguistic renaissance underway, manifested in poetry, film and music. "There's Ukrainian rap, and Ukrainian hipsters who look like they just got off the L train from Brooklyn," she said.
Recalling the commitment of her parents, who emigrated to the US after having been displaced in World War II but always kept alive their Ukrainian identity, Chomiak tells me, "To a large degree it's a family business —getting that part of the world to be functioning."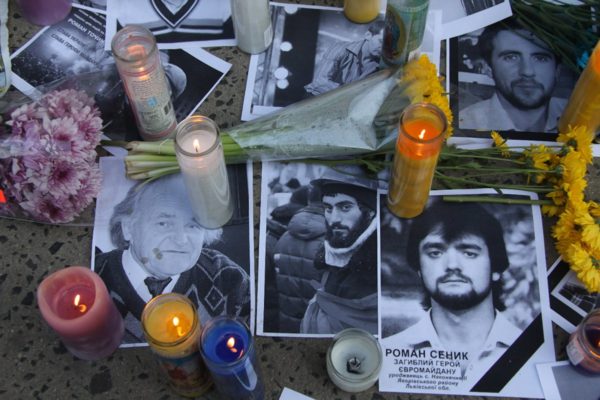 East Village as Refuge
East Village Ukrainians take pride in the neighborhood's role in keeping their culture alive through the worst years of Soviet oppression.
Anna Sawaryn is a veteran community activist who grew up in the neighborhood. "Some of us speak better Ukrainian than people back home, because they've all been Russified." she noted.
Sawaryn was there when the first annual June Ukrainian festival was held on 7th Street off Cooper Square in 1976. The next year, the former Hall Place, a small street stretching a block south from 7th, was renamed Taras Schevchenko Place after Ukraine's national poet. "He was the bard of Ukraine," Sawaryn said. "He unites all Ukrainians. Jewish, Catholic, Orthodox, no matter what part of the country you're from—you love Taras Schevchenko."
St George's Ukrainian Church was then being built on that corner, with an adjacent parochial school. Starting in 2001, Sawaryn fought to preserve Taras Schevchenko Place as Cooper Union college sought to enclose it as a gated campus plaza and have it "de-mapped" as a street.
"That was the only Ukrainian place name in the city of New York, and Cooper Union was going to take it away from us," she said. "So we started rallying the Ukrainians."
Cooper Union ultimately dropped the plan. But the futuristic building it put up at 41 Cooper Square, alongside Shevchenko Place, now blocks the view of the church from the west. "You used to be able to see the church from the Bowery," Sawaryn said wistfully. "It had presence."
Sawaryn's friend Christine Sachko is leader of the City Timbres, a local band that covers '60s rock classics. She is heartened by the cultural revival in the old country after the East Village kept the flame alive. "It's wonderful to see Ukrainians standing up for themselves and not being afraid," she said. "The Russification did not work—the young people still identify as Ukrainians."
Her significant other Wasyl Nysczej, a buildings engineer for the postal service, notes that his generation are the offspring of immigrants who came after World War II—many from displaced persons camps. "Every Ukrainian in the neighborhood can give you a horror story," he says. "The Soviets stopped all Ukrainian education. They told families, 'You have to speak Russian.' Our parents came here and started teaching their kids Ukrainian because we couldn't speak it back home. They put everything they had into the church and the school."
Sawaryn takes a cynical view of Donald Trump and his overtures to Vladimir Putin. Apart from his ambiguous "joke" of inviting Russia to hack Hillary Clinton's e-mail, Trump has broached recognizing the annexation of Crimea, and reneging on Washington's NATO commitments.
"Trump doesn't care about Ukraine or the EU," she says. "Putin will be able to become the father again—of the whole former Soviet Union. That's his ambition."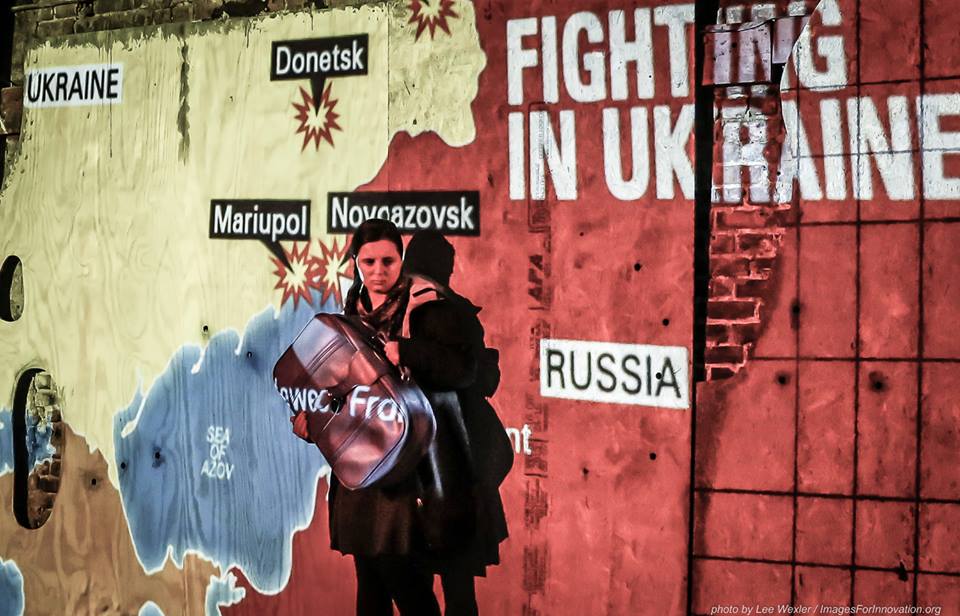 Left-Right Convergence Against Ukraine
There is a strange convergence of right and left around the Trump-Putin axis. Bernie Sanders supporters cheered the hack of the Democratic National Committee, widely attributed to Russian intelligence. The Green Party's Jill Stein dined with Putin earlier this year, when she was in Moscow for a forum organized by Kremlin media mouthpiece RT. Her YouTube video, speaking from Red Square on an anti-war theme—without a syllable of criticism for her hosts—has gone viral.
Julian Kytasty is the neighborhood's foremost master of the bandura, the Ukrainian lute. Last year, he travelled to Ukraine with a group of musicians and artists to work with youth displaced by the war. He notes a "flip in the coverage" of Ukraine on left-wing websites. "Early reports made the connection between Maidan and Occupy," he said. "They recognized the Maidan movement as a people's uprising against a corrupt government."
Now, I pointed out, many stateside leftists call the Maidan revolution a "fascist coup." Jill Stein called it "a coup against a democratically-elected government, where ultra-nationalists and ex-Nazis came to power."
"That meme is certainly being perpetrated," Kytasty admitted sadly.
Kytasty says the role of the far right in Ukraine since the fall of Yanukovich has been exaggerated—or viewed with a double standard. He acknowledges the Azov Battalion, a neo-fascist militia fighting on Kiev's side—but also points to the Night Wolves biker-gang-turned-militia on the separatists' side. This similarly ugly formation has received far less media coverage.
Virlana Tkacz also sees skewed coverage on the question. "The ultra-right got like 2% of the vote in Ukraine's last election. In France they get 30%. This is so stupid."
"The real shocker is that the left would stick up for Putin," she amazed. "It's like voting for Trump. What kind of left have we got? In the Cold War, they gave a free pass to the Communists. But why a free pass for Putin?"
Tkacz is hardly uncritical of US imperialism. "I was very much involved in anti-war protests during Vietnam and Iraq," she said. She adds that her interest in indigenous peoples began with her theatrical work at the American Indian Community House in the '80s.
Noting grim possibilities in the near future of the United States, Tkacz flipped the usual notion of the US exporting democracy to places like Ukraine.
"Ukrainians have a lot to teach us," she said. "We may have to do it here. Are you going to be out there in Washington Square every day when we have to do it here under a President Trump?"
———
This story first appeared Sept. 1 in The Villager.
Top and bottom photos of "Hitting Bedrock" from Yara Arts Group via Facebook
Photos of neighborhood Maidan memorials by Tequila Minsky, The Villager
From our Daily Report:
Jill Stein joins Trump-Putin fascist convergence
CounterVortex, Aug. 17, 2016
Russia and Ukraine on war footing
CounterVortex, Aug. 14, 2016
Tatar autonomy suppressed in Crimea
CounterVortex, April 29, 2016
Fascist pseudo-anti-fascism advances in Russia
CounterVortex, Sept. 1, 2014
See also:
ANOTHER WEEK CLOSER TO FASCISM
Putin Shows What Trump Has in Store for America
by Michael I. Niman, The Public
CounterVortex, September 2016
UKRAINE: REVOLUTION AND CONTRADICTION
Popular Uprising in the Shadow of Putin's Russia
by Kevin Anderson, The International Marxist-Humanist
CounterVortex, May 2014
—————————-
Reprinted by CounterVortex, Sept. 24, 2016