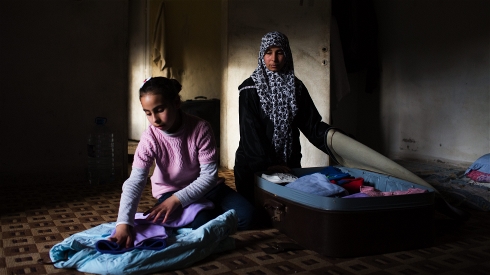 by Philippa Garson, IRIN
The United States may be the global leader in refugee resettlement, but so far it has opened its doors to a mere 1,000 Syrians looking for a safe haven from their war-torn country. Human rights groups, members of Congress and city planners are among those trying to persuade President Barack Obama to allow more Syrians to settle here. However, security concerns, anti-immigration sentiment and bureaucratic hurdles all stand in the way.
It has taken the world a long time to acknowledge that most of the 12 million Syrians displaced—inside and outside their country—by the five-year civil war will not be going home anytime soon. Neighbors Jordan, Lebanon and Turkey have absorbed nearly four million Syrians between them. Other countries have been slower to step up to the plate, particularly in terms of pledging to take some of the 88,000 Syrian refugees allocated for resettlement by the UN's refugee agency, UNHCR. Twenty-eight countries have so far agreed to take in 62,000 of them—with Germany taking nearly half.
The US has not committed to a specific number, but Larry Yungk, senior resettlement officer with UNHCR in Washington, said it is expected to take in only 35% of the 13,000 individual cases submitted for consideration by his agency. The protracted US security clearance process, which involves additional checks for Syrians, means it is likely to be at least another two years before the refugees set foot on American soil.
"This is just too little and too slow for a country that should be a global leader," said Eleanor Acer, from Human Rights First, which is advocating for the US to take in 65,000 Syrian refugees by the end of 2016.
In recent years, the US has agreed to take an annual maximum of 70,000 refugees for resettlement, more than half the total number of refugees resettled globally. But activists argue that the soaring numbers of refugees—16.7 million according to UNHCR's latest figures—calls for exceptional measures on the part of large, wealthy countries like the US.
Recently, 14 senators called on President Barack Obama to dramatically increase the number of Syrian refugees accepted for resettlement, arguing that the US has a "moral obligation" to help Syria's neighbors, who are already hosting millions of refugees.
However, some Republican leaders have argued that bringing in more Syrians will create security risks.
Security concerns
The many security checks required by the US already screen out all but the most vulnerable—mostly women and children and victims of torture. Acer argued that the "sweeping inadmissibility aspects" of the security measures exclude large numbers of people who pose no possible risk to the US. "It is interpreted so broadly that the results are absurd," she said.
The "terrorist-related inadmissibility grounds" (TRIG) exclude individuals who may have given "material support" to anyone associated with an organisation the US classifies as terrorist. In a country wracked by a civil war in which several such organisations are protagonists, this support—which can be as nominal as selling a sandwich to someone associated with a terrorist group or paying militants to get through a checkpoint—is hard to avoid. Officials are now taking this into account and reviewing many cases previously excluded by the provision, but this measure is only likely to result in a few hundred more Syrians being admitted, not the tens of thousands activists are calling for.
Kelly Gauger, deputy director at the US State Department's Office of Admissions, told IRIN an additional 500 Syrian refugees will arrive before September, but admitted that the US long-screening process and the fact that UNHCR only started submitting Syrian candidates last year meant, "we might not see large numbers for a couple of years."
"The US is committed to being a significant player but we need to be careful… that we are admitting Syrians who don't mean to do us harm," she added.
A special programme allowed 120,000 Iraqis able to prove that their lives were endangered because they worked with American organisations to be resettled in the US over the last eight years.
Daryl Grisgraber, a senior advocate with Washington DC-based NGO, Refugees International, suggested that, "the US is not feeling the same moral obligation towards the Syrians."
"The humanitarian aspect has been subsumed by the security aspect," she told IRIN, adding that a public education campaign was needed "to counter the idea that refugees are a security risk."
Columbia Law School professor Michael Doyle pointed out that the refugees are fleeing the very people the US is terrified of letting in. "But the spectre of ISIS, the beheadings and the rhetorical targeting of US citizens makes it a very difficult issue for the immigration services to wave aside."
Being responsible for opening the door to terrorist infiltration would constitute a disaster for any president, he added.
Support from cities
Despite resistance to admitting more Syrians at federal level, there is growing support at city level, particularly in those urban areas desperate for the infusion of skills and entrepreneurial energy associated with immigrants. Michigan governor Rick Snyder, a Republican, last year called for 50,000 immigrants to kick-start the city of Detroit's ailing economy.
Two academics, writing in the New York Times last month, argued that it was "eminently feasible" to resettle Syrian refugees in Detroit, where there is already a sizeable Arab population. Refugees from Bosnia and Somalia, for example, had brought new energy to downtrodden areas in other cities.
Fadi Khankan, of the Washington DC-based Syrian Expatriates Organization, which has registered disappointment at the low resettlement numbers, supported the idea: "Syrian people have very handy skills. Lots are very educated. Wherever they go, they will really succeed."
He suggested also allowing some of the Syrian students currently languishing in refugee camps to come to the US on university scholarships.
Gauger described the Detroit proposal as "interesting," adding that a combination of low-cost housing and jobs would be needed to make it work. "The US resettlement programme is built on a model of early self-sufficiency. Unlike other countries that provide years and years of support, refugees in the US need to go to work early."
Yungk also pointed out that "resettlement has always been a solution for only a very small percentage of the [refugee] population." Globally, less than one percent of refugees are resettled.
———
This story first ran June 5 on IRIN.
Photo: Syrian Refugees, Um Abdullah and her daugther Maysaa, 13, pack a suitcase at their temporary home in Lebanon in preparation for their journey to Germany where they are being resettled. Credit: Andrew McConnell/UNHCR
From our Daily Report:
UN: world refugees break record
World War 4 Report, Jan. 10, 2015
Amnesty: Syrian refugees face abuse in Turkey
World War 4 Report, Nov. 21, 2014
See also:
AGAINST THE IMPERIAL 'WE'
The Fight Against ISIS is My Fight
by Bill Weinberg, The Villager
World War 4 Report, May 2015
ASYLUM SEEKERS DETAINED —FOR PROFIT
Detention centers hold asylum seekers needlessly, as operators rake in millions
by Peter Gorman, Fort Worth Weekly
World War 4 Report, May 2015
—————————-
Reprinted by World War 4 Report, June 12, 2015