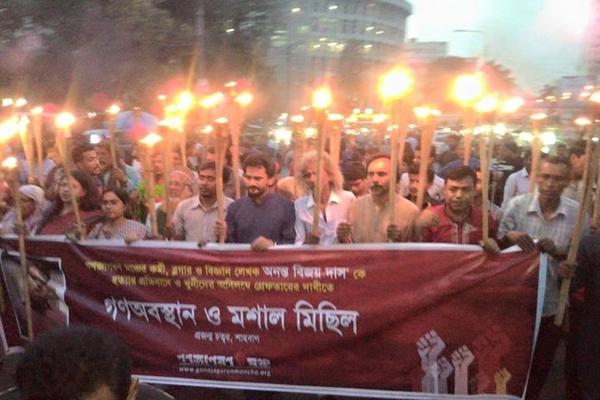 by Nava Thakuria, World War 4 Report
Amid the heat of protests over the killing of three secular bloggers this year, the government of Bangladesh has banned an Islamist militant group named Ansarullah Bangla Team (Volunteers of Allah Bangla team). The government of Prime Minister Sheikh Hasina issued a notification May 25 declaring the group outlawed under the Anti-Terrorist Act of 2013. The most recent victim, hacked to death May 12 in a street attack in the northeast city of Sylhet, was Ananta Bijoy Das, 33. At least four assailants chased Das as he was headed for his office in the morning hours, killing him in full public view. Das was hurried to a local hospital, but the attending doctors declared him dead.
Das was the former editor of a Bengali-language periodical entitled Jukti (meaning Logic), and also wrote for Mukto-Mona, a website developed and moderated by atheist blogger Dr. Avijit Roy—who faced a similar end three months earlier in Dhaka, the country's capital. Das, who also campaigned for banning Islamist parties, had faced threats for his activities. Dr. Roy, 43, was slain on February 26, and his wife Rafida Ahmed Bonya was seriously injured in the attack. Another Bangladeshi activist-writer, Washiqur Rahman Babu, 27, was slain under similar circumstances in Dhaka on March 30. The only visible reason for their brutal murders was that they were free-thinkers who spokes out against the fundamentalists of all religions, including the Islam.
Born to a Hindu family in 1972, Dr. Roy completed his education in Bangladesh and later migrated to America. An engineer by profession and blogger by passion, Dr Roy was a popular science writer as well as a political advocate. He started Mukto-Mona (Bengali for Free-Thinker) to propagate rationalism and provide a forum for secular writers. Read the blog's mission statement: "We are against all kinds of social injustices, religious and oppressive dogmas, doctrines, and discriminations. We critique everything that hinders people's access to civil liberty, freedom, democracy and secularism. We take a strong stand against all kinds of human rights violations such as oppression of ethnic/religious minority communities and gender-based discrimination against women, homosexuals and others."
Washiqur Rahman, who worked for a travel agency, wrote about science and often penned satirical pieces about religion under pen-name Kutsit Haser Chana (meaning Ugly Duckling). He advocated for reform of Islam-based legal codes across the globe.
Bangladesh reported its first killing of a blogger in 2013, when Ahmed Rajib Haider, an architect by profession, was hacked to death in Dhaka. The attack came as he was leading the Gonojagoron Mancha (National Awakening) movement—also known as the Shahbagh movement for the district of Dhaka where it first mobilized—demanding prosecution of for war crimes committed during the 1971 Bangladesh independence struggle. Thousands of Bangladeshi youths assembled in Shahbagh district for many days, calling for the death penalty for veterans of the Rajakars (or Razakars), the paramilitary force that favored union with Pakistan, and is accused of mass atrocities against the civil population. The protests did lead to creation of a war crimes tribunal—and several convictions and death sentences that have in turn been protested by the Islamist opposition.
Another blogger, Asif Mohiuddin, was targeted by presumed Islamist activists in March 2013, but the award-winning writer and activist succeeded in escaping with his life—although he received serious injuries. Several other secular writers and Gonojagoron Mancha activists have received death threats and are said to be on an Islamist militant "hit list."
Bangladesh, a Muslim-dominated country of 160 million, emerged as a sovereign nation after a liberation struggle (or Mukti Juddha) in 1971, in which an estimated 3 million people lost their lives. Over 200,000 Bangladeshi women were raped by Pakistani military forces and collaboraitonist paramilitaries. One of the important issues behind the uprising was the imposition of Urdu as the official language in East Pakistan (as Bangladesh was the known) by the West Pakistan government.
The disaster had its roots in 1947, when British-ruled India was divided into two nations after its independence, with India (Bharat) officially adopting the secularism, but Pakistan beocming an "Islamic Republic." When Bangladesh was born out of Pakistan in the 1971 Mukti Juddha, its founding father Bangabandhu Sheikh Mujibur Rahman conceived the new nation as a secular democracy.
However, Mujibur Rahman's rule was short-lived, as he was killed in a 1975 coup along with his entire family—except his daughter Hasina Sheikh (now prime minister). Gen. Ziaur Rahman became the strongman and, in 1977, official president. Gen. Zia, as he was popularly known, amended the constitution, declaring the first principle of Bangladesh as the "high ideals of absolute trust and faith in Almighty Allah." In 1988, the military dictator HM Ershad formally introduced Islam as Bangladesh's state religion.
Islamist influence in Bangladesh politics was nurtured and propagated by the Jamaat-e-Islami party—once an ally to the Bangladesh Nationalist Party (BNP) led by Khaleda Zia, the widow of Gen. Zia. Bangladesh's legal system continues to be partially based on Islamic law. The current Awami League government led by Sheikh Hasina did not initially condemn the killings of the bloggers, and even avoided expressing any official sympathy to the victims' families. The Prime Minster, who assumed power in 2009 and was re-elected in 2014, understood that many Bangladeshi nationals were sympathetic to the Islamists. Hence the government maintained silence over the media reports that the Ansarullah Bangla Team was responsible for the assassinations.
But the national and international protests over the killings had an impact. From UN agencies to international media bodies and human rights groups, the killings were widely condemned. A group of acclaimed writers and journalists from different parts of the globe came out together to express their grave concern over the escalating pattern of violence against bloggers in Bangladesh. In a letter to the Bangladesh government, the group pointed out that freedom of expression is a fundamental right under Bangladesh's constitution and under the Universal Declaration of Human Rights. Signed by Salman Rushdie, Margaret Atwood, Yann Martell, Amitav Ghosh, Anuradha Roy, Gita Sahgal and many others, the letter called on the Bangladesh government to ensure that the tragic events of the last three months are not repeated, and to bring the perpetrators to justice.
"We call on the Bangladeshi authorities to swiftly and impartially investigate Das's death as well as the murders of Roy and Babu, and ensure that the perpetrators are brought to justice in accordance with international fair trial standards," the letter stated. "We also demand that the authorities do all in their power to provide protection and support to bloggers and other writers at risk in Bangladesh, in accordance with Bangladesh's obligations under national and international law."
Facing series of protests both at home  and the international arena, the Bangladesh government took some firm steps against the acts of terror. The banning of Ansarullah Bangla Team followed recommendations from the Bangladesh police, who found that the ultraconservative outfit was responsible for multiple attacks on secular academics and writers over the years. Prior to Ansarullah Bangla Team, five other extremist outfits have been banned by Bangladesh—Jamaatul Mujahideen Bangladesh, Hizb ut Tahrir, Harkatul Jihad Bangladesh, Shahadat e-Al-Hikma and Jagrata Muslim Janata.
Meanwhile, the local police have arrested a Sylhet-based youth in connection with the murder of Ananta Bijoy. A local court has brough charges against eight for their involvement in the 2013 killing of Rajib Haider. The accused are said to be a group of university students in the sway of a conservative cleric at a Dhaka mosque.
———
Nava Thakuria is an independent journalist based in Guwahati, Assam, India.
Photo: Dhaka march for justice for slain bloggers. Credit: Secular Bangladesh
From our Daily Report:
Bangladesh upholds death sentence for Islamist
World War 4 Report, June 18, 2015
Bangladesh bans Islamist group in blogger attacks
World War 4 Report, May 25, 2015
See also:
JIHADIST SCYLLA, IMPERIAL CHARYBDIS
by Bill Weinberg, Dissent News Wire/Middle East Policy
World War 4 Report, January 2015
ASSAM IN FLAMES
Jihad and Ethnic Conflict Heat Up India-Bangladesh Borderlands
by Nava Thakuria, World War 4 Report
World War 4 Report, November 2008
—————————-
Special to World War 4 Report, June 19, 2015
Reprinting permissible with attribution