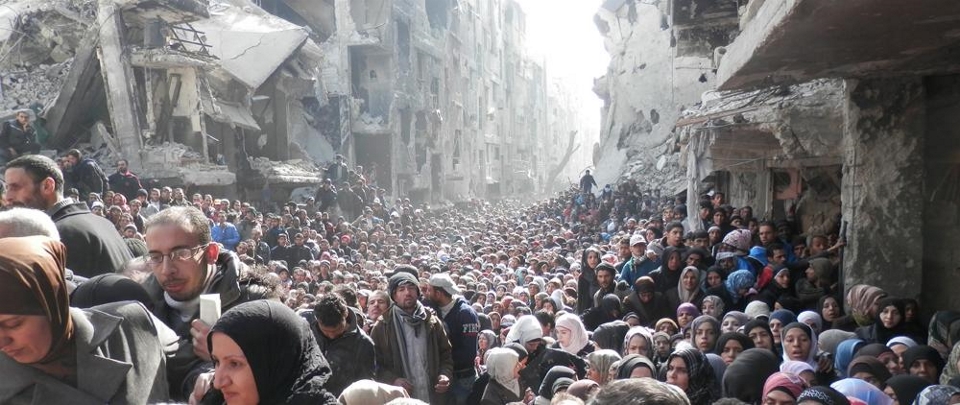 from IRIN
LONDON — At precisely the same time as aid lorries pulled into the besieged Syrian village of Madaya on Jan. 11, too late to save those who had already starved to death, convoys also entered the besieged areas of Fua and Kefraya. The timing was no coincidence. Last week's deal to allow aid into Madaya, which is surrounded by forces loyal to Syrian President Bashar al-Assad, including Hezbollah fighters, was more of a swap by warring parties than a humanitarian gesture: the same militant group inside Madaya surrounds Fua and Kefraya.
That this was the only way the war's belligerents could agree to rescue the estimated 42,000 civilians of Madaya, who had reportedly been eating spiced water and tree leaves, points to the complications of delivering aid through a blockade.
And the small village on the Lebanese border is not an isolated case. In the fifth year of Syria's war, depending on who you ask, there are anywhere between 393,700 and 2 million people living under siege and in desperate need of help.
As aid trucks brought relief to Madaya, IRIN went looking for information on sieges, and found out that even the simplest questions don't have easy answers.
What constitutes a siege?
OCHA, the UN's emergency aid coordination body, defines an area as besieged if it is "surrounded by armed actors with the sustained effect that humanitarian assistance cannot regularly enter and civilians, the sick and wounded, cannot regularly exit the area." According to OCHA, there are 4.52 million people living in "hard-to-reach" locations in Syria, including 393,700 in 15 besieged spots.
But the most recent UN secretary-general's report on the humanitarian situation in Syria does not include Madaya as one of them, while, perplexingly, Fua and Kefraya both make the list. All three of the cities received UN aid deliveries in October.
OCHA Syria did not respond to IRIN's request to explain how exactly it determines which areas are or aren't counted as besieged.
This is not the first time the UN's definition of a siege has been called into question by facts on the ground. In July 2015, the UN quietly removed the Yarmouk Palestinian camp from its besieged list, although at the time it had not been able to deliver relief in four months.
Pierre Boulet Desbarreu, Syria programme manager for Médecins Sans Frontières, estimates there are 1.8 to 2 million people living under "various degrees" of siege in the country. And Siege Watch, a joint project between the Syria Institute think tank and the NGO PAX, has meticulously applied the UN criteria to data collected from researchers on the ground, and come up with a number of around 1.1 million.
Does aid ever get in?
Be they besieged or "hard-to-reach," aid workers face major obstacles in delivering aid into areas encircled by fighters, and often barbed wire and mines. But no besieged area is hermetically sealed.
There's the official route for bringing in food, medical and other sundry relief supplies—the one taken by the UN and the International Committee of the Red Cross. This requires the tedious process of asking for—and usually being denied—access.
In a statement last week, the UN said only 10 percent of its requests to bring aid convoys into hard-to-reach or besieged areas had been successful in the last year.
Pawel Krzysiek, ICRC spokesman for Syria, told IRIN that hurdles and delays are part of the cost of doing business in Syria. "We don't have much space in this country in terms of what we can do, except constantly ask for access, constantly negotiate, make contacts and make requests," he said. "This is one of our biggest challenges."
"It's a choice," he continued. "You can do cross-border work… and be based in other places and smuggle aid in. For us, we choose to be here and follow up on what we can… not with one-time supplies but on a regular basis."
Even when official interagency convoys like the ones that moved into Madaya this week do make it through, the UN says supplies, even surgical equipment for example, are regularly removed by the Assad government.
So there are unorthodox alternatives, adopted at times by groups like MSF, which supports a medical facility inside Madaya and reports 28 people have perished there of starvation since the start of December.
"We have to find ways, underground ways, to provide assistance to hospitals [in besieged areas]," MSF's Desbarreu explained, declining to go into details so as not to "endanger these networks."
"But with the increasing severity of sieges," he said, even these sorts of methods are "more and more difficult."
Does it get to those who need it?
When aid does occasionally make it in, there's simply no guarantee it's enough or that it will get to those who really need it. Valerie Szybala, director of the Syria Institute, says one-time access deals like those forged for Madaya are little more than a patch-up job.
"Even if an aid convoy gets through…it never contains enough for the entire population, and the supplies that are distributed run out in a week or two," she told IRIN. "The [Madaya] deal isn't really saving lives if it is just one aid shipment and then they are leaving the people trapped in the same situation, because the regime will not let another aid shipment in the next month."
There are persistent rumors that armed groups can easily get their hands on aid. This is a complaint in the eastern city of Deir Ezzor, where so-called Islamic State and Assad loyalists have been battling it out for a year. Some 180,000 civilians are under siege there, surrounded by IS but with aid also cut off by the Assad government.
Jalal al-Hammad, director of the Justice for Life Observatory in Deir Ezzor, an organization that reports on the city, told IRIN that civilians had not seen the benefits of the latest aid drops, which came through a government-controlled airport. Instead, he said much of the food had made it onto the black market, where civilians were forced to buy it at a massive mark-up. "Besieged civilians did not receive any of the aid," he said.
Hammad described life inside the besieged neighborhoods of the city as bleak. "Some families depend on only one packet of bread each day, others are eating the grass that grows outside. They are boiling it and eating it," he told IRIN.
Fuel is either prohibitively expensive or nonexistent, and as the winter sets in the price of firewood has gone up. "So they're cutting down trees, and burning their clothes and shoes [to stay warm]."
Hammad says it costs around $1,000 in bribes to leave Assad-controlled territory. "Civilians are selling their homes and furniture…for the money to leave," he said. Others have done the same to buy food, and are sleeping rough.
So are these deals worth it?
On the face of it, deals to relieve starving civilians in besieged towns are morally sound and a humanitarian imperative.
However, once you dig a little deeper, the issue becomes more troublesome. Last week's deal for Madaya wasn't the first, and the pattern that is emerging has some onlookers worried.
In September, negotiators secured the evacuation of wounded pro-Assad fighters and their families from Fua and Kefraya in exchange for Sunni fighters and civilians from Zabadani.
At the same time, Assad and Hezbollah had already tightened their grip on Madaya, which by then housed many former inhabitants of Zabadani, setting up the next stage of a macabre siege-swap that is beginning to look more and more like a Shiite-Sunni population transfer.
Szybala, of the Syria Institute, is concerned that these tit-for-tat agreements effectively reward bad behavior without providing any long-term relief to the civilians. "From our perspective, it's not just Madaya," she said. "You have a systematic pattern of sieging and starving civilians by the Syrian government that the UN and aid agencies have accepted. There will be another Madaya if there are no consequences."
MSF's Desbarreu expressed concern at the precedent that has been set, as each besieged area becomes a bargaining chip, to be granted relief only when it becomes strategically expedient. "The different warring parties see that the more you take the population into a hostage situation, the more you can negotiate and reach a deal."
Other besieged areas have seen a similar pattern. The Damascus suburb of Moadamiyeh, once listed by the UN as besieged but removed in 2014 after one of several truces, is reportedly under an increasingly tight stranglehold again.
This concerns Hammad, who sees Deir Ezzor's struggle as one and the same as Madaya's. "There is no doubt that [the aid delivery] is not enough," he said. "It's breaking the siege but it is not lifting the siege. The siege will be laid again, and the food will run out. Hunger and suffering will come back again."
"We are waiting for one of two things," Hammad said. "A miracle that will lift the siege, or death."
———
This story first ran Jan. 12 on IRIN.
Photo: Thousands of Palestinians awaiting aid distribution at Yarmouk camp on the outskirts of Damascus in 2014. Credit: UNWRA
Related:
Yarmouk camp no longer besieged, UN rules
IRIN, July 24, 2015
From our Daily Report:
Syria: 'peace' declared amid carnage, starvation
World War 4 Report, Jan. 11, 2016
UN 'peace deal' betrays Assad-ISIS collaboration
(on deal to lift siege of Yarmouk)
World War 4 Report, Dec. 29, 2015
See also:
RAQQA CIVILIANS ON THE LINE
by Annie Slemrod, IRIN
World War 4 Report, January 2016
—————————-
Reprinted by World War 4 Report, Jan. 15, 2016