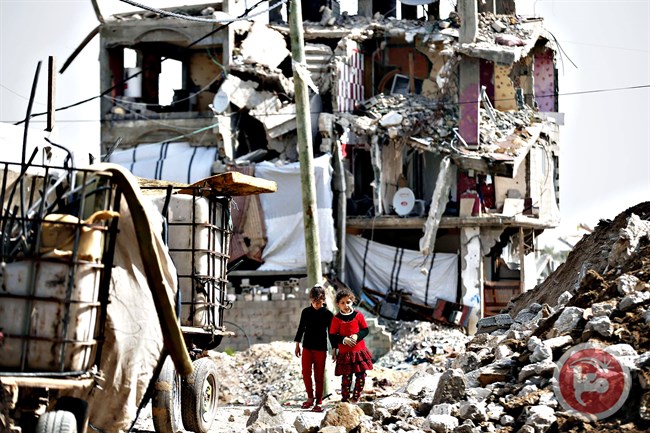 Reaching a Humanitarian and Political Breaking Point
by Chloe Benoist, Ma'an News Agency
BETHLEHEM — As the Gaza Strip marked the ten-year anniversary of Israel's siege of the small Palestinian enclave on June 15, the humanitarian situation has continued to alarm rights groups, which have denounced the "inhuman conditions unparalleled in the modern world."
Gaza, which has often been compared to an "open air prison" for its 1.9 million inhabitants crowded into 365 square kilometers, has suffered from a decade of isolation and deprivation, made all the worse by three devastating Israeli military operations, and persistent intra-Palestinian political strife.
The recent decision by the Palestinian Authority (PA) to request that Israel reduce its supply of electricity to the Gaza Strip has made many fear that the situation in Gaza could soon reach a political and humanitarian breaking point with unforetold consequences.
A decade of crushing restrictions
Six months after Israel evacuated its illegal settlements in the Gaza Strip, the Hamas movement won Palestinian legislative elections in January 2006 by a landslide, scoring 74 seats in the Palestinian Legislative Council (PLC), while Fatah, the ruling party of the PA, won a mere 45.
Deplored as a "tsunami" by Fatah officials at the time, the elections sparked tensions between Hamas and Fatah, amid Israeli and American economic sanctions against the PA, as the two countries consider Hamas to be a terrorist group.
The tensions culminated in the Battle of Gaza between June 10 and June 15, 2007, during which Hamas wrestled full control over the coastal territory, prompting Israel to impose a full-scale military blockade of Gaza.
In the decade since, Israeli authorities have severely restricted Gazans' freedom of movement, requiring that all Palestinians—including medical patients in need of treatment, businesspeople, and elderly worshipers—obtain permits in order enter or exit through the Erez border crossing.
Egypt, the only other country sharing a border with Gaza, has also upheld the blockade since Abd al-Fattah al-Sisi overthrew the Muslim Brotherhood-led government in 2013 and became president.
Many Gazans are prevented from leaving or entering the besieged coastal enclave, sometimes for months at a time, as Egyptian authorities only periodically open the Rafah crossing, stranding Palestinians on both sides of the crossing during closures. According to the United Nations, the crossing was opened only 44 days in 2016, and 21 days in 2015.
Egypt also recently attempted to pressure the Gaza government into cooperating with its harsh "counterterrorism" crackdown in exchange for providing some direly needed electricity.
Israel has also maintained stringent restrictions on goods allowed inside the besieged enclave, arguing that construction material such as cement could be used by Hamas and other Palestinian resistance groups for military purposes.
Israel Defense Ministry files released in 2012 also revealed that Israeli authorities had also restricted the entry of food into Gaza, with items such as cardamom, chocolate, and potato chips listed by legal NGO Gisha as being prohibited from import into Gaza in 2010.
Meanwhile, Gaza's agricultural sector has been negatively affected by Israel's loosely defined "buffer zones" on both land and sea, as Palestinian fishermen and farmers risk their lives should they get too close to the border fence or stray away from the small "designated fishing zone" off the coast of Gaza.
The lasting impact of three wars
Israel has cracked down on Palestinian resistance in the Gaza Strip over the years, claiming that rockets sporadically fired from the small Palestinian enclave and tunnels built between Gaza and Israel or Egypt justify the imposition of punitive measures on Gaza.
While the tunnels between Gaza and Israel are used by resistance groups seeking to target Israel, the tunnels with Egypt are used by Hamas as a source of tax revenue and inflow of weapons, and also supply highly demanded necessities for Gazans, including food, medicine, and much-needed infrastructure materials.
The already stringent blockade has only seen its impact multiplied by several large-scale Israeli military operations in Gaza in the span of ten years, in which Israel has been accused of indiscriminate use of force that rights groups have said amounts to war crimes.
During "Operation Cast Lead," a three-week war which began in late December 2008 and ended in January 2009, 1,391 Palestinians were killed—926 of them civilians—and more than 5,000 were wounded, according to the Palestinian Center for Human Rights (PCHR). Meanwhile, 13 Israelis were killed—four of whom by friendly fire—and 518 were wounded.
In November 2012, Israel's one-week military strike known as "Operation Pillar of Defense" left 160 Palestinians killed and 1,000 injured, according to PCHR, while the Israeli government stated that six Israelis were killed and 229 were wounded.
The most devastating conflict, however, took place in the summer of 2014, when a seven-week war ("Operation Protective Edge") claimed the lives of 2,310 Palestinians, 70 percent of them civilians according to the Gaza Ministry of Health, and wounded more than 10,500 others. Meanwhile, 72 Israelis, 67 of them soldiers, were killed, and 555 were wounded.
Hamas has not claimed responsibility for any rocket attacks since a ceasefire was declared after the 2014 war, and the movement has attempted to clamp down on armed activity by smaller political groups that do launch rockets from the territory.
Israeli officials have nonetheless accused Hamas of "preparing" for another war with Israel and have threatened retaliatory measures against the Gaza Strip as a whole—notably carrying out airstrikes in 2016 and earlier this year—while Israeli authorities hold Hamas responsible for all attacks against Israeli targets coming from the Gaza Strip.
An ever-worsening humanitarian crisis
The three Israeli offensives caused extensive damage to Gaza's water, sanitation, energy, and medical infrastructure, and destroyed thousands of homes, whose reconstruction has been seriously stalled by the Israeli limitations put on the import of material, as well as the slow disbursement of international aid.
As of August 2016, some 50 percent of the buildings that were completely destroyed during the devastating 2014 war were still awaiting reconstruction, while an April 2016 UN report estimated that 75,000 Palestinians were still homeless nearly two years after the latest war.
Touting one of the world's highest unemployment rates at 44 percent, an estimated 80 percent of Gaza's population is dependent on humanitarian assistance.
In 2015, the UN warned that the Gaza Strip could become "unlivable" by 2020 if nothing was done to improve the situation, but recent developments have led many to fear that the deterioration of living standards could take place much more quickly than expected.
While Gaza had struggled for years with power shortages due to limited fuel access and degraded infrastructure, Gaza's sole power plant shut down in April, as Gaza's electricity officials saying they could not afford a PA-imposed tax on diesel fuel that doubled the price of operating the plant.
As a result, Gazans went from eight hours of electricity a day down to three or four. Meanwhile, Israel's decision to implement PA-request limitations on power supplies, as the PA accused Hamas of failing to transfer electricity payments, could further reduce access to power by half.
A group of 16 civil society organizations urged Israeli authorities on Juneb 14 to reconsider limiting electricity output to Gaza, slamming the decision as "unrelated to concrete security needs" and "political in nature," therefore in violation of international law.
"Israel cannot claim to be only a service provider, responding neutrally to a client's request. Given its extensive control over life in the Strip, Israel is responsible for enabling normal life for its residents, as an occupying force in the Strip," the groups said.
"The harm to Israelis and Palestinians, and to the region as a whole, from an escalation in hostilities, is far greater than any benefit (political or otherwise) that may be gleaned from the implementation of the decision."
Access to health care has been heavily impacted by the blockade, power shortages, and PA budget cuts, putting hundreds of patients' lives at risk.
"The health sector is able to provide only the absolute minimum standard of care—hospitals are being forced to cancel some operations, are cutting back on maintenance, and are dependent on the United Nations for emergency fuel to run their generators," UN Special Rapporteur on the human rights situation in the occupied Palestinian territories Michael Lynk said on June 15.
Lynk added that, with water treatment plants in Gaza functioning at approximately 15 percent capacity due to the power shortages, sewage was pouring untreated into the Mediterranean Sea, and access to drinking water in Gaza was becoming scarcer.
Lynk also warned that the cost of living essentials, such as food, was increasing, while increased electricity cuts were forcing companies to close or reduce hours, leading to even higher unemployment.
Persistent Palestinian political disunity
In the span of a decade, the Hamas-Fatah rivalry has continued unabated, with recent moves by the PA further exacerbating the dire living conditions in Gaza.
Tensions have only escalated in recent months over the ongoing electricity crisis in Gaza; accusations of politically motivated arrests in both the West Bank and Gaza; PA-imposed cuts to the salaries of civil servants in Gaza; and the occurrence of local elections only in the West Bank, despite being boycotted by Hamas and other parties.
During its decade in power in Gaza, Hamas has been denounced for its violations of human rights, including its use of the death penalty, notably against people accused of "collaboration" with Israel, and its crackdown on dissident voices.
Israeli news outlet Ynet reported June 14 that a PA statement marking the decade anniversary of the blockade blamed Hamas for the situation in Gaza.
"The second Nakba that has befallen our people," the statement reportedly read, referring to the forced displacement of hundreds of thousands of Palestinians during the creation of the state of Israel in 1948. "Hamas has turned Gaza into an intolerable hell."
Lynk, the UN special rapporteur, criticized Israel, the PA, and Hamas for having "a direct hand in the crisis," and urged them all to act for the well-being of Gaza residents.
"I call on them to put aside their differences, live up to their legal and political obligations, and to ensure that electricity needs are fully met, with immediate critical infrastructure requirements addressed," he said.
"Keeping Gaza economically crippled and socially isolated is a recipe for humanitarian distress and another conflict in the near future," Lynk added. "The rights of all people to freedom and security must be respected in order to achieve peace."
While UN Humanitarian Coordinator in the occupied Palestinian territory Robert Piper characterized the ever-worsening crisis in Gaza as "an internal Palestinian dispute" on June 14, rights groups have placed the bulk of the blame on the Israeli siege.
Israeli NGO B'Tselem blamed the blockade for putting Gaza "in the throes of a humanitarian disaster," adding that Israel was "consigning [Gaza's] residents to living in abject poverty under practically inhuman conditions unparalleled in the modern world."
"This is not some sort of natural disaster," B'Tselem added. "Had that been the case, Israel would have likely sent in a humanitarian aid mission. Instead, the reality in Gaza is the result of Israel's handiwork, achieved by its decade-long implementation of a brutal policy."
———
This story first ran June 18 on Ma'an News Agency.
Image: Palestinian girls walk past rubble of heavily damaged buildings in the Gaza City neighborhood of Shujaaiya during the 2014 Gaza war. Credit: AFP via Ma'an
From our Daily Report:
Israeli army shells Gaza —again
CounterVortex, Oct. 6, 2016
UN rights chief calls for end to Gaza 'impunity'
CounterVortex, Aug. 2, 2014
Mass suicide attempt over Gaza war compensation
CounterVortex, Dec. 4, 2013
Gaza: Israel approaching 'genocidal threshold'?
(on 'Operation Pillar of Cloud')
CounterVortex, Nov. 19, 2012
Chomsky sloppy on Gaza
CounterVortex, Nov. 8, 2012
The 'easing' of the Gaza siege, one year later: more illusory than real
CounterVortex, July 21, 2011
Gaza: UN urges lifting of Israeli restrictions on land and sea access
CounterVortex, Aug. 19, 2010
Gaza under siege again, despite Israeli pledge
CounterVortex, Nov. 14, 2008
Israel's high court upholds choking of Gaza
CounterVortex, Feb. 1, 2008
See also:
STANDING UP FOR GAZA IN NEW YORK CITY
Not for the Squeamish
by Bill Weinberg, The Villager
CounterVortex, August 2014
—————————-
Reprinted by CounterVortex, July 4, 2017