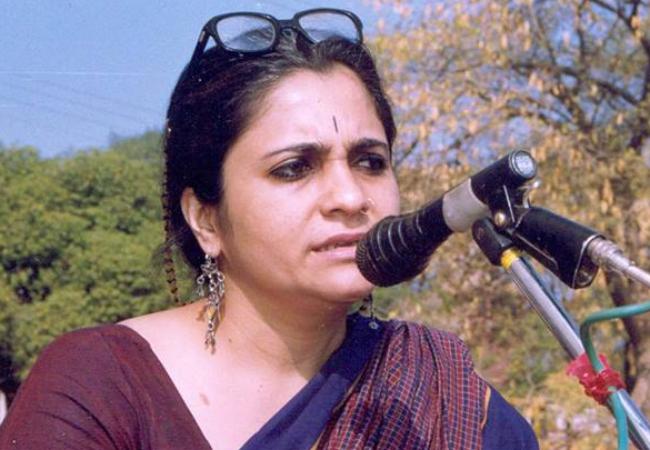 Interview with Teesta Setalvad
by Andy Heintz, CounterVortex
Teesta Setalvad is a social activist and an ardent defender of India's secular tradition, which is now under attack. She is founder of Citizens for Peace and Justice, a non-profit organization formed to seek justice for the victims of the anti-Muslim pogroms in Gujarat in 2002. She and her husband Javed Anand started Sabrang Communications and co-founded the magazine Communalism Combat in 1993 to highlight and oppose both majoritarian and minority communalism—which in India is used to refer to narrow allegiance to one's own ethnic or sectarian group. A feminist and defender of minority rights, she has supported the efforts to prosecute Prime Minister Narendra Modi for his alleged approval of the pogroms when he was chief minister of Gujarat. The Modi government has accused Setalvad of coaching witnesses, violating India's Foreign Contributions Regulation Act by taking money from the Ford Foundation, and misappropriating money that was earmakred for constructing a "Museum of Resistance" in honor of those who died in the pogroms. None of these accusations have been proven in court. Critics decry the allegations as politically motivated and meant to intimidate Setalvad and her husband. Teesta is the author of Foot Soldier for the Constitution: A Memoir, and is a contributor to the book Gujarat: The Making of a Tragedy. 
What has led to the ascension of Hindu Right in India? Did corruption in the [previously long-ruling] Congress Party help give rise to this movement?
I don't think corruption is the only reason. The single biggest presence in education today is the Hindu Right. They are working to change the mindsets of people. I think a lot of the current success and presence of the Hindu Right in the public sphere is because of their high level of organization. Americans even fund Rashtriya Swayamsevak Sangh- and Vishwa Hindu Parishad-run schools that promote Hindu supremacy—and often even hatred against minorities—because they think they are charity schools for tribal children. What they actually are doing is trying to re-fashion a culture and education that is inherently unequal and anti-Constitutional.
Given India's secular history, is there a strong pushback against this attempt to foster religious nationalism?
There is a pushback, but it's very scattered and unorganized. The opposition lacks the organization of the Hindu Right.
What compelled you to make the transition from being a journalist to an activist and voice for the marginalized?
It was the demolition of the 16th century Babri Mosque [by Hindu Right activists] in December 1992. The demolition was an overt criminal and symbolic act that was meant to de-validate and delegitimize secular discourse. Javed and I decided to quit our jobs in 1993 and start the magazine Communalism Combat. We felt we should use our media expertise not just for commercial and professional media, but also to look at the politics of exclusion. We did this through the media because we are journalists by profession. Communalism is misunderstood as something positive in the West. It is essentially the misuse of religion for political ends. Majoritarian communalism generally moves at the fastest pace and puts a stranglehold on democracy; which has happened under Modi. Our policy has always been to condemn minority communalism equally, while recognizing majoritarian communalism is a real threat to democracy. India is being governed by proto-fascist forces who openly espouse the overthrow of the democratic, egalitarian, republican order laid down in the Indian Constitution.
Can you talk about the charges the Indian government has leveled against you and your non-governmental organizations for allegedly coaching witnesses, violating India's Foreign Contribution Regulation Act, and misusing money meant to go to a museum in memory of the victims of the Gujarat anti-Muslim pogroms?
We have denied these accusations in court point by point, made all our accounts public, including reports by renowned auditors [who carried out] a re-audit after the allegations. Both Javed and I—and the trustees of both trusts—pride ourselves on accountability and transparency. The government still hasn't filed a chargesheet [where police identify who is to be charged with an offense] against us. The offense was lodged four years ago in January 2014, and we have turned over 21,000 pages of our accounts. The aim was always to vilify us in the public domain and keep the sword of incarceration and threats to personal liberty hanging over our heads. Our biggest disappointment has been in a large section of the Indian media, especially commercial television, which is concerned with parroting the agenda of the regime instead of functioning independently.
Do you feel these accusations are political in nature because you have been critical of Modi's role as Chief Minister in Gujarat when the anti-Muslim pogroms took place?
They are very clearly politically motivated. They began when Modi was chief minister of Gujarat and they continued when he became prime minister of the country. First the Gujarat police (directly under him), and thereafter the Ministry of Home Affairs in the central government, and the Central Bureau of Investigation (CBI)… have been trained on us. Even now the threat of more intimidation and threats intensifies every day.
Has there been a culture of impunity for the people involved in the anti-Muslim pogroms?
After the genocide in 2002, Citizens for Justice and Peace was able to take up 68 cases related to the pogroms. We have been able to obtain 172 convictions, and 126 of those have involved life imprisonment. The fact that we asked for life imprisonment instead of the death penalty reflected the success of our discourse with the Muslim communities, because this went against the "eye for an eye, tooth for a tooth" way of thinking that some of the people in the communities wanted. I think it's arguably the first time we have seen these types of convictions after an act of communal violence against a minority community. However, some crucial cases remain to reach their conclusion, the most important being that brought by  Zakia Jafri [whose husband, a former Member of Parliament, was killed during the pogroms]. We are assisting a brave widow and a survivor in establishing criminal liability of politicians, administrators and policemen for the genocidal program. Just as crucially, we are still defending these convictions in higher courts. Despite attempts to break our spirit, our crusade for justice continues.
How important is secular democracy to protecting women and minority rights in India?
I think the two issues are very, very linked. The whole notion of secularism and equality is very critical to the issue of gender rights. We have several important sections in our Constitution that are linked to gender and minority rights. Article 14 deals with equality before the law, and Article 21 deals with the right to life [and liberty]. Non-discriminatory provisions are included in Articles 15 and 16, and freedom of expression and the right to association is established in Article 19. Article 25 guarantees freedom of faith, and often this section is used to reinforce patriarchal [customs] with the majority and among the minorities. The whole gender discourse sometimes gets sidelined when we talk about community rights. We need to understand the individual rights of women in a community are just as critical as the rights of that community. One major lacunae, however, is the abolition of caste itself does not figure within the fundamental rights, and only a manifestation of caste exclusion—untouchability—has been outlawed by the Constitution.
What strategy should the political Left in India employ to galvanize enough support amongst the public to defeat the Hindu Right in elections?
After a boost in the 2004 general elections, the presence and popularity of the communist parties has been declining in subsequent national elections. The fact that the organized Left exists is still very important in a country like India where there is acute economic and social disparity. Some of us see ourselves as close friends of the Left. We hope the Left develops a more creative imagination and language. What is needed in this phase of brazen majoritarianism and acute neoliberal atomization is a mass political re-education of the youth—two thirds of India is under 40—in a language that is passionate, searching, uncompromising and creative. We have all the history and symbols, but we are somehow not able to galvanize the youth with maximum impact.
Do you believe that women having a bigger role in Indian governance would be good for democracy in your country?
India is a very stratified, hierarchal society. If we talk about women per se without factoring in which section these Indian women come from, you could have a situation that only benefits entitled groups of women. For example, would new opportunities for women include agrarian women, working-class women, women from minority groups, Dalit ["untouchable"] women? A genuine re-negotiation of these spaces, even within the progressive framework, would throw up voices and paradigms that would finally upset the majoritarian mindset in the country. Our problem is that Indian structures of democracy have not been very good on gender. We passed the anti-rape and anti-dowry legislations in the 1980s. But how many of the judges of higher courts, leave alone our politicians, abjure the practice of "accepting (coercing) dowry from the women's family"? What are the views of well-placed Indians on sexual assault and rape? How much do India's rich and huge middle classes spend on marriage celebrations?
There have been moments when the Indian feminist movement has broken through and negotiated crucial laws. There was the law against domestic violence and a law against female foeticide [abortion based solely on gender]. But why has the application of these laws been so poor? …The Indian government's so-called emancipatory legislation have often been negotiated with the male representatives of a particular community. There have been feminist movements that have led to progressive legislation, but other "feminist" laws have largely been negotiated by males.
What would be an effective way to counter the injection of religion into India's educational institutions?
Teaching social studies and history in a more democratized and pluralistic manner, introducing Constitutional values within the school syllabus, and interrogating caste, class, and gender inequality. Celebrating differences and allowing the young mind to question stereotypes. Given the proto-fascist tendencies of the government in power, we need to look at generating attractive materials in unconventional ways; such as through mass movements and community programs. We can't wait for the government to do this.
Have there been any charges leveled against the perpetrators of the lynchings being carried out in India?
In many cases the families of those brutally killed are now facing false charges by the offenders and the police. About 30 percent of the Indian police (at least) have been injected with prejudice, communalism, and majoritarianism. This regime has strengthened these sections who are now a law unto themselves, silencing the men and women from law enforcement who believe differently.
Do you think this culture of impunity is linked to the ideology of the present government, or has this been a long-term problem?
India has not negotiated justice for the survivors of targeted violence well. Whether it was the Nellie massacre [of Muslims in the state of Assam in 1983] or the massacre of Sikhs in 1984, the Indian state and even the courts have been poor on justice delivery. But this tendency has gotten more acute since Modi has been in power because of the brutal legitimization of the hatred. Whereas earlier you had occasional large bouts of violence, today you have a frightening culture of everyday lynching and attacks in public spaces on vulnerable sections of Indians: religious minorities (Muslims and Christians) and Dalits. Despite some of Modi's superficial statements against lynching, the culprits haven't been punished or charged.
Can you talk about the BJP [Modi's ruling party] appointing Hindu extremist Yogi Adityanath to be chief minister of the Uttar Pradesh?
This takes the Hindutva [political Hinduism] goal of religion incurring on politics to a different dimension and level. Appointing Adityanath as chief minister is as brazen as it is disturbing. Fundamental rights of minorities and Dalits are trampled on every day. The right to live safely, to be protected, to eat what you please, to enjoy your faith practices, are all in serious danger. Adityanath spends 80 percent of his time at the temple; he's not even attending to his administrative duties. This is a very serious issue, and he hasn't received the media criticism he deserves. His appointment to a Constitutional position is a brazen message by the supremacist Right that it does not in any way care for the essential fundamentals of the Indian Constitution.
———
Photo via Boomlive
Related:
Is Teesta Setalvad India's most hounded activist?
BBC News, Sept. 2, 2015
From our Daily Report:
'Untouchable' protests against Hindutva vigilantes
CounterVortex, Aug. 1, 2016
India: court convicts 24 in 2002 Gujarat pogrom
CounterVortex, June 3, 2016
India: court convicts 31 in 2002 Gujarat riots
CounterVortex, Nov. 12, 2011
See also:
AFTER GUARI LANKESH
Standing for the Human Rights of Journalists in India
by Nava Thakuria, CounterVortex
CounterVortex, October 2017
DID NARENDRA MODI ABET MASS MURDER?
by Subuhi Jiwani, CounterVortex
CounterVortex, May 2014
Also by Andy Heintz:
FOR SOLIDARITY, AGAINST IMPERIAL NARCISSISM
An Interview with Bill Weinberg
by Andy Heintz, Balkan Witness
CounterVortex, October 2015
—————————-
Special to CounterVortex, March 3, 2018
Reprinting permissible with attribution.