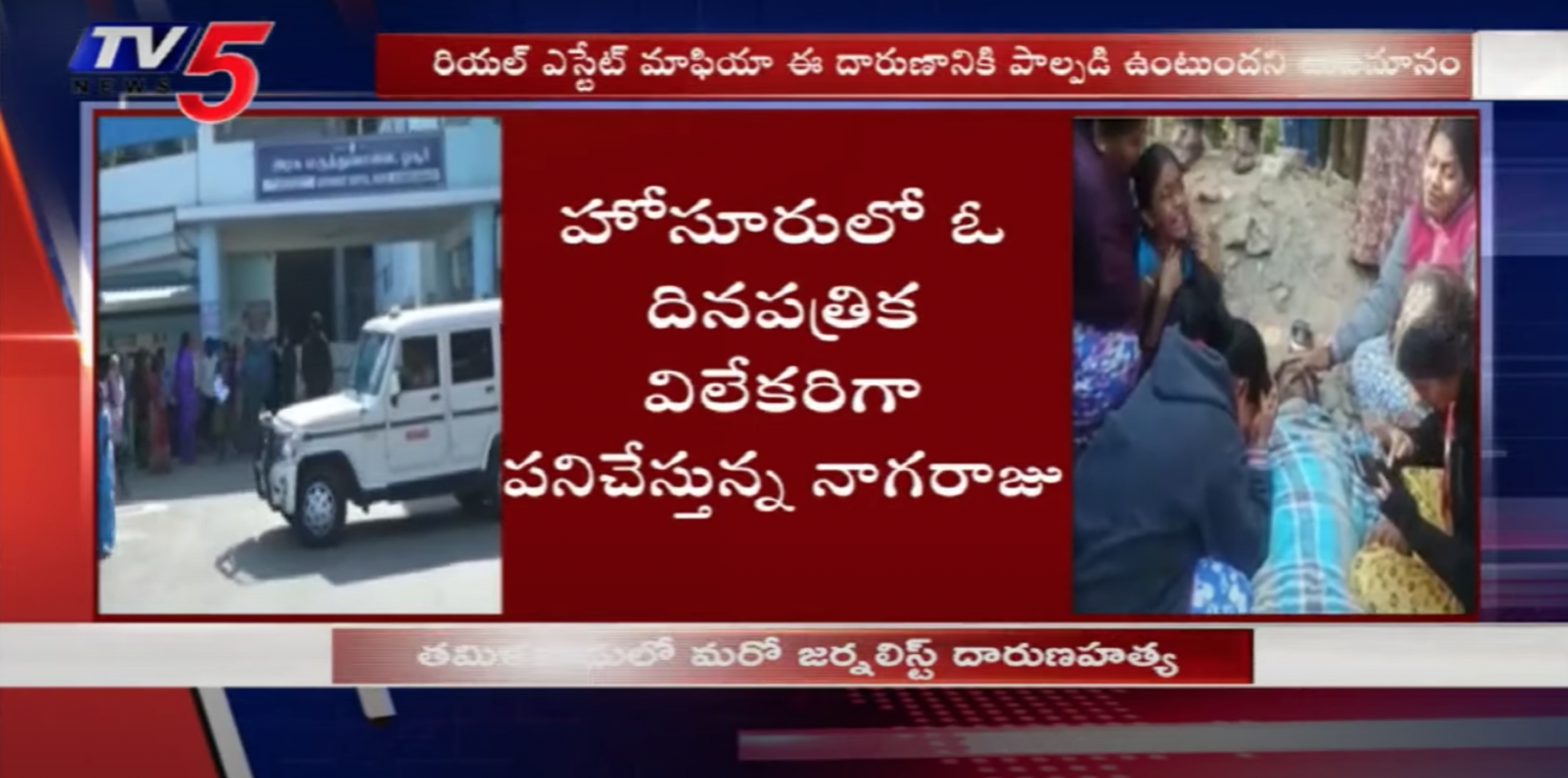 by Nava Thakuria, CounterVortex
In an industry already hard hit by the COVID-19 pandemic, India's media this year also saw an alarming increase in the slaying of journalists. As 2020 approaches its end, India emerges as one of the most dangerous countries in the world for working journalists—second only to Mexico. While Mexico has seen 12 journo-murders this year, the world's largest democracy has registered 12.
The latest gloomy news broke from Tamil Nadu, where Telugu-language scribe G. Nagaraj, 45, fell prey to the assailants on November 22. Working for regional newspaper Villangam, Nagaraj was attacked by a group of goons with sharp weapons in full public view at Hosur locality. Seriously injured, Nagaraj was taken to a nearby government hospital where the doctors declared him brought dead. Acording to local accounts, he had recently been reporting on land-grabbing by Tamil Nadu's "real estate mafia."
Days earlier, a rural reporter was killed along with his wife was killed in Sonbhadra locality of Uttar Pradesh. Uday Paswan, who was associated with a Lucknow-based Hindi daily, died on the spot, while his wife Sheetla Paswan succumbed to injuries next day in the hospital.
Days before that, another Uttar Pradesh newspaper scribe, Suraj Pandey, was found dead on a railway track in the locality of Sadar Kotwail. His family members claimed that he had been murdered, and had received threats from local police. Two officers have been arrested in relation to his death.
In northeastern Assam state, Kakopathar-based television journalist Parag Bhuyan died in a mysterious road accident on the night of November 11. The police have arrested two persons in connection with the incident, and the Criminal Investigation Department has opened a probe.
Bhopal-based television reporter Syed Adil Wahab was found murdered in a nearby forest area on November 8. Tamil Nadu television reporter Isravel Moses was hacked to death by a group of unknown assailants in Kancheepuram on the same day. He had recently been reporting on illegal encroachment on poramboke (public) lands by ganja growers.
Satellite TV channel SaharaSamay reporter Ratan Singh, based in Uttar Pradesh, was shot dead August 24 in what was described as a property dispute with neighbors. Assam's Tinsukia based television scribe Bijendeep Tanti was found murdered August 8 at his private rented office. Madhya Pradesh-based journalist Sunil Tiwari was shot dead on July 22. Same day, Uttar Pradesh journalist Vikram Joshi succumbed to injuries in the hospital after being attacked by a group of goons.
Andhra Pradesh digital channel reporter Ganta Naveen was murdered at Nandigama locality on June 29. Unnao locality in Uttar Pradesh witnessed the fatal shooting of reporter Shubham Mani Tripathi on June 19. He had been reporting on illegal sand mining in the areas for for Kanpur-based Hindi daily KampuMail. In February, local website reporter Aditya Kumar Ransingh was hacked to death in Banki locality of Odisha state.
The problem is, of course, a global one. "To date, we have documented killings of 80 journalists since 1 January 2020 besides 479 corona-media casualties in 56 countries. The safety of media persons is particularly at risk across the world as they have to continue providing information from the ground. We offer condolences to families of the all deceased scribes," said Blaise Lempen, general-secretary of Press Emblem Campaign, an international media rights body based in Geneva.
———
Nava Thakuria is a northeast India-based journalist and the country representative to Press Emblem Campaign, Geneva.
Image: TV5 News Telugu, Andhra Pradesh
See also:
CAN NEWSPAPERS SURVIVE COVID-19?
by Nava Thakuria, CounterVortex
CounterVortex, April 2020
2019: INDIA IMPROVES JOURNO-MURDER INDEX
by Nava Thakuria, CounterVortex
CounterVortex, December 2019
—————————-
Special to CounterVortex, Dec. 10, 2020