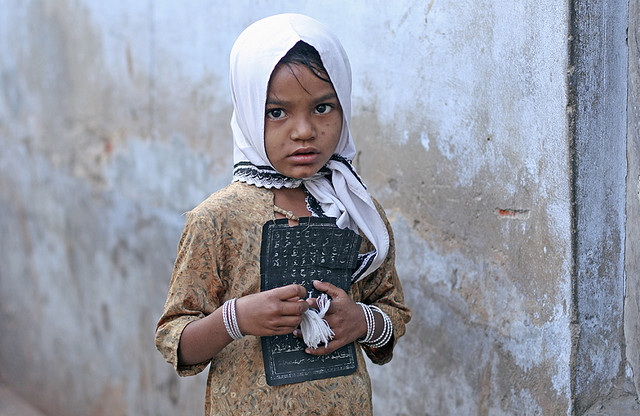 by Subuhi Jiwani, World War 4 Report
On May 16, 2014, vote counting day of India's lower-house Lok Sabha elections, I received a text with the title "Aaj ki ABCD" or the "ABCD of the day." All the letters of the alphabet were the starting points of phrases in praise of Narendra Modi. For instance, N was "Nationalist Hindu Modi"; R was "Rishwaton ka Lokayukt, Modi" or Ombudsman for Corruption, Modi; Y was "Youth ka bharosa, Modi" or Hope for the youth, Modi; and Z, unsurprisingly, was "Zindagi ka madksad, Modi" or The goal of life, Modi.
This is only a small indication of how convinced many Indians are that Modi, a Hindu nationalist, represents true Indianness and patriotism, a no-holds-barred approach to corruption (clearly a jibe at the rival Indian National Congress), and the promise of development and the availability of jobs, among other things that helped him and his Bharatiya Janata Party win a majority in these elections. This, despite the fact that Modi and 59 others have been accused of a criminal conspiracy in connection with the 2002 Gujarat pogrom—three days of anti-Muslim rioting that left more than 1,000 dead.
Today, he becomes the Prime Minster of the country. In a move that broke with historic precedence, he invited the heads of the South Asian Association for Regional Cooperation countries to attend his swearing-in ceremony. In attendance will be the leaders of Afghanistan, Bhutan, the Maldives, Nepal and Sri Lanka, in addition to Pakistan's prime minister Nawaz Sharif. A big draw for Sharif was the bilateral meeting with Modi on Tuesday, May 28, which could possibly help thaw the strained relations between India and Pakistan. (The New York Times via NDTV, May 24)
During his election campaign, Modi had promised to make India a more assertive presence in South Asia. What these meetings will signal for regional politics we will know in the coming days and months. What is worth noting, though, is the use of the term "assertive." It echoes another perception of Modi as "decisive," coming this time from Indian and global big business. Despite the burden Modi carries of not acting "decisively" to contain the 2002 anti-Muslim violence in Gujarat when he was the state's chief minister, he is a favorite among corporate interests. As commentator Siddharth Vardharajan says, he is seen as the man with "the willingness to accommodate the desire of capital to expand in any way it wants… accommodating the demands of foreign investors, including for opening up of the insurance and retail sectors. And if environmental rules, livelihoods, farmsteads or community interests intervene, they must perforce make way with the vigorous backing and assistance of the government. It is this promise of decisiveness that has made Modi such an attractive proposition for Indian—and global—big business today." (Seminar 656, April 2014)
It can be argued that Modi's active support of corporate interests contributed, at least partly to his victory. Big media, run as it is by big corporate interests, swayed with the personal preferences of its owners. Network 18, for instance, progressively moved rightwards, given its owner's open support of Modi, and it was reported that the channel instructed journalists to rein in anti-Modi stories and cut live to any Modi rally or speech. Other journalists from big media, who were critical of Modi, came under pressure as well, both online and in the newsroom. Some received threats of rape, others were fired from their positions. All this lead to The Committee to Protect Journalists stating that "free and independent reporting of the [BJP] campaign [was] in doubt—as is the future climate of press freedom."
The logic underpinning the BJP's campaign—on the roads, in the press, on TV, online and through social media—can be explained in one word: omnipresence. As economist Jayati Ghosh put it in The Guardian, "The BJP's campaign this time was different, seeking to present one man [Modi] as the national leader and creating an unprecedented media blitz around him for nearly a year, so that voters simply got used to the idea and even started believing the hype, through sheer repetition of the images and slogans." The party is estimated to have spent Rs 5,000 crore (over $1 billion).
What, one might be tempted to ask, is the hype surrounding Modi? In part, it is the perception that during his terms as Gujarat's chief minister (2002-14), the state's growth rate of per capita income was much higher than the all-India rate. However, scholars Maitreesh Ghatak and Sanchari Roy say that this, in and of itself, is not evidence enough to prove that the Gujarat model of economic development under Modi is exemplary. They have found that Gujarat's relative growth rate of per capita income was higher than the all-India rate even in the 1980s and 1990s, and it increased only marginally in the 2000s. Besides, other Indian states, like Maharashtra, Haryana and Tamil Nadu, had very similar growth rates during the same period, and the most dramatic turnaround in growth rate in the 2000s was witnessed by Bihar. (See also "Did Gujarat's Growth Rate Accelerate Under Modi?" Economic and Political Weekly, April 12.)
But the "Modi effect" on the Gujarat economy was still the peg for an aggressive election campaign which, in the same breath, criticized a Congress-led government that had seen several corruption controversies during its tenure. This message was blasted at the Indian public from every corner. As a result, it captured the imagination of a people eager for parivartan or change at the ballot box. The BJP came out victorious with a clear majority of 282 out of 543 seats in the Parliament, helmed by a man whose style of governance has been described widely as "autocratic." Incidentally, in his first official statement as Prime Minister elect on May 25, Modi said that he will build a leaner Cabinet, merging and restructuring several ministries. "Mr Modi is eventually aiming at Smart Governance where the top layers of Government will be downsized and there would be expansion at the grass root level." (Sic) (For detailed election results, see NDTV-Elections 2014.)
This is perhaps not surprising for a man who, it has been said, governs with a mighty hand and a concentration of power around him. This is the same man against whom Zakia Jafri—wife of former MP Ehsan Jafri who was killed by Hindu Right Wing mobs in Gujarat in 2002—has been fighting. While the Supreme Court recently reopened a judicial inquiry into the case accusing Modi and 59 others of criminal conspiracy in the 2002 riots, Jafri's petition has been adjourned by the Gujarat High Court.
Though there have been some convictions for the Gujarat riots, Jafri feels that the ultimate responsibility lies with Modi for abetting mass murder. "Why does an old lady still want to fight against this powerful man?" she was quoted as asking in The Telegraph. "Because I'm on the path of truth. I will fight for justice, and I will win."
———
Photo of Muslim girl in Gujarat by Meena Kadri via Flickr
From our Daily Report:
India: more convictions in Gujarat riots
World War 4 Report, Aug. 29, 2013
See also:
POGROMS, PARANOIA AND POLLING IN INDIA
A Muslim Woman Confronts Her Fear of Voting—Eight Years After the Gujarat Massacres
by Subuhi Jiwani, Sarai Reader
World War 4 Report, June 2010
—————————-
Special to World War 4 Report, May 26, 2014
Reprinting permissible with attribution.