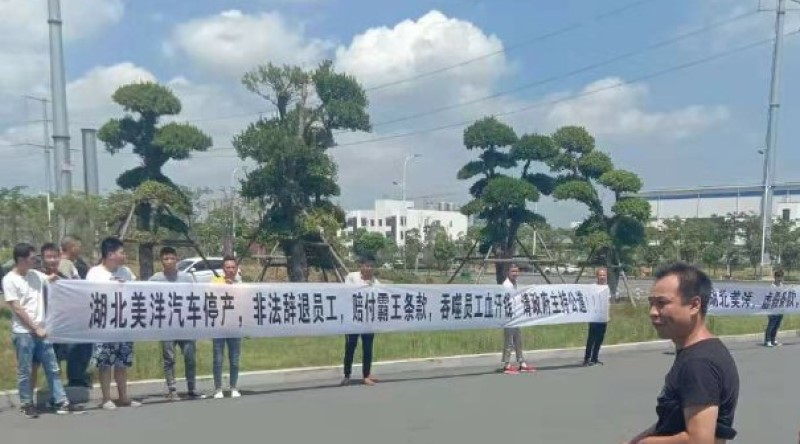 Employees at Hubei Meiyang Automobile Industry Co., Ltd. staged a demonstration on July 25 to protest "illegal dismissals, wage arrears and compensation payments." Meiyang Auto, a "new energy" start-up based in the central city of Xiangyang, had been in production for less than two years before halting operations. One day earlier, workers at Eastone Automotive in Shanghai's Pudong district staged a protest claiming they were owed around 40 million yuan in wages in arrears stretching back to the beginning of the year. Employees claimed they were being forced to leave without any compensation, and appealed to the local government for help. And on July 23, workers staged a protest demanding the payment of wages in arrears from a Cadillac dealership in Taizhou, Zhejiang, that had suddenly closed down without warning. So far this year, China Labour Bulletin's Strike Map has recorded 25 collective protests by workers in the automotive sector, up from just five in the same period last year. The protests, mostly related to layoffs and wage arrears, have occurred in car plants, components factories, dealerships and service centers, and even car rental agencies.
The Financial Times reported July 29 that passenger vehicle sales in China fell by four percent to 23 million last year, and have continued to decline this year, dropping by 14 percent in the first half of the year compared with the same period in 2018. Foreign manufacturers have been hit hard by the decline, the newspaper said, with Ford and PSA (which owns Peugeot) operating at well below full capacity. Ford's plants in China operated at just 11% of their potential output in the first half of the year.
Around 220,000 jobs, or about five percent of the automotive sector, have been lost since the downturn in the industry began in July last year, according to official statistics. While many were laid off, it is understood that many others resigned because production levels were so low that they could not work overtime or earn any bonuses, leaving only their basic wage, which was barely enough to live on.
China's auto workers have long been at the forefront of the workers' movement in China, most notably in the summer of 2010 when auto factory workers in southern China led a series of largely successful strikes demanding higher pay. Later, in 2016 and 2017, thousands of agency workers at FAW-Volkswagen in the northeastern city of Changchun staged several protests demanding equal pay for equal work. They won a partial victory at the end of 2017but many say their grievances have still not been fully resolved.
This year, however, workers are mostly fighting a mainly defensive battle to ensure that their legal rights are protected during the economic downturn.
From China Labor Bulletin, July 30
See our last posts on protests and labor actions in China.
Photo via China Labor Bulletin