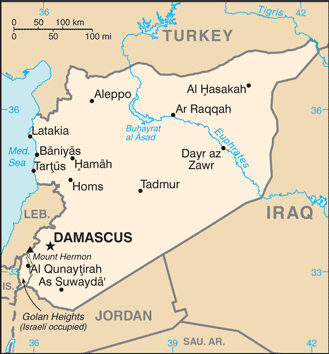 Seven volunteers of the White Helmets civil defense organization were killed on Aug. 12 by a gang that raided their headquarters in Sarmin, Idlib province, in northwest Syria. The victims were shot in the head. The attackers stole money, two mini-buses serving as ambulances, and equipment. The bodies were discovered soon after dawn by the next shift of volunteers arriving for duty. No one immediately claimed responsibility for the attack, but it came amid tension in the area. Idlib province is currently being rocked by clashes between Hayat Tahrir al-Sham (HTS, the Nusra Front offshoot aligned with al-Qaeda) and the rival Ahrar al-Sham. Sarmin is controlled by HTS, which has denounced the attack.
HTS had also recently warned that it had uncovered ISIS sleeper cells in Idlib province.
One of those slain, Abu Kifah, came to international attention last September when he rescued a baby in eastern Aleppo city after an Assad regime air-strike. He was filmed carrying the infant, who survived, and breaking down in tears: "I felt like she was my daughter." Earlier this year, he became a father.
Almost 200 White Helmets personnel have been killed, the large majority in Assad regime and Russian air-strikes, since the organization was formed in 2013. The organization maintains it has saved more than 95,000 lives in rescue operations.
The White Helmets' work has angered supporters of the Assad regime, who have mounted a sustained disinformation campaign to smear the group as an ally of  al-Qaeda. (EA Worldview, BBC News, Aug. 13; Syria News, Al Jazeera, Aug. 12)
HTS, aligned with al-Qaeda