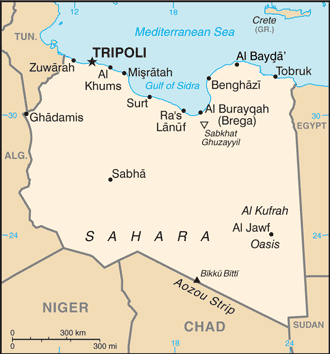 Forces loyal to the Libyan National Army (LNA), military arm of the country's unrecognized eastern government, appear to have executed captured fighters in Benghazi and desecrated corpses, Human Rights Watch charges. Video recordings posted online since January seem to show LNA fighters carrying out seven distinct unlawful executions of "extremists." The most recent video, which appeared on social media July 24, shows the apparent summary execution of 20 blindfolded men with their hands tied behind their backs in orange jumpsuits, whom the commander in charge accuses of "terrorism." The executioners appear to be members of a special forces unit headed by Mahmoud al-Werfalli.
The Army Special Forces in Benghazi, under the command of Wanis Bukhamada, are linked to the LNA, which is commanded by Gen. Khalifa Hiftar. The LNA is allied with the Interim Government, one of the three governments vying for legitimacy, international recognition, and control of territory in Libya.
On August 15, the International Criminal Court (ICC) issued an arrest warrant for al-Werfalli for the war crime of murder. He is wanted by the court for his alleged role in the killing of 33 people in seven incidents that took place in and around Benghazi between June 2016 and July 2017. The Interim Government should take immediate steps to facilitate the surrender of al-Werfalli to the ICC, Human Rights Watch said.
"The posted videos suggest that LNA-linked forces committed a series of grave war crimes over many months," said Eric Goldstein, deputy Middle East and North Africa director at HRW. "The ICC warrant for al-Werfalli is a wake-up call to other abusive commanders in Libya that one day their serious crimes could land them in a prison cell in The Hague." (HRW, Aug. 16)