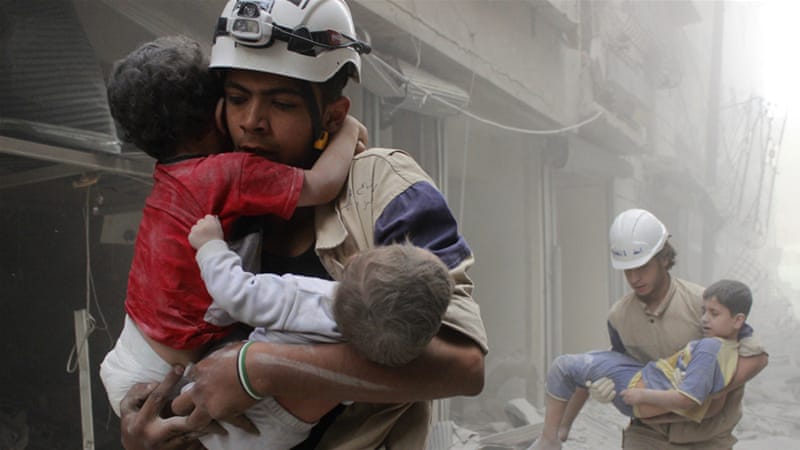 Two months after it was first reported that President Trump had issued an order to freeze over $200 million in "reconstruction aid" to what media accounts called "US-backed rebels" in Syria, details are finally emerging on which groups have had their aid cut. And the first to be mentioned isn't a "rebel" group at all, but the White Helmets—the volunteer unarmed civil defense force that operates in areas under bombardment by the Assad regime and its Russian backers. A spokesperson for the US State Department, which is said to provide some third of the White Helmets' budget, said the group's funding is "under active review." But speaking to Al Jazeera, White Helmets leader Raed Saleh pledged to persevere. He said the group "did not receive any direct funding from the US or any other country"—presumably meaning money was funneled through NGOs. "The White Helmets receives funding from organizations and associations. Our work has not been disrupted and all the projects we are working on will not be halted. Our volunteers are still operating on the ground."
However, a White Helmet volunteer in the field in Aleppo governorate told Al Jazeera: "This could become a big problem for us, our operations in rescuing people and [maintaining] our vehicles, equipment,. But all our volunteers and centers will continue working…and saving people across all of Syria."
A State Department official told CBS News: "$200 million of stabilization assistance for Syria is currently under review at the request of the President. Distinct from that amount, US assistance for programs in northwest Syria are being freed up to provide potential increased support for priorities in northeast Syria, as will be determined by the outcome of the ongoing assistance review, including the D-ISIS campaign and stabilization efforts."
The D-ISIS campaign refers to operations to defeat ISIS in Syria's northeast. According to the Defense Department, US-backed Kurdish forces are currently closing the circle on the last pocket of ISIS resistance in the northeast, at Abu Kamal.
The website of the White Helmets, formally known as Syrian Civil Defense, describes their work: "When the bombs rain down, the Syrian Civil Defence rushes in. In a place where public services no longer function these unarmed volunteers risk their lives to help anyone in need—regardless of their religion or politics." The White Helmets have been the special target of a Kremlin-instrumented propaganda campaign cynically portraying them as "terrorists."
The Promoting Enduring Peace website has a petition urging the US to restore aid to the White Helmets. You can also donate to the White Helmets through their website.
Photo: White Helmets