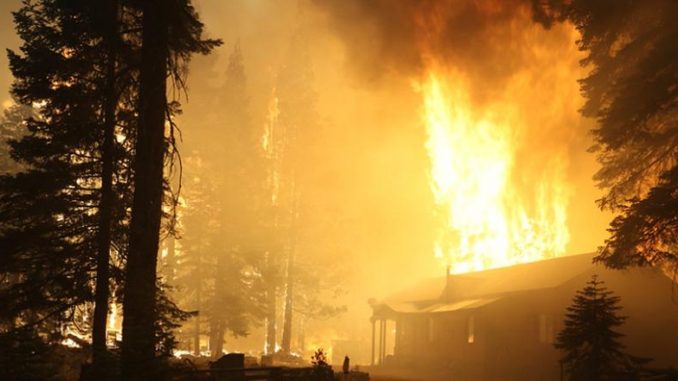 Climate change is "unequivocal" and rapidly intensifying, and some of the changes already in motion—such as continued sea level rise—are irreversible over hundreds to thousands of years, finds the latest report from the Intergovernmental Panel on Climate Change (IPCC), released Aug. 9. The IPCC Working Group I report, "Climate Change 2021: the Physical Science Basis," was approved by 195 member governments of the IPCC, having been prepared by 234 scientists from 66 countries. The report concludes that human influence has warmed the planet at a rate that is unprecedented in at least the last 2,000 years. Human-induced climate change is already affecting many weather and climate extremes in every region across the globe—including heatwaves, droughts, and tropical cyclones.
In 2019, atmospheric concentrations of carbon dioxide (CO2) were higher than at any time in at least two million years, and concentrations of methane and nitrous oxide higher than at any time in the last 800,000 years. Global surface temperature has increased faster since 1970 than in any other 50-year period over a least the last 2,000 years. Temperatures during the most recent decade (2011–2020) exceed those of the most recent multi-century warm period, around 6,500 years ago, the report states.
The global mean sea level has risen faster since 1900 than over any preceding century in at least the last 3,000 years.
The report emphasized that there is still time to act. Wth strong and sustained cuts in emissions of CO2 and other greenhouse gases, global temperatures could stabilize within 20 to 30 years.
"It has been clear for decades that the Earth's climate is changing, and the role of human influence on the climate system is undisputed," said IPCC Working Group I co-chair Valérie Masson-Delmotte of France. "Yet the new report also reflects major advances in the science of attribution—understanding the role of climate change in intensifying specific weather and climate events."
The United States joined the other 194 IPCC member governments in approving the Working Group I report. "The Intergovernmental Panel on Climate Change's (IPCC) newest report makes it clear–climate change is already a crisis," said US Secretary of State Antony Blinken. "Most importantly, the report finds we are already edging closer to a 1.5 degrees Celsius warmer world, and every day emissions rise the prospects for averting the worst impacts of climate change become dimmer. This is why it is essential that all countries—in particular the major economies—do their part during this critical decade of the 2020s to put the world on a trajectory to keep a 1.5 degrees Celsius limit on warming within reach."
"This is why the United States has committed to a 50-52 percent reduction in emissions from 2005 levels in 2030 and is marshaling the entire federal government to tackle the climate crisis," Blinken added.
UN Secretary-General António Guterres said the Working Group's report is nothing less than "a code red for humanity."
"We are at imminent risk of hitting 1.5 degrees in the near term," Guterres said. "The only way to prevent exceeding this threshold is by urgently stepping up our efforts, and pursuing the most ambitious path. We must act decisively now, to keep 1.5 alive."
Condensed from Environment News Service, Aug. 9
Note: The 2015 Paris Agreement sets a 2 C rise within the current century as a maximum, but urges countries to work toward a 1.5 C rise. Recent studies have found that the 1.5 C rise will be reached within five years.
Photo: CalFire