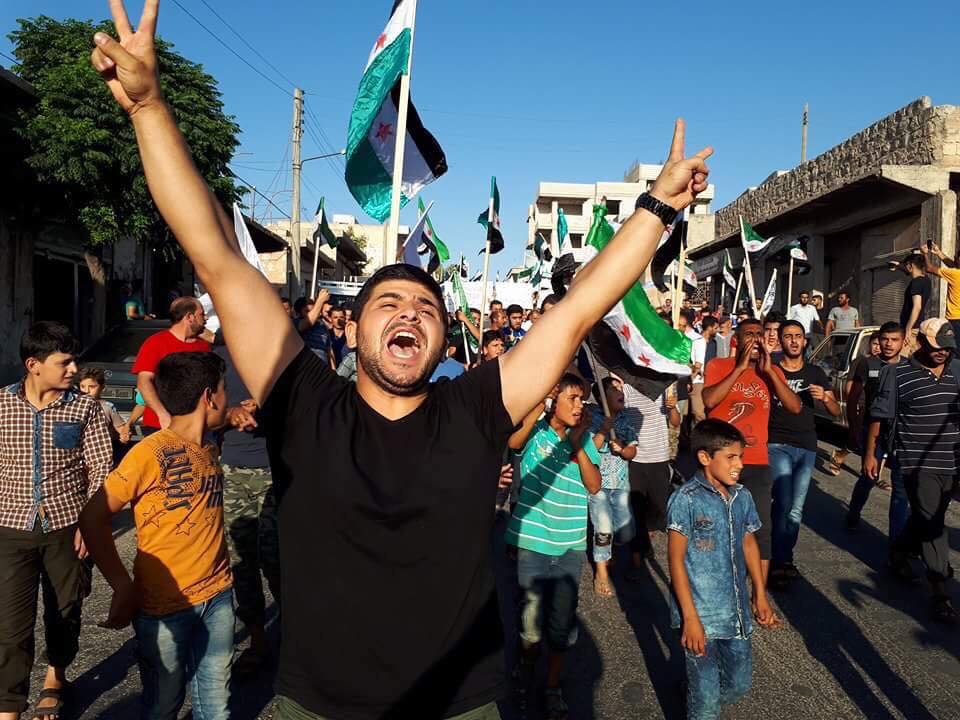 Residents of Saraqeb town in Syria's Idlib province rose up and drove off fighters of the local al-Qaeda affiliate after jihadists fired on a protest demonstration. The incident began July 18, when Saraqeb residents held self-organized elections for the town council, and raised the Free Syria flag from the radio tower in celebration. Fighters from Tahrir al-Sham (HTS) responded by tearing down the flag, trampling it, and firing in the air in a display of defiance. This sparked general protests against the group's presence in Saraqeb. The following day local media activist Musaab al-Ezzo was killed as HTS militants fired on demonstrators. This only escalated the protests; after his funeral the next day, residents marched on HTS positions chating "Out, out, cowards out!" and "Saraqeb is free, Jolani out!"—a reference to HTS commander Abu Mohammed al-Jolani. HTS again opened fire, but in the face of nearly universal opposition among residents they finally withdrew from the town.
The incident comes as HTS is engaged in pitched battles across opposition-held Idlib province with the Ahrar al-Sham rebel faction. (AFP-JIJI, Syria Campaign, July 20)
This is at least the second time that civil resistance activists have liberated territory from HTS through mass mobilization. Such popular mobilizations in Saraqeb have previously liberated the town both from the Assad regime and ISIS.