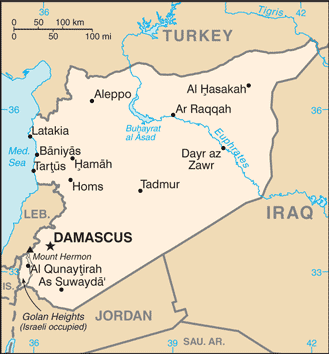 Jihadist militia Hayat Tahrir al-Sham (HTS) on Aug. 28 took over the city council building in Idlib, capital of the governorate of that name in northwest Syria and the biggest opposition-held city in the country. HTS fighters siezed the building a week after civil authorities refused to hand over control. HTS has in recent weeks won control of much territory in Idlib governorate, in ongoing battles with the rival Ahrar al-Sham faction. However, HTS continues to face resistance from residents and many of the more than 150 local councils in the governorate, with demonstrations against their rule by civil resistance activists in many areas.
In its report on the siezure of the council building, EA Worldview Syria Daily refers to HTS as a "bloc" of militias "led by the former al-Qaeda affiliate Jabhat Fatah al-Sham." However, they have elsewhere been described as a splinter group that remained affiliated with al-Qaeda when the Nusra Front split last year, with the main body becoming Jabhat Fatah al-Sham and officially dropping ties to the international terrorist network. This confusion—and the fact that the ex-Nusra factions are now apparently allied again—would seem to loan credence to the perception that the Nusra Front's break from al-Qaeda was never real, but a facade intended for international consumption.
In any case, we noted when Aleppo fell to Assad's forces last year that the city's rebel fighters and much of its civilian populace were being evacuated to Idlib governorate, which was under the control of jihadist factions such as the post-Nusra formations and Ahrar al-Sham. Further evidence of how the Assad regime has (intentionally) turned its own propaganda about how the Syria rebels are all jihadists into a self-fulfilling prophecy. With the HTS seizure of Idlib, things have just gone from bad to worse.
HTS