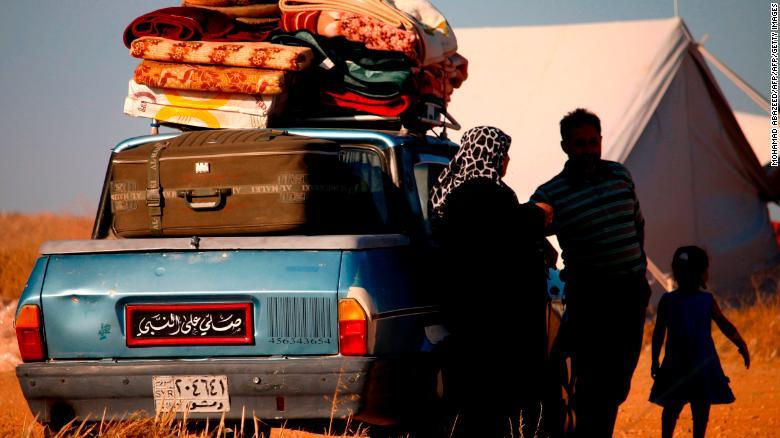 At least 270,000 people—about a third of the population—have been displaced by the Assad regime offensive on Daraa governorate in southern Syria since June 19. UN Refugee Agency (UNHCR) spokesman Mohammad Hawari confirmed the figure July 2, saying it "exceeded our expectations of 200,000." The agency expects the number to rise, with civilians fleeing to the borders with Jordan and the Israeli-occupied Golan Heights—but with both countries refusing to allow entry. The UNHCR said about 164,000 displaced are now in camps and villages in the neighboring small opposition-held governorate of Quneitra, close to the Golan border. (See map.) The Assad offensive to regain Daraa governorate, where the Syrian uprising began in March 2011, has been backed by Russian air-strikes, violating a "de-escalation zone" Moscow had declared with the US last July. UNHCR noted reports that "suggest indiscriminate attacks on health facilities, schools, civil defense centers, and offices of local NGOs."
About 6.2 million Syrians are internally displaced and 6.6 million are registered refugees. The total of 12.4 million displaced is more than half Syria's pre-conflict population.
Amnesty International urged Jordan, which has about 630,000 registered refugees, to accept some of the newly displaced: "Daraa residents are effectively trapped—many of those who are displaced are living in makeshift tents in the searing heat with insufficient food, water or medical care, and with the constant fear of being exposed to attacks at any given point. Jordan's border is their only gateway to safety."
But Jordan's Foreign Minister Ayman Safadi said in talks with Russian counterpart Sergey Lavrov in Moscow that they would prepare a deal to allow tens of thousands of refugees to return from Jordan to Syria: "I look forward to a frank discussion to discuss how to arrive at a ceasefire as soon as possible." Safadi said "tens of trailers…on the Jordanian border" were ready to deliver aid, but the UN needed to get approvals from the Assad regime for any provision of assistance.
On July 1, a 37-truck convoy brought water and food for about 35,000 people to the Jaber/Nasib border area, according to UNHCR.
Near the Golan Heights, the Israel Defense Forces last week provided several tons of supplies, including food, medicine, and clothes. However, the IDF emphasized that none of the displaced, apart from six admitted for urgent medical treatment, will be allowed into Israeli-controlled territory. (EA Worldview)
Photo: EA Wordlview