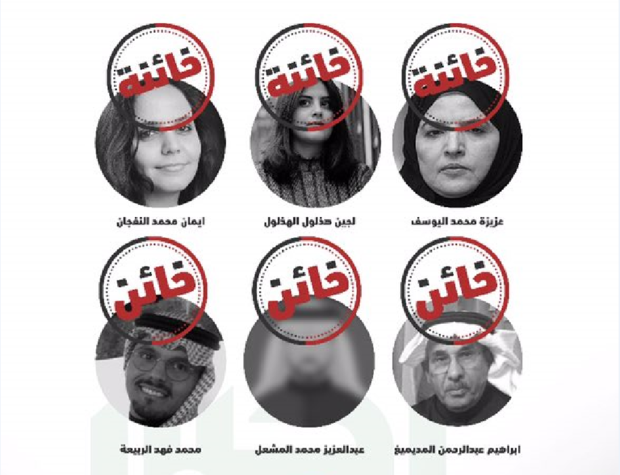 Saudi Arabia won applause around the world last year when women were finally allowed to drive in the conservative kingdom. But now, just as this reform is about to take effect, some of the activists who campaigned for it have been arrested—and may face the death penalty. A Saudi government statement said that the seven activists had been detained for "contact with foreign entities with the aim of undermining the country's stability and social fabric." The statement also accused them of working together in "an organized manner to violate religious and national values," without actually naming the detainees. Rights groups have named six of them as Eman al-Nafjan, Lujain al-Hathloul, Aziza al-Yousef, Aisha al-Manea, Ibrahim Modeimigh and Mohammed al-Rabea. Saudi newspaper Okaz reported on May 20, shortly after the arrests, that they may face the death penalty. An online "smear campaign" has also been launched against them, wth social media posts portraying them are "traitors." Most prominent among the detained is Loujain al-Hathloul, well known for her work campaigning against the driving ban. She was arrested at her home on the evening of May 15. (Middle East Eye, May 21; Amnesty International, May 19)
Amnesty International also protested the arrest of prominent human rights defender Mohammed al-Bajadi on May 25. Al-Bajadi founded the Saudi Civil and Political Rights Association (ACPRA), which was shut down by authorities in 2013 after its continued campaigns for the rights of prisoners. He was previously convicted and sentenced to 10 years by a counter-terrorism court in 2015; he was released early on the promise that he would "stop his activism and refrain from communicating with media and foreign organizations." Amnesty called his arrest "yet another ominous development in the relentless crackdown on human rights activists in Saudi Arabia."
The new crackdown follows a leadership purge in Saudi Arabia last year, in which Crown Prince Mohammed bin Salman consolidated power.
Image: social media post with the word "traitor" stamped on the faces of those detained. Via Middle East Eye.