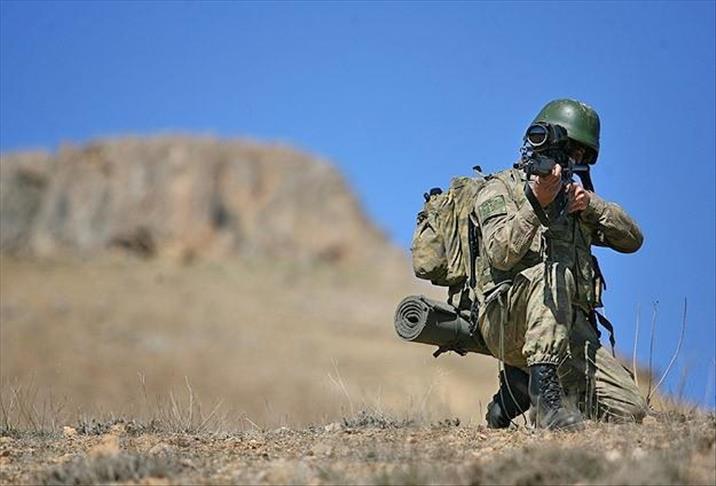 The Russian Ministry of Defense released a statement Aug. 30 explaining its unprecedented build-up of naval forces in the Mediterranean as part of a week-long exercise. It said the maneuvers would involve 26 warships and naval vessels, including two submarines, with 34 aircraft, including missile-armed long-range bombers. (Jane's 360)  But it is obvious that this build-up is timed to coincide (at least) with the planned Assad regime offensive on Idlib, the last Syrian province that remains under opposition control. Russia will certainly be massively backing the regime offensive, which the UN warns could spark a humanitarian catastrophe. With Turkey closing its borders to new refugees, it is unclear that civilians have any place left to flee. Many are already living in camps in Idlib under desperate conditions, with two million in need of humanitarian aid. (AP, SBS)
UN Syria envoy Staffan de Mistura warned of "a perfect storm" in Idlib. But he also provided propaganda for the imminent offensive, by saying there are 10,000 "terrorists" in Idlib province that need to be defeated—a presumed reference to the supposedly Qaeda-linked Hayaat Tahrir Al-Shaam (HTS) faction. (Al Jazeera, MEE)
Opposition forces are warning of potential for a new chemical attack as part of the offensive. The National Front for Liberation rebel faction reported Aug. 29 that it had monitored a convoy of vehicles loaded with barrels, assumed to be carrying chemical materials, transported by the Syrian regime from the Brigade 155 missile base in Damascus into rural Aleppo, closer to the Idlib front. (Enab Baladi)
The Human Rights Council issued a new report Aug. 13  (PDF) establishing, yet again, the precedent for this:
Government forces continued to perpetrate massacres and conduct widespread attacks on civilians, systematically committing murder, torture, rape and enforced disappearance amounting to crimes against humanity. Government forces have committed gross violations of human rights and the war crimes of murder, hostage-taking, torture, rape and sexual violence, recruiting and using children in hostilities and targeting civilians. Government forces disregarded the special protection accorded to hospitals and medical and humanitarian personnel. Indiscriminate and disproportionate aerial bombardment and shelling led to mass civilian casualties and spread terror. Government forces used chlorine gas, an illegal weapon.
Hezbollah's Al Manar TV meanwhile accusing the White Helmets of "preparing  to launch a new chemical attack in Idlib countryside and accuse the Syrian government of staging it." Which is, unfortunately, pretty good evidence that the regime is in fact planning a new chemical attack.
The fact that parts of Idlib are held by NATO member Turkey obviously holds potential for international escalation. But there have also been signs of a deal in the works between Damascus and Ankara. There are also signs that US may be broaching such a deal. Another pro-Hezbollah news outlet, Al Akhbar reports that US officials have since June been an "ongoing dialogue with members of the Assad regime" about eliminating ISIS from Syrian territory, the regime's chemical stockpile, and the fate of journalist Austin Tice, abducted in August 2012. The dialogue has included direct meetings with Assad regime officials. (EA Worldview)
The price of such cooperation may be giving Assad a free hand to carry out a campaign of genocide in Iblib. Despite the ineffectual finger-wagging of the US State Department about the imminent disaster in Idlib (see Reuters, Aug. 31), Washington's tilt to Assad has only deepened under Donald Trump. In the Great Power carve-up deal, the Syrians are the clear losers. Alas, too many in the outside world view this as "peace."
Photo: Syria News