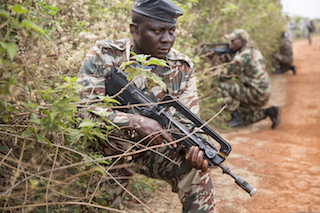 Human Rights Watch (HRW) on May 6 described the abuse of detainees at a detention center in Cameroon's capital city of Yaoundé, identifying violations of domestic and international human rights law. Torture and arbitrary detention have been "endemic in Cameroon's law enforcement and military system," carried out by gendarmes and other security forces of the State Defense Secretariat. These tactics are employed against suspected members or supporters of Boko Haram or armed separatist groups.
Interviewed detainees related how they were subjected to physical abuse and humiliation at the detention center run by the State Defense Secretariat, or SED. Several were coerced into signing statements "they were not allowed to read or could not read because [the statements] were in French." (Many detainees are from the restive Anglophone west of the country.) Most of the detainees were charged with crimes related to terrorism, despite the fact that the majority of those interviewed by HRW were civilians.
Within a one-year period, 26 cases of incommunicado detention were documented, and at least 14 cases of torture were noted. HRW indicated that the "total numbers are likely much higher, because abuses are committed in secret and many former detainees are reluctant to speak because they fear reprisals." These rights violations are believed to be ongoing. HRW called on the UN Security Council to address the situation in Cameroon by condemning the abuses and "call[ing] for the government to end these practices."
From Jurist, May 8. Used with permission.
Note: The principal "armed separatist group" in question is the Ambazonia Defense Forces, the official military of the Ambazonian interim government declared in the former British colony of the Southern Cameroons, to the west of the contemporary Republic of Cameroon, in 2017. The Ambazonian leadership maintain that the Southern Cameroons' annexation by the Republic of Cameroon after independence was illegal and thus null and void.
Photo via Jurist