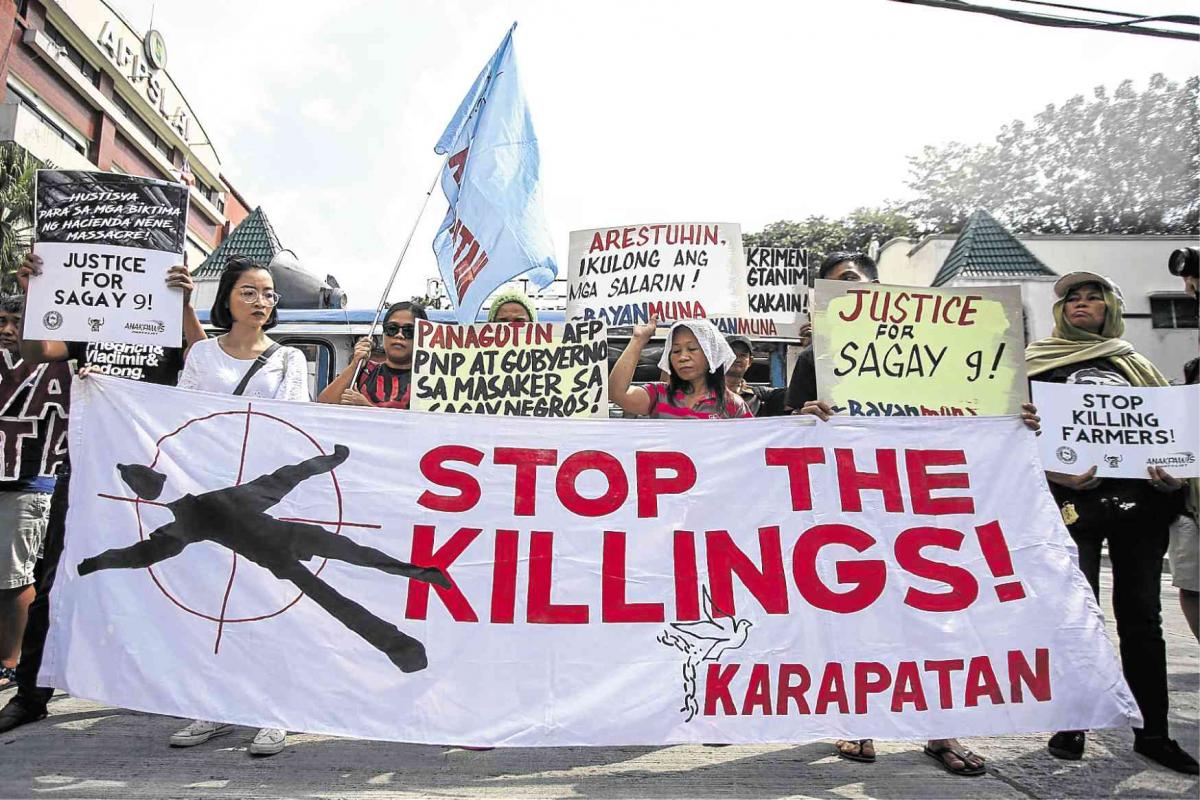 The massacre of nine farmworkers, including two minors, killed Oct 20 at Hacienda Nene, outside Sagay City in the central Philippine island of Negros, constituted the single most deadly attack against peasant activists under the Rodrigo Duterte administration. A fact-finding mission led by human rights and civil society groups has pointed to members of the Special Civilian Auxiliary Army (SCAA), a private militia associated with the Armed Forces of the Philippines, as the most likely perpetrators of the "Sagay 9" massacre. The investigators found that members of the paramilitary group opened fire with M-16 rifles on the farmworkers as they were having their evening meal. Most victims reportedly suffered shots to the head, and three of the dead bodies were doused with gasoline and burned afterwards. The fact-finding mission was led by the Children's Rehabilitation Center, Karapatan National Alliance for the Advancement of People's Rights, the National Union of Peoples' Lawyers, the Salinlahi Alliance, and Gabriela Women's Party congressmember Arlene Brosas.
The massacre victims were members of the National Federation of Sugar Workers who were occupying an idle portion of the 75-hectare Hacienda Nene, which the NFSW claims as susceptible for redistribution to landless farmers under the government's agrarian reform program. The farmworkers had just started a bungkalan—a collective farming program that serves to assert a claim on the still undistributed land. They had begun planting vegetables on the day of the massacre in order to help them survive the "tiempo muerto," or dead season between the sugarcane planting and harvest seasons.
According to the fact-finding mission, members of the SCAA have long served as gun-for-hire mercenaries on behalf of big landlords. Hacienda Nene landowner Carmen Tolentino and its arriendador or leaseholder Allan Simbingco are in fact both relatives of Negros Occidental province Gov. Alfredo Marañon Jr. and Sagay City Mayor Alfredo Marañon III. Negros is known for the persistence of such haciendas, large landholdings from the time of Spanish colonialism, first introduced in the island for cultivating sugarcane.
The NSFW has documented 172 killings of farmers, including 45 in Negros alone, in Duterte's two years in power. In the aftermath of the Sagay massacre, government, military, and police spokesmen have all joined in accusing the leftist guerillas of New People's Army (NPA), as well as the NSFW itself, of perpetrating the killings. The Philippine National Police have brought murder charges against Rene Manlangit and Rogelio Arquillo, two NSFW union organizers who supposedly deceived the victims into joining the land occupation as part of a conspiracy to spark outrage against the government.
The Armed Forces have claimed that the killing of the nine farmerworkers is part of a "sinister plot" to oust President Duterte from power. Duterte himself, in a speech delivered on Oct 28, warned farmers involved in land reform disputes from resorting to occupations, saying he has issued an order to the military and police to arrest and kill all those occupying public and private properties. "My order to the police is to shoot them. If they resist violently, shoot them, and if they die, I do not care." (Asian Correspondent, Oct. 30)
Photo via Philippine Inquirer