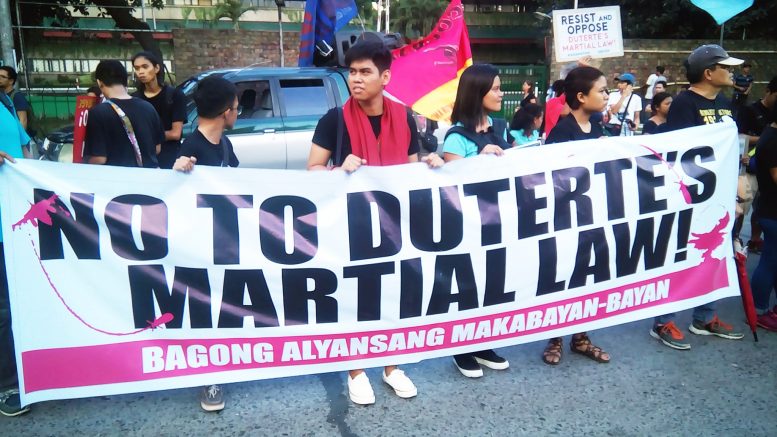 The Unites States is facing a pretty surreal contradiction, with blustering Trump and his cannabis-phobic Attorney General Jeff Sessions holding the federal reins, as legalization takes effect in California. The Philippines is looking at a similar paradox. Ultra-hardline President Rodrigo Duterte is again sending the National Police back into drug enforcement, after he was pressured to withdraw them by a public outcry over their slaying of thousands of innocent civilians since he took office in June 2016. And on New Year's Eve, he won a grim victory as the Philippine Congress voted to extend his declaration of martial law in the conflicted southern island of Mindanao through the end of 2018.
The Senate voted 14-4 and the House 226-23 in favor of extending the declaration during a joint session—despite the fact that under the Philippine constitution, martial law can only be declared for 60-day intervals.
In pressing for the extension, Duterte cited the continuing threat from ISIS-inspired militants who besieged the Mindanao town of Marawi last year, as well as the communist New People's Army. But Duterte's rhetoric has cynically conflated the drug war and the crackdown on jihadists and guerillas in Mindanao.
Sadly, the vote came even amid ongoing controversy over Duterte's ultra-murderous narco-crackdown. National Police chief Ronald dela Rosa was grilled by Reuters after the news agency investigated the so-called "Davao Group," a special police squad believed to have carried out several grisly killings of drug suspects in Quezon City. Most of the officers are said to be from Mindanao's Davao City—where Duterte first honed his death-squad tactics when he served there as mayor. Dela Rosa said Quezon City had Metro Manila's most serious drug problem (as if this justifies extrajudicial executions), and that he personally sent squad commander Lito Patay there because he is a "very professional" and "very dedicated" officer.
And yet… all of this is happening as a medical marijuana bill is advancing through the Philippine Congress. Also as the year ended, the legislation's sponsor, Rep. Rodito Albano, argued in favor of the measure by noting increasing acceptance of medical marijuana in the US—and particularly in the National Basketball Association. He invoked Steve Kerr, head coach of reigning NBA champions the Golden State Warriors, as among those who now support lifting the NBA ban on medicinal cannabis.
When the Philippine Compassionate Medical Cannabis Act cleared the Committee on Health in September, InterAksyon news agency couldn't resist calling it a "new high" for the House of Representatives. But as it heads to the House floor for debate, it faces the almost inevitable prospect of a Duterte veto. A two-thirds majority vote in Congress to override the veto would be a significant symbolic set-back for Duterte's blood-drenched drug war.
Photo: Anakpawis