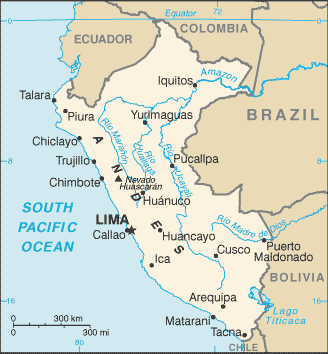 Canadian oil firm Frontera Energy Corp has failed to secure a new contract for operating Peru's biggest oil bloc because of a lack of "adequate conditions," state company PetroPeru announced Oct. 11. Frontera has operated Bloc 192 in the Amazonian region of Loreto for the past two years, but control of the oilfield will revert to PetroPeru once its contract ends in 2019. PetroPeru gave no further details on the decision, but it comes two weeks after Frontera applied to state regulator PeruPetro for an official declaration of force majeure over protests by indigenous communities living within the oil bloc. The declaration would allow the company to legally suspend contractual obligations due to an event outside of its control. Indigenous protesters seized oil wells in Bloc 192 to demand that their communities be consulted before a decision was made on renewing the contract.
The protests were led by an alliance of four indigenous federations representing the watersheds of the Pastaza, Corrientes, Tigre and Marañón rivers: the Indigenous Quechua Federation of the Pastaza (FEDIQUEP), the Federation of Native Communities of Corrientes (FECONACO), the Organization of the Kichwa Amazonian Indigenous Peoples of the Peru-Ecuador Frontier (OPIKAFPE), and the Regional Organization of the Indigenous Peoples of Oriente (ORPIO).
Frontera's current two-year contract for Bloc 192 is set to expire in February 2019 instead of this year because the company was unable to use a state-owned pipeline for 18 months. The North Peru Oilduct, which transports crude from Amazonian oilfields to the Pacific coast, was shut down in early 2016 after repeated ruptures, and only became fully operational this month. The company first began exploitation of the bloc in 2015, when it was operating under the name Stratus Energy. (Diario Ahora, Oct. 12; Reuters, TeleSur, Oct. 11; El Comercio, Oct. 7; Reuters, Sept. 26)
In a related controversy concerning more remote territory near the Brazilian border, Peru's pan-Amazonian indigenous alliance AIDESEP has launched suit against the Ministry of Culture over its failure to protect isolated peoples in the zone. AIDESEP is demanding that the government create five new indigenous reserves to protect the highly vulnerable "uncontacted" peoples, including those of the Yavari-Tapiche watershed.
The Matsés people, who live near the proposed Yavari-Tapiche reserve, have been protesting the government's failure to bar oil exploration from the area. In 2007, Peru awarded Pacific Exploration & Production (today Frontera) a contract to explore in the Yavari-Tapiche, over the objections of the Matsés.
Ironically, much of the proposed reserve is covered by the Sierra del Divisor National Park, created to much international fanfare in 2015. But approximately 40% of the national park is a "special use zone" open to oil and gas exploitation, overlapping extensively with the Frontera concession. ORPIO has brought another lawsuit attempting to halt oil exploitation in the zone. (The Guardian, Oct. 6; Survival International, Feb. 9; The Guardian, Jan. 31)