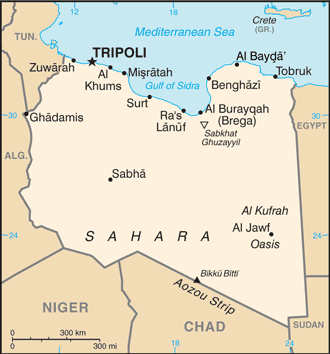 European governments are knowingly "complicit" in the torture, abuse and exploitation of tens of thousands of refugees and migrants detained by the Libyan immigration authorities or criminal gangs in appalling conditions, said Amnesty International Dec. 12. In a new report, Libya's Dark Web of Collusion, Amnesty shows how European governments are actively supporting a system of abuse of refugees and migrants by the Libyan Coast Guard and detention authorities as well as smugglers operating in the country. Amnesty accused the EU of being unconcerned with the fate of thousands of vulnerable people while prioritizing the blocking of those risking their lives to reach European countries.
Amnesty's report shows the Libyan Coast Guard—with the support of EU countries and even an Italian-donated boat—have intercepted refugees and migrants at sea, returning them to grim detention centers run by the Tripoli government's Department for Combatting Illegal Migration (DCIM). Up to 20,000 people are currently held in these overcrowded, unsanitary detention centers. Numerous migrants and refugees interviewed by Amnesty described the abuse they'd been subjected to or witnessed.
The report depicts official authorities as in league with human traffickers. One man from Gambia who was detained for three months, told Amnesty how he was starved and beaten in a detention center: "They beat me with a rubber hose, because they want money to release me. They call the family while beating [you] so the family send money." After his family paid the ransom he was taken to Tripoli by an assigned driver who demanded further payment. "I had to stay with him until I pay the money back, otherwise he will sell me."
Dozens of migrants and refugees told Amnesty about collusion between detention center guards, the Libyan Coast Guard, and smugglers. Libyan Coast Guard officials are known to operate in collusion with smuggling networks and have used threats and violence against refugees and migrants on board boats in distress.
Footage and documents reviewed by Amnesty indicate that a boat donated by Italy in April 2017, the Ras Jadir, was used by the Libyan Coast Guard during a horrific incident on Nov. 6, when reckless actions contributed to the drowning of up to 50 people. Ignoring basic security protocols, the Ras Jadir approached a sinking inflatable vessel about 30 nautical miles off Libya's coast. When it failed to deploy its inflatable boat to help facilitate the rescue, migrants were forced to climb the high sides of the ship and many fell into the water.
A nearby NGO vessel, Sea-Watch 3, deployed its own inflatable boats to try to save people, but footage shows those aboard the Ras Jadir throwing objects at the rescue boats to force them away. It also shows migrants aboard the Ras Jadir being whipped with a rope and others trying to jump into the water to try to reach rescue boats.
Since late 2016, EU countries—particularly Italy—have sought to close off a migratory route through Libya and across the Mediterranean, with little care for the consequences for those trapped within Libya's lawless borders. Their cooperation with Libya has taken a three-pronged approach. First, they've committed to providing technical support and assistance to the Libyan Department for Combatting Illegal Migration. Secondly, they've enabled the Libyan Coast Guard to intercept people at sea, by providing them with training, equipment and technical assistance. Thirdly, they've struck deals with local Libyan authorities and the leaders of tribes and armed groups to encourage them to intercept migrants and increase border controls in the south of the country.
At the end of September, the International Organization for Migration had identified 416,556 migrants in Libya, of whom more than 60% are from sub-Saharan Africa, 32% from North African countries, and around 7% from Asia and the Middle East. UNHCR figures show that 44,306 people in Libya were registered as refugees or asylum-seekers as of Dec. 1. The actual number is believed to be much higher. (Amnesty International, Dec. 12)