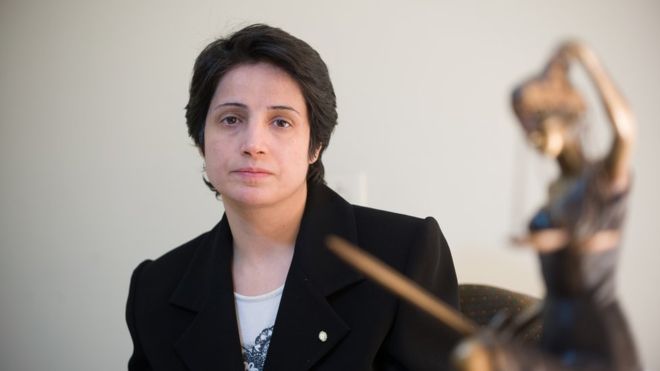 The Center for Human Rights in Iran (CHRI) announced March 5 that human rights lawyer Nasrin Sotoudeh had been convicted in absentia by Judge Mohammad Moghiseh of Iran's Revolutionary Court, described as a "hardline" jurist. She refused to appear in court because she was denied the right to choose her own lawyer. Sotoudeh had been charged with crimes including "collusion against national security," "propaganda against the state," "encouraging corruption and prostitution," "appearing before the judiciary without Islamic hijab," "disturbing public peace and order," and "publishing falsehoods with the intent to disturb public opinion." Prosecution cited her membership in the Defenders of Human Rights Center, the Legam group against capital punishment, and the anti-militarist National Peace Council.
Sotoudeh has been detained in Tehran's Evin Prison since June when she was taken from her home by security agents. This is not her first time in Evin Prison; Sotoudeh previously served three years from 2010-2013 for taking on other political cases as a defense lawyer.
CHRI's executive director Hadi Ghaemi stated, "The Iranian judiciary prosecuted Sotoudeh under national security charges to send a clear message that it will not tolerate the peaceful defense of human rights by activists or their lawyers. We should all speak out against this travesty of justice."
In 2012 Sotoudeh won the Sakharov Prize for Freedom of Thought, Europe's highest human rights award, and recently defended women accused of removing their hijab to protest the law requiring that women wear the traditional Muslim head covering.
From Jurist, March 7. Used with permission.