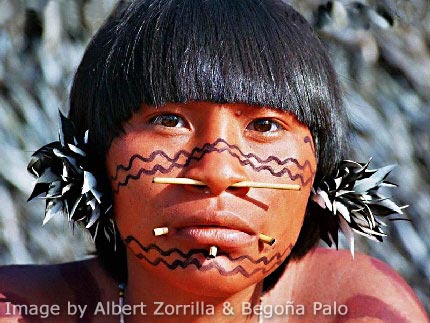 Indigenous groups claimed a victory at the UN climate talks in Bonn on Nov. 15 as governments acknowledged for the first time that they can play a leadership role in protecting forests and keeping global temperatures within safe levels. Participating governments ("Parties") agreed to create a platform to promote the voices and inclusion of indigenous peoples in the UN climate process, formally known as the Framework Convention on Climate Change (UNFCC). The "Local Communities and Indigenous Peoples Platform" (PDF) states that "Parties should, when taking action to address climate change, respect, promote and consider their respective obligations on the rights of indigenous peoples and local communities," while "Emphasizing the role of local communities and indigenous peoples in achieving the targets and goals set in the Convention, the Paris Agreement and the 2030 Agenda for Sustainable Development, and recognizing their vulnerability to climate change."
"This is a victory for indigenous peoples who have always been fighting for recognition of our rights as a way to protect forests and tackle climate change. This is a big advance," said Juan Carlos Jintiach of the Coordinating Body of Amazon Basin Indigenous Organizations (COICA). (The Guardian, Human Rights Watch)
Others were more tempered. Alberto Saldamando of the Indigenous Environmental Network said: "We are not waving the victory flags yet, the local communities and Indigenous peoples platform does not recognize the rights of Indigenous peoples in the human rights sense of the term 'recognize.' It only 'recalls' the UN Declaration on the Rights of Indigenous Peoples in its preamble."
A statement from indigenous organization It Takes Roots notes the continued emphasis on "carbon pricing" in the UNFCC, calling carbon trading and offsets "fraudulent climate mitigation mechanisms that help corporations and governments to continue extracting and burning fossil fuels."
The Bonn summit, officially COP 23, was chaired by the government of Fiji, a small island nation that views climate change as an existential threat. COP 23 was the first round of climate talks since the US, under the presidency of Donald Trump, announced its intention earlier this year to withdraw from the Paris deal.