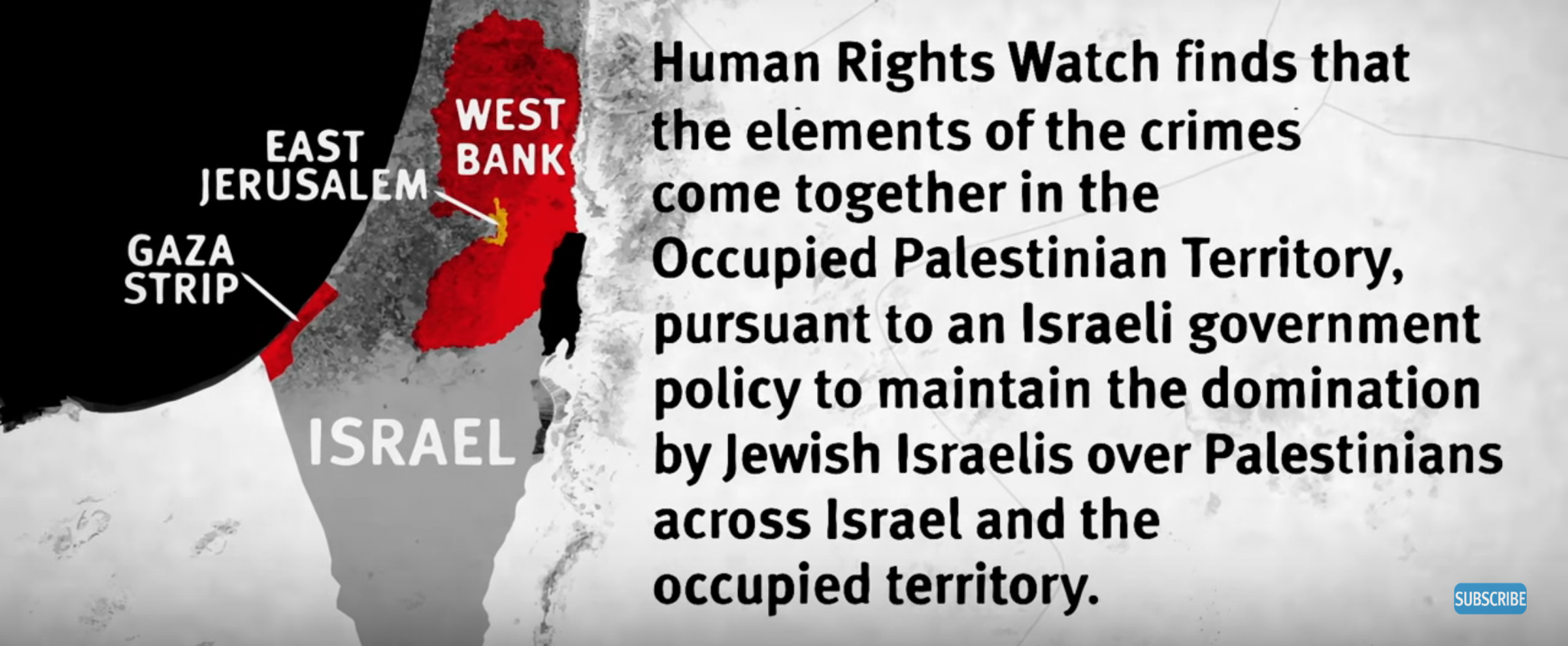 Human Rights Watch on April 27 issued a report accusing Israeli authorities of crimes against humanity, specifically those of apartheid and persecution, targeting the Palestinian people. The report charges that there is "an overarching Israeli government policy" to mitigate what authorities have openly described as a "demographic threat" from Palestinians. The 213-page report, A Threshold Crossed: Israeli Authorities and the Crimes of Apartheid and Persecution, cites the 1973 International Convention on the Suppression and Punishment of the Crime of Apartheid  and the 1998 Rome Statute of the International Criminal Court.
Both documents define apartheid as a crime against humanity consisting of three elements: intent to maintain domination by one racial group over another, a context of systematic oppression by the dominant group over the marginalized group, and inhumane acts. The report bases its findings on many years of human rights documentation, case studies, and a review of government documents and official statements on "policies and practices" of Israeli authorities towards Palestinians living in the Occupied Territory, including the West Bank, East Jerusalem and Gaza Strip.
Said HRW executive director Kenneth Roth: "Prominent voices have warned for years that apartheid lurks just around the corner if the trajectory of Israel's rule over Palestinians does not change. This detailed study shows that Israeli authorities have already turned that corner and today are committing the crimes against humanity of apartheid and persecution."
The Israeli authorities have rejected the report's findings, with Strategic Affairs Minister Michael Biton terming it "distorted reality" and "part of [HRW's] ongoing political and obsessive campaign against Israel in recent years."
From Jurist, April 27. Used with permission.
Note: The International Criminal Court in March announced an investigation into alleged Israeli war crimes in the Palestinian territories. Israel has rejected the Court's authority. In January, the Israeli human rights group B'Tselem issued a report accusing Israel's authorities of practicing "apartheid" on both sides of the Green Line.