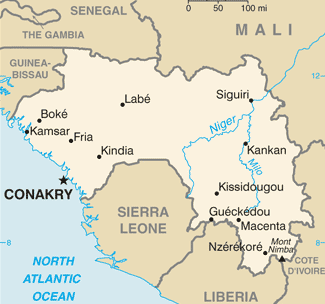 Weeks ahead of elections in Guinea, where Alpha Condé is running for a controversial third presidential term, Amnesty International has released a report documenting harsh repression of the political opposition by his security forces. The crackdown on protests has resulted in the deaths of at least 50 people in less than a year, Amnesty said in the report issued Oct. 1. Between October 2019 and February 2020 alone, more than 30 people were killed in protests against a constitutional change allowing Condé to seek a third term. Of these, 11 were shot and killed by bullets to the head, chest or abdomen. March 22, 2020, the day of the referendum on the constitutional change, was particularly deadly, with at least 12 demonstrators killed, nine of them by gunfire. The opposition boycotted the vote, but demonstrations against the referendum were banned by decree.
In addition to the official security forces, Condé supporters have apparently been unleashing attacks on the opposition. Members of the National Front for the Defense of the Constitution (FNDC), including two women, were stopped by local residents on the day of the vote in the Boké region, where they had been trying to dissuade voters from going to the polls. They told Amnesty that after being beaten up, they were handed over to the police—who brutalized them further and threatened the two women with rape.
"We spoke to devastated families who described how their children lost their lives, shot in the back, chest, head or neck. We have seen injuries to arms, knees and feet caused by firearms, tear gas canisters and even the security forces' vehicles," said Samira Daoud, West and Central Africa regional director at Amnesty International. "Exercising the right to freedom of peaceful assembly remains dangerous in Guinea, where impunity for human rights violations has remained the rule for the past decade. Concrete actions are required from the authorities to bring justice to the victims and their families."
According to a second report, issued by Human Rights Watch Sept. 25, the violence has taken on an ethnic dimension. In Nzérékoré, Guinea's second-largest city, victims and witnesses told HRW that armed gangs of Guerzé, a group seen as sympathetic to the opposition, faced off with equally well-armed ethnic Konianké and Malinké, largely considered ruling-party supporters. Many victims were shot, hacked, or beaten to death, and at least one was burned alive. HRW also documented one case of a 17-year-old girl raped by a group of armed men. HRW is demanding that authorities investigate the alleged burial in a mass grave of the bodies of people killed during the violence in Nzérékoré.