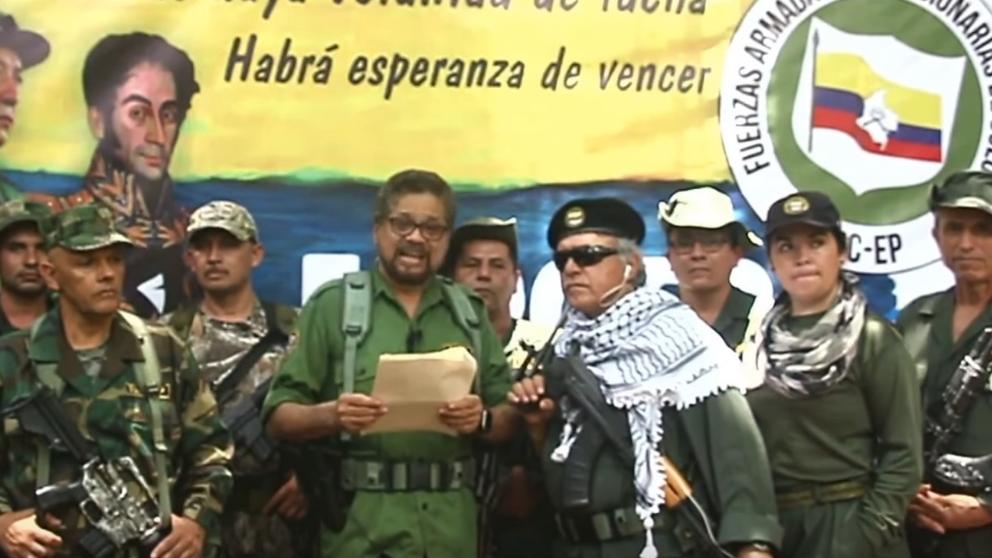 Top FARC leaders Iván Marquez and Jesús Santrich appeared in a YouTube video on Aug. 29, alongside some 20 other veteran fighters, all in battle fatigues, to announce they are returning to guerilla insurgency and will launch "a new stage of armed struggle." Reading the manifesto, Marquez, standing beside notorious FARC rebel leaders such as "El Paisa," charged that "the state has betrayed the Havana Accords," the 2016 peace deal under which the FARC has laid down arms. "We announce to the world that the second Marquetalia has begun," he said, referring to the village in Tolima department where the FARC was founded in May 1964. He said they would seek to join forces both with the FARC "dissidents" who have remained in arms despite the peace deal, as well as the rival National Liberation Army (ELN).
Marquez had actually been a lead negotiator of the Havana Accords, but withdrew from the seat he had been granted in the House of Representatives last year, accusing the government of breaching the peace deal. One of the things he was protesting was the arrest of Santrich on cocaine trafficking charges, in spite of the Accords' amnesty provisions. Santrich disappeared last month after being released to await a court appearance. Santrich ends the video statement by shouting "¡Vivan las FARC-EP!"—the full abbreviation for the Colombian Revolutionary Armed Forces-Popular Army, as the group wa known before the peace deal.
Last week, Interpol issued a "red notice" for Santrich, who may face extradition to the United States if apprehended.
FARC leader Rodrigo Londoño AKA "Timochenko" responded to the statement by calling on President Ivan Duque to join him in expressing support for the peace process, asserting that more than 90% of the 13,000 FARC guerillas who demobilized in 2017 continue to honor the accords. Instead, Duque said has is mobilizing a new army unit to hunt down Marquez, Santrich and all remnant guerilla forces. "I have ordered the creation of a special unit for the persecution of these criminals with reinforced intelligence, investigation and mobility capabilities throughout Colombian territory," Duque said. (Colombia Reports, Colombia Reports, Al Jazeera, Al Jazeera, BBC News, Alerta Bogotá, The City Paper, Bogotá, Aug. 29)
Photo via La Vanguardia