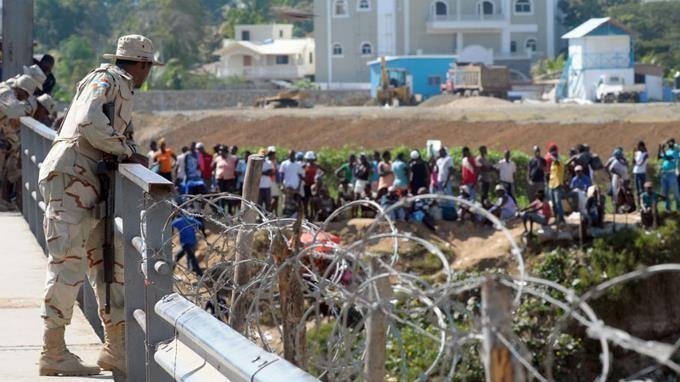 Rights groups throughout the Caribbean are raising the alarm  on the persistence of racist attacks in the Dominican Republic, charging they are being actively encouraged by authorities. On June 3, in the neighborhood of Matanzas in Santiago de los Caballeros, the country's second city, a racist mob carried out yet another lynching of two Haitian workers. Investigators have determined that the incident began when local businessman Gabriel Beato Burgos, apparently motivated by anti-Haitian xenophobia, fired shots at two local Haitian men, with a stray bullet killing a young Dominican man, Daniel Espejo. To cover up his crime, Burgos accused the Haitian men he'd shot at of having killed Espejo. Incited by the false story, a mob attacked Victor Pierre and Esil'homme Atul, two Haitian workers who were passing by and had no connection with the first incident. This mob killed Pierre and seriously injured Atul. Several Haitian families living in the community were also threatened.
This wave of attacks has been particularly focused in the region of El Cibao around the city of Santiago, which has become a center of operations for ultra-right nationalist groups. The mayor of Santiago, Abel Martínez Durán, a member of the Central Committee of the ruling Dominican Liberation Party (PLD), has promoted hate campaigns against Haitian immigrants. Last year a tourist from Kenya, Frederick Marwan, was attacked by the Santiago police—apparently only because they believed he was of Haitian nationality. In addition to stirring up lynch mobs, the Dominican government has also been engaged in the arbitrary expulsion of Dominicans of Haitian descent in illegal deportation proceedings over the past years.
One of the most emblematic cases of racist violence in recent years was the murder of young Claude Jean Harry "Tulile," who was found hanged in a park in Santiago in 2015—a crime that remains unpunished. According to the report "The Republic of Injustices" published in 2018 by the Rwgional Initiative for Investigative Journalism in the Americas, in the last decade the Dominican press covered 67 lynchings, of which 15 were against people of Haitian nationality. The real number of lynchings in the Dominican Republic is probably higher, with the majority of the victims being young black Dominicans.
Many Dominican media outlets amplify the racist and conspiracy-laden speeches of anti-immigrant public figures about a "silent invasion," continuing a disastrous tradition that began under the long right-wing dictatorship of Rafael Trujillo. Following a 2013 supreme court decision eroding brthright citizenship, some 100,000 Dominicans of Haitian descent are threatened with statelessness—a policy that has been dubbed "La Sentencia."
A statement issued by Caribbean regional rights groups anf popular organizations concluded: "We demand that the Dominican government cease policies which deny the rights of Haitian immigrants and Dominicans of Haitian descent. We demand an end to impunity for racist and fascist groups that incite lynchings, murders and mass expulsions of Haitians and Dominicans of Haitian descent. We demand that the Dominican State sign international pacts and treaties that defend the rights of migrants, and approve laws against racist hate crimes. And we demand justice for all victims of racist lynchings, especially Claude Jean Harry 'Tulile' and Victor Pierre!"
Via UIT-CI, Aug. 23
Photo: Movimiento Socialista de los Trabajadores via
Change.org