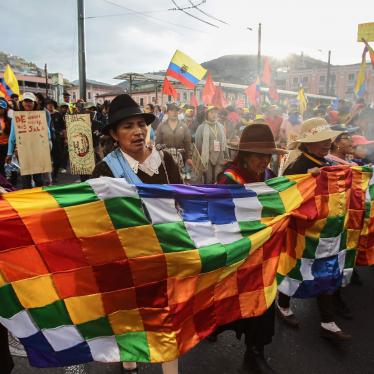 Human Rights Watch on March 26 released a report charging that Ecuador's former president Rafael Correa abused the criminal justice system to target indigenous leaders and environmentalists who protested mining and oil exploitation in the Amazon. The 30-page report, Amazonians on Trial: Judicial Harassment of Indigenous Leaders and Environmentalists in Ecuador, notes ongoing efforts by Correa to silence ecological opposition, starting with the 2013 closure of the Pachamama Foundation by presidential decree. In 2016, his administration sought to similarly close another leading environmental group, Acción Ecológica, but backtracked after the move provoked an international outcry, including condemnation by UN experts. The report also notes criminal cases against indigenous and environmental activists in which "prosecutors did not produce sufficient evidence" to support the serious charges they brought.
The report details the case of Pepe Acacho, a Shuar indigenous leader in Morona Santiago province, who was charged with "terrorism" in 2010 for allegedly inciting violence during a protest against a new mining law. At the time, Acacho was president of the Interprovincial Federation of Shuar Centers (FICSH), an organization that advocates for Shuar people in Ecuador. In 2013, a trial court found him guilty and sentenced him to 12 years in prison.
Also detailed is the case of Agustín Wachapá, a Shuar leader now being tried for allegedly inciting violence after a clash between police and opponents of a mining project in December 2016. At the time he was arrested, he was president of the FICSH, as Pepe Acacho had been when he was charged with terrorism. The trial court is scheduled to issue a verdict on March 28. If found guilty, Wachapá could be sentenced to up to three years in prison.
Also detailed is the "11th Oil Round Case." On November 28, 2013, indigenous leaders and environmental activists demonstrated outside the Hydrocarbons Secretariat in Quito, where foreign investors were gathered to bid on rights to explore for oil in two million hectares of Amazonian land. An incident of violence during the protest prompted a criminal investigation against a demonstrator who was caught on video hitting a foreign businessman on the head with the flat edge of his spear. President Correa responded to the incident by publicly denouncing the organizers of the protest, and shutting down the Pachamama Foundation..
The Prosecutor General's Office then opened a criminal investigation not only against the man who wielded the spear, but also against six prominent indigenous leaders and an environmentalist. Human Rights Watch had access to the case file and found that it contained nothing that could reasonably be construed as evidence that these seven activists had committed crimes. The law mandates that the prosecutor archive such investigations after two years, but the investigation remains open.
HRW director Daniel Wilkinson said, "President Correa lashed out on national TV against [those] who opposed extractive industry projects in the Amazon, while his Interior Ministry sought to jail their leaders and shut down their organizations."
Current President Lenin Moreno is credited with making positive change, opening a dialogue with environmentalists and indigenous leaders. The new administration has reinstated the Pachamama Foundation and overturned the presidential decree that allowed for the shut-down of civil organizations. HRW concludes, '[T]he groups are operating more freely under President Lenín Moreno, but the abusive prosecutions set in motion by his predecessor remain unaddressed." (HRW. Jurist, March 26)
Agustín Wachapá was arrested in December 2016 at a protest encampment outside the facility of mining company EXSA in Morona Santiago province. EXSA is a subsidiary of Chinese-owned Ecuacorriente (ECSA), which has multiple mining operations in Ecuador. (Mongabay, Jan. 26, 2017)
Photo: HRW