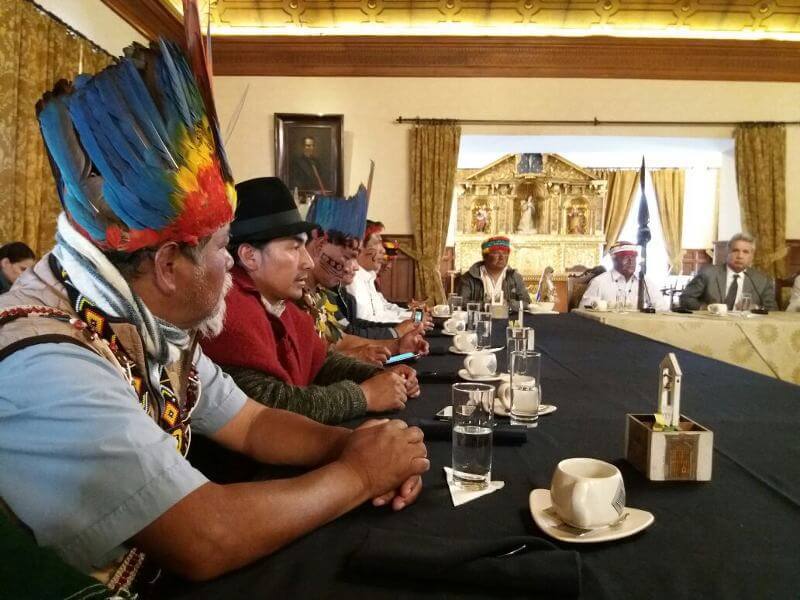 After marching two weeks from the eastern rainforest to Quito, thousands of indigenous Ecuadorans claimed a victory Dec. 11 as their leaders met with President Lenin Moreno, winning pledges to respect their demands on cultural and territorial rights. Among key victories, the government agreed to suspend new mining concessions in indigenous territories pending a review to assure that they are in compliance with constitutional provisions. This includes Article 57, guaranteeing indigenous groups the right to prior consultation on extractive projects impacting their lands. The government also agreed to the reinstatement of a bilingual education program in indigenous languages.
Headed by community leaders holding ceremonial spears, the 3,000-strong march set out from the jungle town of Puyo, Pastaza province, on Nov. 27, to press Moreno on his promise of dialogue with indigenous leaders. Moreno had met with leaders of Ecuador's indigenous alliance CONAIE in July, marking the resumption of a dialogue with the government that had been suspended for eight years under the previous president Rafael Correa. CONAIE called the "March for a Dialogue with Results" to protest the slow pace of the talks, with indigenous leaders charging that the government "has us going from meeting to meeting, from picture to picture" (meaning photo ops), with little concrete progress.
Some 400 marchers have now established an encampment at the Wholesale Market in the south of Quito, where they are convening public meetings, and preparing for their next meeting with Moreno. CONAIE and the Confederation of Indigenous Nationalities of the Ecuadoran Amazon (CONFENIAE) had previously demanded that oil and minerals stay in the ground, and that all extractive activities in the rainforest stop immediately.
In the agreement on bilingual education, Moreno pledged to revive the "community schools" under local control in indigenous territories that had been closed by decree of Correa when he established new "Millennial Education Units" as part of a new policy centralizing the educational system. Restoration of the community schools was a key demand of previous CONAIE mobilizations under Correa.
Other outstanding demands include an amnesty for 175 indigenous activists imprisoned as a result of their participation in protests and social struggles over the past several years. Another pending issue is the government's controversial plan to open Yasuní National Park to oil drilling. State company PetroAmazonas is slated to begin exploitation at the Tambococha oil bloc, within the reserve, later this month. (Mongabay, Dec. 13; TeleSur, Dec. 12; El Universo, Guayaquil, El Comercio, Quito, Intercontinental Cry, Dec. 11; El Universo, Ecuador Inmediato, Dec. 10; El Comercio, Dec. 27; Amazon Watch, Sept. 21)