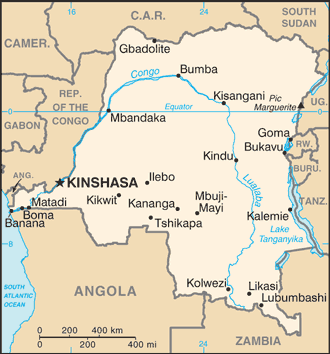 Ntabo Ntaberi Sheka, the leader of a militia in the Democratic Republic of Congo (DRC), turned himself in to UN Organization Stabilization Mission in the DR Congo (MONUSCO) on July 26. The DRC took out a warrant for Sheka's arrest in 2011 after his forces allegedly raped at least 387 civilians during a four-day period in 2010. The militia is also accused of murdering 70 civilians between 2010 and 2015. The UN sanctioned Sheka in 2011 for war crimes, including mass rapes and crimes against children. MONUSCO said that Sheka surrendered near the town of Walikale, North Kivu province, and will be transferred to DRC authorities to eventually stand trial.
From Jurist, July 28. Used with permission.
Note: Ntabo Ntaberi Sheka is former commander of the Mai-Mai Sheka, part of a network of militias established by the DRC government to fight Rwanda's proxy forces in the 1990s.