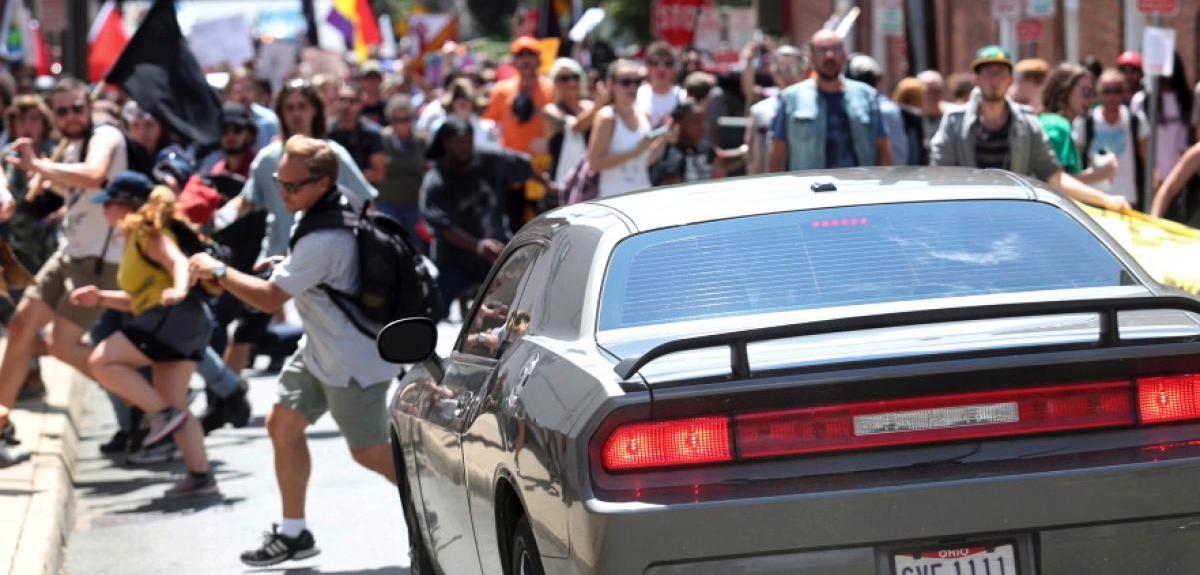 The "Unite the Right" rally in Charlottesville—which brought out open neo-Nazis, Klansmen and Confederacy-nostalgists over the city's plan to remove a statue of Robert E Lee—escalated to open terror when one attendee ploughed his car into a throng of anti-racist counter-protesters, leaving one dead and 19 injured. Five are in critical condition. The deceased is identified as Heather Heyer, 32, a Virginia resident and longtime civil rights activist. The motorist, who has been arrested and charged with second-degree murder (why not first-degree?) and leaving the scene of an "accident" (sic!), is identified as James Alex Fields, 20, of Ohio. (Why always three names for these freaks?) He was earlier photographed at the rally by the Daily News bearing a shield with the black-and-white fascist insignia of the Vanguard America hate group (which we discussed here).
Two Virginia state police officers also lost their lives when their helicopter crashed near the scene of the protest and counter-protest. A state of emergency was declared statewide, riot police brought out and armored vehicles deployed.
Widely heard chants at the Aug. 12 rally, as well as the torch-bearing march on the UVA campus the night before, were "You Will Not Replace Us!" (by some accounts occasionally rendered "Jews Will Not Replace Us!") and "Blood and Soil"—a slogan lifted directly from the Third Reich. Among those present was David Duke, who said in an interview that the event "represents a turning point for the people of this country… We are going to fulfill the promises of Donald Trump. That's what we believed in, that's what we voted for—Donald Trump, because he said he's going to take our country back." A video of the interview shows Duke's cohorts in the background chanting "Heil Trump!" while making the Nazi salute.
Trump is under fire for his statement on the affair, in which he said he condemned "hatred, bigotry and violence on many sides," repeating the phrase "on many sides" for emphasis. This from the man who relentlessly baited Obama for failing to call out what he dubbed "radical Islamic terrorism," but refused to disavow the support of white supremacists.
Of course, we will once again be treated to endless debate about whether Fields is a "terrorist" or just an angry lone nut—only this time with the roles reversed, and the righties arguing the lone nut thesis and the lefties (who always employ the lone nut thesis in cases of Islamist terrorism) arguing for terrorism. But given that Fields was actually photographed wielding a shield with a fascist symbol at the rally, we're not sure how the righties are going to be able to disavow him. Or perhaps things have deteriorated to the point where they will not feel that they have to.
Andrew Anglin's Daily Stormer runs the charming headline: "Heather Heyer: Woman Killed in Road Rage Incident was a Fat, Childless 32-Year-Old Slut." A taste of the undisguised Nazi rhetoric: "Despite feigned outrage by the media, most people are glad she is dead, as she is the definition of uselessness. A 32-year-old woman without children is a burden on society and has no value."
An openly triumphalist posture at her slaying, despite the transparent subterfuge of calling it "road rage." As predicted, Trump's election has green-lighted the radical right to the extent that their bogus expressions of remorse when one of their ranks commits murder are no longer deemed necessary.
In any case, both sides will overlook the critical role of car culture in the attack—despite the fact that it is inextricably linked to white supremacy, at least in the United States.