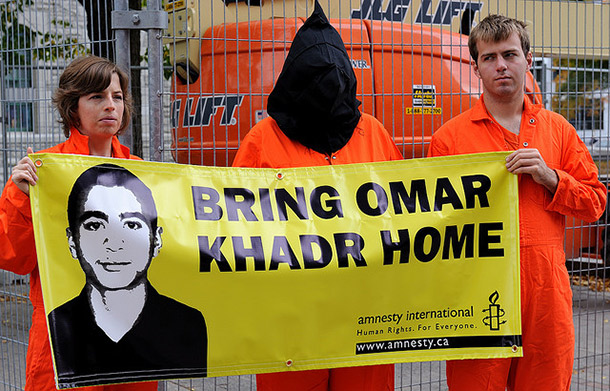 The Canadian Minister of Foreign Affairs Chrystia Freeland and Minister of Public Safety and Emergency Preparedness Ralph Goodale issued a joint statement on July 7 apologizing to former Guantánamo detainee Omar Khadr for violating his rights under the Canadian Charter of Rights and Freedoms. Freeland and Goodale's statement read:
Today, we are announcing that the Government of Canada has reached a settlement with Mr. Omar Khadr, bringing this civil case to a close. On behalf of the Government of Canada, we wish to apologize to Mr. Khadr for any role Canadian officials may have played in relation to his ordeal abroad and any resulting harm. We hope that this expression, and the negotiated settlement reached with the Government, will assist him in his efforts to begin a new and hopeful chapter in his life with his fellow Canadians. The details of the settlement are confidential between Mr. Khadr and the Government.
The government has refused to confirm the details of the settlement, but various media sources reported that the amount of the settlement was approximately $10.5 million (Canadian). Andrew Scheer, leader of Canada's Conservative Party, called the settlement disgusting. Prime Minister Justin Trudeau, however, stated that the Charter protects all Canadians "even when it is uncomfortable." He added: "When the government violates any Canadian's Charter rights, we all end up paying for it."
Khadr, now 30, said that he is "really sorry" for the pain he caused, adding that he was "never was angry or upset about" what was done to him.
A severely wounded Khadr was captured by US troops in Afghanistan in 2002 when he was a child soldier at 15 years of age. Khadr is the only Canadian citizen to have been imprisoned at the US military base in Guantánamo Bay. He pleaded guilty to using a hand-grenade against two US soldiers. One died in the incident, while the other partially lost his eyesight. This apology concerned Khadr's interrogation by Canadian government officials after his capture. Khadr was transferred to Canada in 2012, and he was released on bail in May 2015. The following week, the Supreme Court of Canada rejected the government's bid to have Khadr declared an adult offender. In September 2015, Justice June Ross of the Court of Queen's Bench of Alberta ruled that Khadr can visit his family in Toronto for two weeks and do so without an electronic monitoring bracelet.
Form Jurist, July 8
Photo: The Tyee